Twins born a week apart after rare pregnancy
It was recently revealed that a woman from Texas had a rather interesting pregnancy, conceiving twins a week apart in what she described as a "miracle" after multiple miscarriages.
That Daily mail reported that Cara Winhold, 30, and her husband Blake, 33, of North Richland Hills, Texas, welcomed their sons Colson and Cayden on October 25, 2021.
The journey from conception to birth has been quite a rollercoaster ride. After giving birth to their son Wyatt in 2018, the two wanted to try to expand their family.
But the excitement of Wyatt's birth was followed by terrible news and even a near-fatal situation for Cara. After a little girl miscarried in 2019, the former teacher miscarried again a year later and nearly bled to death.
"It happened and I was in bed and I got up and went to the bathroom and there was a lot of blood," she said, adding that her doctor at the time called the bleeding "normal."
Blake convinced her to go to the hospital, where Cara reportedly "passed out."
"They said the tissue that they call the baby was stuck in my cervix and I was bleeding, and they said if I had stayed home maybe 30 minutes longer I would have died," she said.
Two blood transfusions were required in what she described as a "traumatic" situation, although after successful therapy she still wanted to try to have more children.
After another miscarriage in February 2021, which was discovered after four days, she became pregnant in March. That's when the shock came: During Cara's second scan, she found out she was carrying not one but two babies — a revelation that came out just a week after her first conception.
"I got pregnant when I was already pregnant," Cara recalled.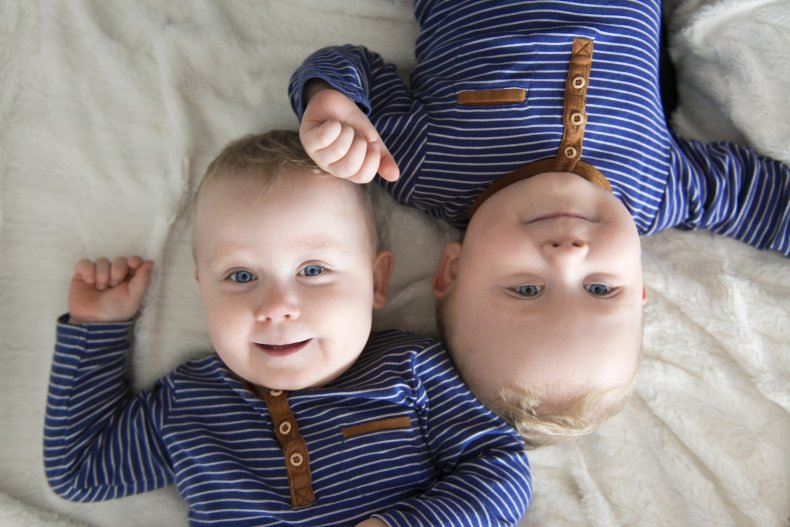 Superfetation occurs when a second, new pregnancy occurs during a first or existing pregnancy. As Healthline reported, another egg is fertilized by sperm and implanted in the uterus days or weeks later.
There are "few" documented cases of superfetation in medical journals, Healthline added, with many cases being related to women undergoing fertility treatments such as in vitro fertilization.
For example, a 2008 French study suggested that superfetation was a "very rare phenomenon" with fewer than 10 cases documented in the medical literature at the time. Today it is unclear how many cases have occurred in the United States or worldwide.
"I broke down in tears and cried," Cara added. "I was overwhelmed, confused, but very happy. My husband was in shock. The very first scan was a pouch with a baby and when I came back there was a really tiny pouch in the corner with another baby in it."
Babies born from superfetation are often thought of as twins as they are often born during the same labor on the same day, as was the case with Cara – who was born at 35 weeks gestation in October 2021.
Colson was born first and weighed 6 pounds, 5 ounces. Six minutes later, his baby brother, Cayden, was born and weighed 4 pounds, 9 ounces.
"If it's in your story and your heart and your calling, then don't give up because we didn't and we got a big surprise and a wonderful miracle in the process," said the delighted mother. "I know it's different for everyone, but I never expected to be a mother of twins or only have boys. But I am blessed with a house full of boys."
A somewhat identical situation occurred in California, although the mother's children were both born on the same day and at the same time were not twins.
news week asked Cara for comment.
https://www.newsweek.com/twins-conceived-one-week-apart-born-after-rare-pregnancy-texas-1712750 Twins born a week apart after rare pregnancy