Two Connecticut police officers were killed and one wounded in suspected ambush shooting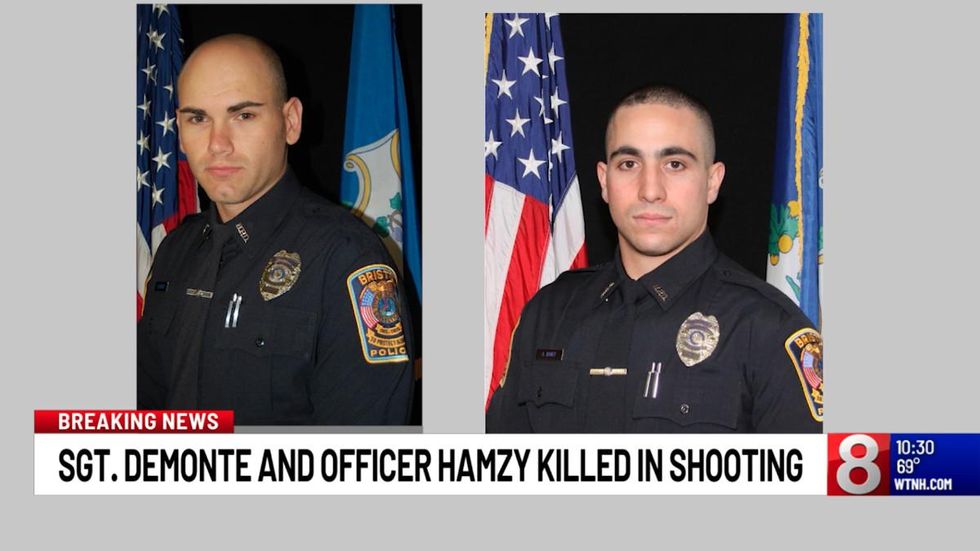 Two police officers were shot dead and a third wounded in an ambush on Wednesday.
The officers were shot while responding to a domestic violence call at an apartment building in Bristol, Connecticut, state police said.
Bristol Police Chief Brian Gould identified the officers killed as Sgt Dustin DeMonte, 35, and Officer Alex Hamzy, 34. The third officer, Alex Iurato, 26, was taken to hospital for surgery and is recovering. WTNH-TV reported.
Police said officers responded to a domestic violence call involving two siblings Wednesday night. When they arrived, they were met by a man in front of the house.
"Guns were fired, fatally injuring an officer at the scene," Sgt. Christine Jelteman told a news conference Thursday.
The other two officers were hit by gunfire, Jelteman said. One died in hospital, the other was seriously injured and treated.
The suspected gunman, Nicholas Brutcher, was also fatally shot, and his brother was shot and wounded, Jelteman said. Police believe the 911 call was intended to lure officers to the scene for an ambush.
abc news reported that the shooter was using an AR-15 style rifle.
"Our community has been shaken," Gould told reporters.
DeMonte "was assigned to our patrol department and was a school resource officer," the police chief said. "He was also an advisor to the Bristol Police Explorer Cadet Program. He has received multiple awards throughout his career, including the Silver Star, Officer of the Month and co-recipient for Officer of the Year in 2019."
He is survived by his wife and two children, with a third on the way, Gould said.
Hamzy, who grew up in Bristol, is survived by his wife, the boss said.
Iurato was discharged from a Hartford hospital on Thursday morning and was greeted by fellow police officers and applause.
Connecticut Governor Ned Lamont (D) ordered flags across the state to be lowered to half-mast in honor of the officers.
"I am ordering the Connecticut flags to be lowered to half staff effective immediately in honor of two Bristol police officers who were killed on duty last night while responding to a domestic violence call at a private residence in the city ' Lamont said in a statement.
"This is a senseless tragedy and my prayers are with their families, loved ones and colleagues. I also ask the residents of CT to keep in their prayers a third officer who was shot and is currently in the hospital with serious injuries. ' added the governor.
"This is a devastating reminder of the dangers police officers face every day protecting our families and neighbors from all sorts of situations. These police officers are heroes and will always be remembered for the honorable service they rendered to their city and state. This continues to be an active situation and I have directed DESPP Commissioner James Rovella and the CT State Police to support Bristol Police and the wider community in any way possible.
More from WTNH:

https://www.theblaze.com/news/two-connecticut-police-officers-killed-one-wounded-in-suspected-ambush-shooting Two Connecticut police officers were killed and one wounded in suspected ambush shooting