Ukraine calls Russian terrorist attack 'dying spasms of a wounded beast'
Russian forces fired rocket fire at civilian targets across Ukraine on Monday morning. Commander-in-Chief of the Ukrainian Armed Forces Valerii Zaluzhnyi said that as of 10:55 a.m. Kiev time, 41 out of a total of 75 fired Russian missiles had been intercepted by Ukrainian air defense systems. Ukrainian media reported strikes in 16 cities across the country, including the capital Kyiv, where a popular park and a cosmetics warehouse, among others, were hit.
The wave of strikes is widely understood as Russia's retaliation for an explosion last Saturday on the bridge over the Kerch Strait, the logistical link between mainland Russia and occupied Crimea. The bridge bombing, which disrupted both civilian traffic and supplies of Russian military supplies to its troops in the occupied Kherson and Zaporozhye regions, was widely believed to have been carried out by the Security Service of Ukraine (SBU).
The cosmetics warehouse that was hit by a Russian missile this morning was owned by Lamel, a UK-based company founded by Ukrainian entrepreneur Natalia Iaromenko. On Saturday, after the Kerch Bridge strike, Lamel posted a "story" on his official Instagram page about the burning bridge.
On Sunday, pro-Kremlin magazine Life News published an article on the subject of Lamel's Instagram post. On Monday, independent Russian online news agency Baza confirmed that the Lamel warehouse in Kyiv was among the targets hit by the 41 Russian missiles that managed to evade Ukrainian air defense systems.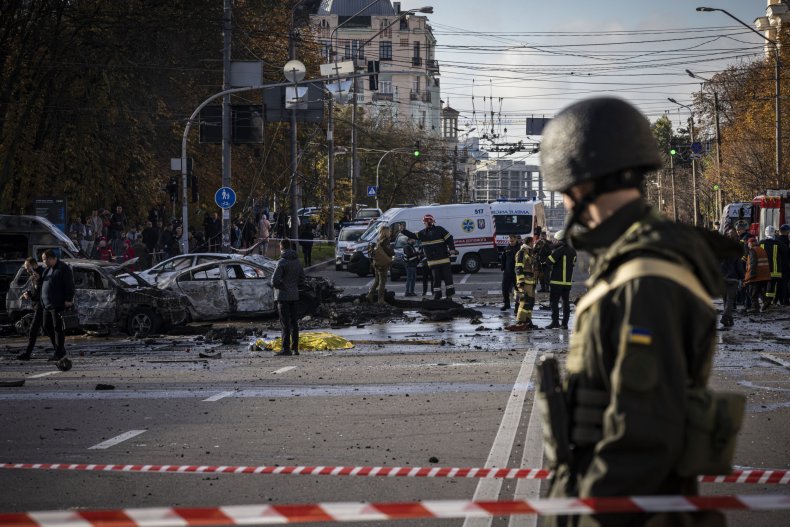 When demolished civilian vehicles burned on Taras Shevchenko Boulevard in Kyiv, representatives of the Russian state media celebrated the strikes.
"I doubt that the Ukrainian Post, which issued stamps with an explosion on the Crimean bridge a few hours after the explosion, will be able to issue stamps with morning views of Kyiv, Lviv, Dnepropetrovsk, Zhytomyr, Vinnitsa, Ternopil, Kharkov, Ivano-Frankivsk so quickly , Khmelnitsky, Vyshgorod and many other places in Ukraine," posted Sergey Mardan, host of Radio Komsomolskaya Pravda's morning show, on his official Telegram channel.
In Ukraine itself, however, the mood was markedly different. Residents of Kyiv, Odessa and Lviv told news week They experienced a range of emotions ranging from fear to anger. They reported that for the first time in months they were sitting in air raid shelters and apartment corridors. Social media circulated videos of Kievans taking cover in the city's metro stations.
Ukrainian civilians told news week this commitment to her country's self-defense efforts has not been shaken by the Russian missile attacks.
"They won't scare us," Yuri said in Kyiv. "They only make us stronger."
"Just tell Biden to send us better air defense systems," Sergei said in Odessa.
When the air raid sirens were finally switched off a few minutes after noon local time, everyday life in Kiev returned to more or less normalcy.
At the official level, Presidential Advisor Mikhail Podolyak shared his thoughts with Telegram.
"Large-scale rocket attacks on the centers of Ukrainian cities are evidence of the terrorist nature of the Russian regime," Podolyak wrote. "The mask is off: this is the targeted mass killing of civilians and the destruction of civilian infrastructure."
"These are undoubtedly the death spasms of a wounded animal," he added. "They can't fight on the battlefield, so they hit civilians with rockets."
https://www.newsweek.com/ukraine-calls-russian-terror-bombing-dying-convulsions-wounded-beast-1750302 Ukraine calls Russian terrorist attack 'dying spasms of a wounded beast'