Ukraine encircles 5,000 Russian troops in Lyman as Putin faces yet another defeat
Ukraine's military has said it has surrounded thousands of Russian troops in a strategic city in Donetsk Oblast, a day after Vladimir Putin claimed the region as part of Russia.
Around 5,000 Russian troops are trapped in Lyman, according to Serhii Cherevatyi, spokesman for Ukraine's Eastern Armed Forces, although that number was only an estimate and could be lower due to casualties.
He said that the nearby settlements of Yampil, Novoselivka, Shandrygolovo, Drobysheve and Stavky "have been liberated and stabilization measures are underway there".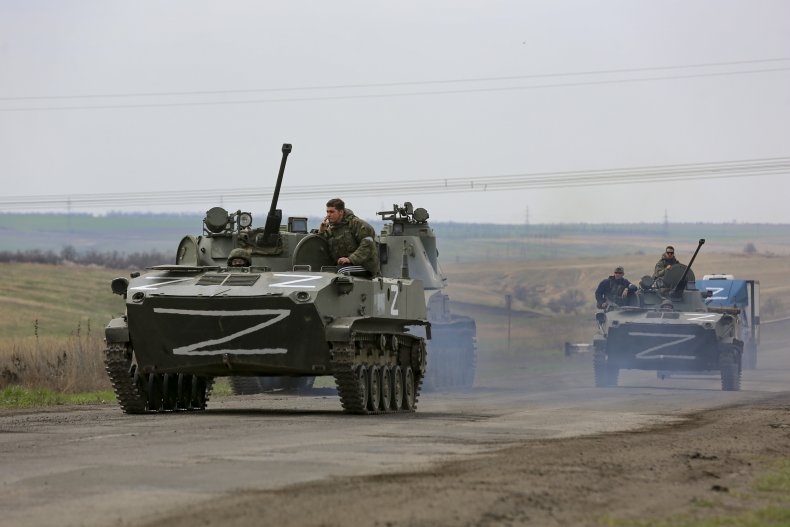 "This is also a psychologically important moment," he said via translation, according to RBC Ukraine, adding that Ukrainian troops "are beginning to dictate their will" and are "turning the tide of hostilities" and not just "on the defensive." be ."
Meanwhile, Luhansk Governor Serhiy Haidai said on his Telegram social media channel that "the occupiers trapped in Lyman asked the Russian command to allow them to leave the city, but were refused."
"The possibilities of delivering ammunition to the Russians in the encircled city or creating a peaceful exit from the settlement are already blocked," he added, according to a translation.
"The choice is yours – either try to break through, or surrender, or die with everyone there," he added.
On Friday, the US-based Institute for the Study of War (ISW) predicted the city would fall within days, citing how Russian military bloggers had described a "chaotic withdrawal" of Russian troops from the area.
Ukraine's recapture of Lyman would be a blow to Putin's hopes of controlling the region, which was one of four partially occupied regions whose annexation he confirmed in a televised ceremony in the Kremlin's St George's Hall.
On Friday, Putin said that residents of the Luhansk, Zaporizhia and Kherson regions would be recognized as Russian citizens.
But the prospect of losing Lyman follows Putin's humiliating retreat from Kharkiv last month on Ukraine's counteroffensive.
Meanwhile, the UK Ministry of Defense (MOD) has said that Putin's expansionist strategy has resulted in "killing civilians whom it now claims are its own citizens."
British defense officials said on Saturday Moscow had "almost certainly" attacked a convoy outside the city of Zaporizhia the previous day with reports that at least 25 people had been killed and more than 50 injured.
It said the affected munition was "probably a Russian long-range air defense missile" typically used to shoot down modern aircraft and incoming missiles.
"Its use in the ground-attack role was almost certainly caused by the general shortage of ammunition, particularly for longer-range precision missiles," the Department of Defense said.
news week has reached out to the Russian Defense Ministry for comment.
https://www.newsweek.com/ukraine-russia-putin-lyman-donetsk-defeat-vladimir-putin-1748141 Ukraine encircles 5,000 Russian troops in Lyman as Putin faces yet another defeat