Ukraine hoists the flag in a liberated village, urging the halt to Russian supplies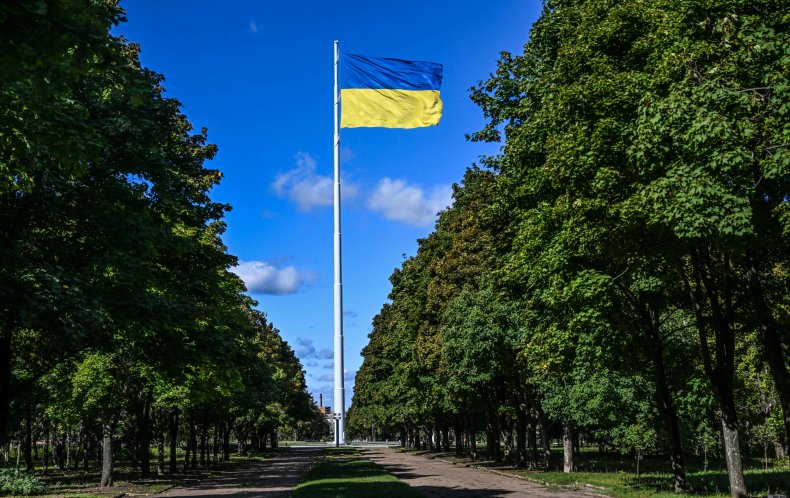 A Ukrainian flag was flown in a recently liberated village in the Kharkiv region as the country's eastern counter-offensive against Russian forces continues to be successful, Ukraine's Defense Ministry said.
The agency shared video on Twitter Tuesday showing a soldier standing on a Russian flag that had been taken down before a Ukrainian flag was hoisted in the village of Kupyansk-Vuzlovy. Ukraine mentioned the strategic importance of retaking the village and said that it has one of the largest railway stations in eastern Ukraine.
"The village of Kupyansk-Vuzlovy in the Kharkiv region has been liberated," the ministry said tweeted. "One of the largest train stations in eastern Ukraine is located there. The occupiers used it for their supply route. The offensive in the Kharkiv region continues."
Oleg Synegubov, head of Ukraine's regional military administration in Kharkiv, said Russia took control of the village and train station within hours of the all-out invasion of Ukraine beginning on February 24 Ukraine Pravda.
"Kupyansk-Vuzlovy [was] one of the largest logistical railway routes on the territory of Kharkiv Oblast," Synegubov reportedly said during a Ukrainian TV appearance. "Thanks to a successful military operation, the Armed Forces of Ukraine regained control of the route and are now in full control of it. "
The recapture of the village and station is one of many recent successes reported by the Ukrainian military in the eastern counter-offensive launched this month, about a week after a counter-offensive began in the southern Kherson region in late August.
According to reports, only 6 percent of the Kharkiv region remained under Russian control as of Tuesday. Kyrylo Tymoshenko, Deputy Head of the Office of the President of Ukraine, said that a total of 454 settlements in Kharkiv had been liberated.
Synegubov said that liberating the territory near Kharkiv, Ukraine's second largest city, "takes a lot of effort because [Russia] does not retreat and constantly tries to regroup and deploy reserves." Russian attacks in the Kharkiv region on Monday reportedly killed nine people and wounded five others.
The General Staff of the Armed Forces of Ukraine shared a video on Facebook on Tuesday allegedly showing 15 Russian soldiers, including two majors, being captured in a forested area near Kharkiv.
Meanwhile, Russian President Vladimir Putin last week announced a "partial mobilization" of troops that could see as many as 300,000 Russian reservists soon join the war.
Some experts have suggested that the new troops will be of "low quality" and will make little difference in the Russian war effort due to "serious and systemic problems" within the Russian military.
news week has asked the Russian government for a statement.
https://www.newsweek.com/ukraine-raises-flag-liberated-village-touts-cutoff-russian-supplies-1746833 Ukraine hoists the flag in a liberated village, urging the halt to Russian supplies