Ukraine war will be over when 'every road' is clear, Polish PM says after rocket dust
Polish Prime Minister Mateusz Morawiecki reiterated his support for Ukraine on Saturday, just weeks after NATO found a missile that hit a village in Poland was accidentally launched by Ukraine.
Morawiecki held a meeting with his Ukrainian and Lithuanian counterparts where they discussed their joint efforts in the face of Russia's invasion of Ukraine, which is now entering its ninth month.
The meeting follows a cloud of dust on the Ukraine-Polish border earlier this month. On November 15, a rocket hit a Polish village, killing two people. Leaders initially believed the missile originated in Russia, raising concerns of an escalating military conflict. However, NATO said the missile was likely accidentally launched by Ukrainian air forces.
Despite the frenzy, Poland has shown no sign of easing its support for Ukraine in recent weeks. Morawiecki on Saturday doubled down on calls to help the eastern European country repel the Russian invasion, which has been internationally censured, with leaders raising concerns about a lack of justification and a violation of Ukraine's sovereignty.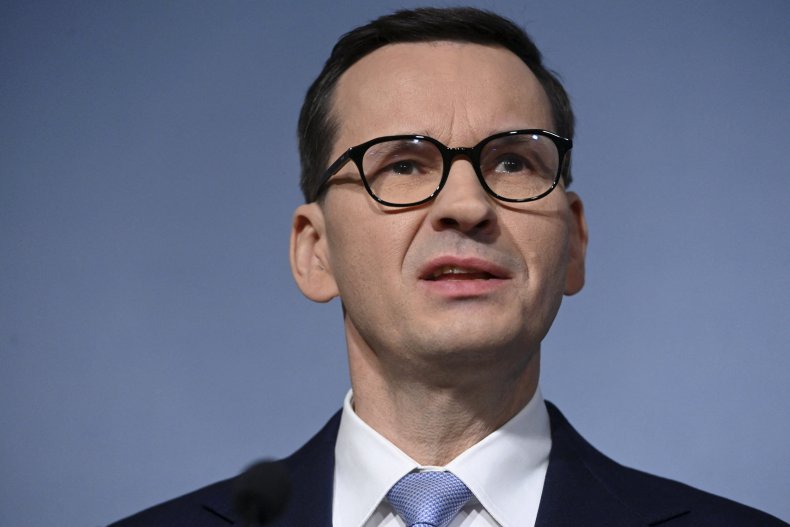 Morawiecki condemned European leaders for realizing "too late" that Russian President Vladimir Putin planned to invade Ukraine before launching the "special military operation" on February 24.
"Europe noticed the threat from Russia too late, which is why we cannot delay aid to Ukraine today. This war will end when every home, school, hospital and street is retaken," Morawiecki said in a speech translated by The Kyiv Independent after the meeting, according to his office's Twitter account.
The attack, widely seen as accidental, did not significantly shake relations between Ukraine, Poland and NATO. NATO Secretary General Jens Stoltenberg said the strike, which was fired as Ukraine defended itself against Russian attacks on its infrastructure, was "not Ukraine's fault".
"Russia bears ultimate responsibility as it continues its illegal war against Ukraine," Stoltenberg said in early November.
Morawiecki was a staunch supporter of Ukraine throughout the conflict. Earlier this week he urged world leaders to take "preventive measures" to strengthen Ukraine ahead of winter while speaking in Kosice, Slovenia.
"The coming months could be very, very difficult, after all winter is coming and the Russians are deliberately bombing the energy infrastructure, depriving the people of Ukraine of power and heat and leading to a humanitarian drama," he said.
The strike caused initial panic as little information was available about where the strike came from and how Poland would react. Most concerns have been allayed, however, and Poland has pushed for "Patriot" missiles to be deployed in Ukraine along their shared border amid fears of escalation.
news week has asked the Ukrainian Ministry of Foreign Affairs for an opinion.
https://www.newsweek.com/ukraine-war-over-when-each-road-free-polish-pm-says-after-missile-dustup-1762502 Ukraine war will be over when 'every road' is clear, Polish PM says after rocket dust