Ukraine's EU bid splits Europe in two
Ukraine's bid to join the European Union has meant the bloc has struggled to reconcile its support for Ukraine with concerns from Western member states, many of whom are skeptical about enlargement and reluctant to set a precedent for create a "fast-track" membership.
Member states appear largely open to Ukraine's eventual membership, but there are disagreements between East and West over exactly how and when that might happen.
The road to Brussels is long and sometimes painful for applicants. The journey can typically last about a decade and involve labyrinthine negotiations and structural national reforms. The shortest process was for Austria, Finland and Sweden – all taking almost five years to meet the criteria. Negotiations to expand into Eastern Europe lasted more than 10 years.
The existential threat posed by Russia prompted Ukrainian President Volodymyr Zelenskyy and his top officials to call for an expedited trial, an appeal that appears to have come to nothing.
The EU acted with unprecedented speed to launch Ukraine's accession process. But there seems to be a deeper reluctance among some Western EU nations to throw their considerable weight behind a new wave of enlargement, be it for Ukraine or any of the other nine nations wishing to join.
At the historic EU summit in Versailles, France, in March, EU leaders agreed to support Ukraine's entry into the bloc. But they've grappled with how and when.
'Fast Track' issues
Dutch Prime Minister Mark Rutte said there was "no fast lane". French President Emmanuel Macron said earlier this month membership could last "decades"; Chancellor Olaf Scholz said this week that there was "no shortcut on the way to EU membership".
The reluctance of the "Big Two" – Germany and France – to further enlarge the union is nothing new. Paris, Berlin and other western EU states are skeptical about accepting new members.
EU supporters fear opening the door to nations that have not yet been able to fully curb corruption and organized crime, further draining the EU budget via structural funds and likely encouraging more migration to the West.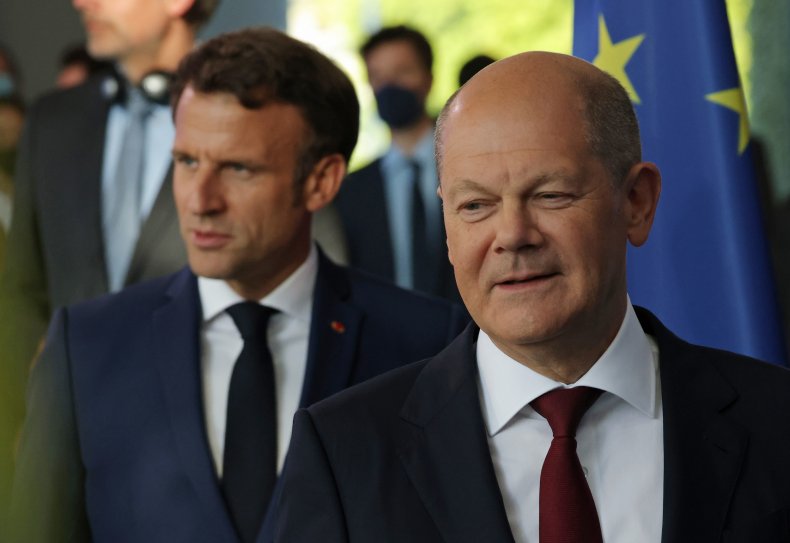 Many of these problems would remain with Ukraine's accession, particularly with the scale of post-war reconstruction that would be required.
Kyiv has made some progress on reforms thanks to its 2014 Association Agreement with the EU, but full compliance with bloc standards remains a distant goal.
Despite some advocates, accelerated accession does not find much support in the EU.
Even in the Baltic states, top officials have told Ukrainians there is no hope of short-term membership.
But it is the West's apparent reluctance to enlarge, whether fast or slow, that worries its eastern allies.
expansion concerns
For some EU nations – particularly those in the east who have benefited so much from recent accession and are aware of the Russian threat – the war on Ukraine trumps institutional concerns.
That's what a Latvian diplomat said, who didn't want to be named publicly news week that a high-level meeting between Latvian and Estonian diplomats was held this week to discuss Ukraine's EU membership.
"The Baltics strongly support this, but we know that Germany and France are not on the same side," the official said. They suggested that the founding members of the EU had lost sight of the bloc's raison d'être.
"It would be good to remember why the European Coal and Steel Community was created – it was for security reasons, nothing else," the official said. "Not to allow another war in Europe. I think the current times demand that the same approach is required this time."
"Unfortunately, not everyone sees it that way. And I know that the idea of ​​EU enlargement is generally unpopular in these countries."
The EU has collectively dodged the enlargement issue for years. Its "European Neighborhood Policy and the Eastern Partnership" both sought to tie eastern aspirants – and other nations – more closely to the bloc without having to speed up accession processes.
Applications from the Balkans have waned but are now being cited by Scholz, Macron and others as reasons not to offer Ukraine accelerated membership. It would be unfair to those who have been waiting for several years. However, some potential Balkan members have backed Kiev's call for rapid accession.
Central European countries are also very interested in including Ukraine in the EU family. The Czech Republic, Slovakia, Bulgaria, Slovenia and Hungary – who are blocking the union's sixth package of sanctions over their economic concerns over the proposed oil embargo – have all urged the EU to start accession talks with Kyiv.
Frustration, distrust in Kyiv
Scholz' comments this week were met with frustration in Kyiv. Ukraine's Foreign Minister Dmytro Kuleba on Thursday condemned what he described as "second-rate treatment" by France and Germany.
Macron's proposal for a new "European Political Community" – a still undefined grouping that could offer non-member states increased cooperation with the EU – also worries Kyiv.
Ukrainians fear the proposal could expose them outside the union, leaving the country stuck between East and West and threatening the ever-present threat of Russia.
This was announced by Ukrainian MP Oleksandr Merezhko, chairman of the Foreign Affairs Committee of the Ukrainian Parliament news week he remains "suspicious" of Macron's proposal.
"It looks like an attempt to offer Ukraine a dubious substitute instead of full EU membership," Mereshko said. "To me it looks like a polite, diplomatic refusal to fast-track our accession to the EU."
Merezhko's foreign affairs committee colleagues in Germany, France, Italy and Spain this week released a statement in support of Macron's community, which they say "could serve as an exclusive framework for cooperation between the EU and future member states that still need time to join." .
The statement stressed that full membership of Ukraine – as well as Georgia and Moldova, which submitted their applications shortly after Kyiv – "remains the ultimate goal".
Leaders in Kyiv know that full membership is not an immediate prospect. Deputy Prime Minister for European and Euro-Atlantic Integration Olga Stefanishyna said news week: "We understand that the road to membership is long."
What happens next with Ukraine's EU application?
The focus in Kyiv is on gaining EU candidate status, which is needed to start formal negotiations with the bloc and agree on a roadmap to full membership. The European Commission is currently assessing Ukraine's eligibility and is expected to publish its assessment in June. Member states must then unanimously agree to extend candidate status to Ukraine.
The Commission's analysis will be published shortly before the planned EU summit in June. This meeting could prove historic for the bloc if member states decide to either put their weight behind enlargement or continue to obstruct it.
Merezhko said he was worried it would be the latter. "I'm afraid it's a statement on the eve of the EU summit in June as a kind of preparation to reject Ukraine's application for EU candidate status," he said of the joint statement by the foreign affairs committees of Germany, France and Spain and Italy.
"As for Germany, France, etc., I have the impression that they have overcome the initial shock after invading Russia again and are returning to their previous position," Merezhko said.
Stefanishyna tries to keep the short-term focus on the candidate status issue.
"If the EU is really serious when it talks about merit-based principles, there are no objective reasons not to grant candidate status to Ukraine," she said.
"There may be different ideas about the formats of cooperation in Europe. However, it is not linked to the EU candidate status, which is a first step towards full integration into the EU."
Ukrainians hope for their chances of candidate status. Given the Russian war and public support for Ukraine's membership, it would be politically difficult for member states to block the proposal.
High-level EU officials including European Commission President Ursula von der Leyen, European Council President Charles Michel and EU foreign policy chief Josep Borrell have all paid publicly revealed visits to Kyiv to show their support for the to demonstrate the Zelenskyy government and its cooperation with the bloc.
But Ukrainians are still suffering from the West's collective diplomatic failures. NATO and EU membership are still enshrined in Ukraine's constitution, but progress on both has been slow.
The 1994 Budapest Memorandum – in which Ukraine gave up its Soviet-era nuclear weapons in exchange for security guarantees – proved hollow, forcing Ukrainians to fight for their sovereignty.
"Today it is crucial not to repeat a mistake made in Bucharest in 2008," Stefanishyna said, referring to the NATO summit where allies agreed to Ukraine's possible membership but Kyiv did not agree on a membership action plan received; a roadmap to full membership.
"Formalizing Ukraine's aspirations for candidate status will strengthen the Union and show its commitment and unity," the Deputy Prime Minister said.
https://www.newsweek.com/ukraine-european-union-application-splitting-europe-two-russia-germany-france-1708524 Ukraine's EU bid splits Europe in two