Ukraine's Eurovision winners sell trophy in support of fight against Russia
Kalush Orchestra, the Ukrainian band that took home the Eurovision trophy at this year's songwriting competition earlier in May, has auctioned off the crystal microphone to buy drones for their country's army fighting the Russian invasion.
The band reported on Facebook that the trophy sold for $900,000.
"You are incredible!" the translated post reads. "We appreciate each and every one of you who donated to this auction and a special thanks to Team Whitebit who purchased the trophy for $900,000 and are now the legal owners of our trophy."
The band said funds would be provided by the Serhiy Prytula Charity Foundation, a charity that helps the Ukrainian army, and would be used to purchase three drones.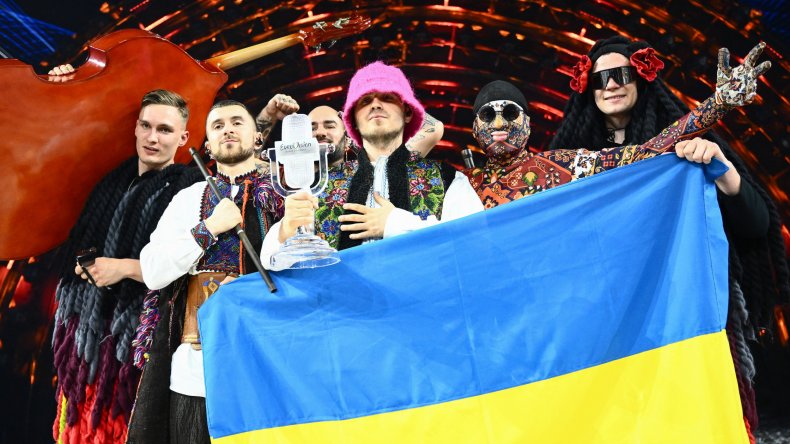 Sunday's online auction was chaired by Prytula, who said the drones were PD-2 unmanned aerial systems, according to Reuters.
The Kalush Orchestra won the 66th Eurovision Song Contest at the event, held May 10-14 in Turin, Italy. According to the organization, it was the county's third win.
"The Kalush Orchestra was formed as an offshoot of the rap group Kalush and focused on fusing modern hip-hop sounds with the motifs of traditional Ukrainian music and art," according to Eurovision.
Band members are Oleh Psiuk, Ihor Didenchuk, MC KylymMen, Tymofii Muzychuk, Vitalii Duzhyk and Sasha Tab.
The group won for their entry Stefanie and shortly thereafter released a video for the song, which was filmed in war-ravaged Ukraine. The song offers a tribute to mothers.
"This is how we see Ukrainian moms today," Kalush frontman Psiuk told Billboard about the video. "We tried to convey the message of how Ukraine looks today."
In an update on Sunday, Ukrainian President Volodymyr Zelenskyy announced that he had visited Kharkiv in north-eastern Ukraine on the 95th day of the war.
"Kharkiv suffered terrible blows from the occupying forces," he said. "Black, burned-out, half-ruined apartment buildings face east and north with their windows, from where Russian artillery fired. From where Russian warplanes arrived. They face Russia. And in them now, as in a mirror, the Russian State can see itself."
He said Russia lost the battle for Kharkiv and Kyiv and "lost its own future and all cultural ties to the free world."
Zelenskyi also reported that a third of the Kharkiv region "is still occupied".
"We will definitely liberate the entire territory," said Zelenskyy.
It was the president's first visit outside the Kyiv region since the war began, the BBC reported.
https://www.newsweek.com/ukraines-eurovision-winners-sell-trophy-support-fight-against-russia-1711255 Ukraine's Eurovision winners sell trophy in support of fight against Russia