Ukrainian defenders ambush Russian base in confiscated house
Footage of the Ukrainian military allegedly shows Ukrainian troops raiding a Russian base set up in a confiscated private home.
The Ukrainian military said the attack took place on a private property in the city of Sievierodonetsk in Ukraine's easternmost region of Luhansk Oblast.
According to the 3rd Separate Special Forces Regiment, the attack destroyed the enemy stronghold and killed the Russian unit.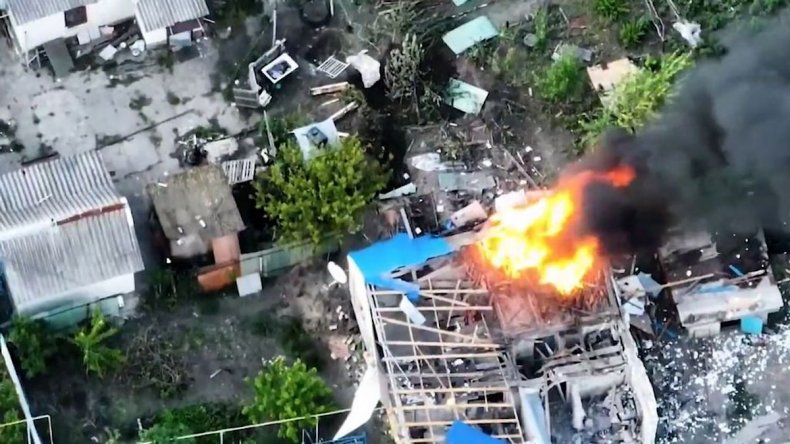 The 3rd Separate Special Forces Regiment said on May 26: "This video shows that no matter how they try to hide, the Russian killers will be punished.
"Thanks to the SSO (Special Operations Forces) soldiers of Ukraine, Russian occupiers who tried to launch a 120-mm mortar near Sievierodonetsk were destroyed.
"The enemy established his position right in the garden of a captured private house. However, this did not save them. According to confirmed data, as a result of the attack by Ukrainian soldiers, the enemy was killed.
"After 'arriving' from our side, the enemy's position was covered with rubbish, which is fully consistent with the meaning of their life and death."
In related news, Ukrainian President Volodymyr Zelenskyy said the ongoing invasion could leave Donbass uninhabited and accused Russia of carrying out "genocide" in the region.
The city of Sievierodonetsk is currently suffering from an onslaught of Russian shelling and there have been reports of three blasts overnight in the city of Dnipro.
The death toll from shelling in Ukraine's second largest city of Kharkiv on May 26 has now reached nine people, including a baby.
Zelenskyy said on Thursday evening that every time the West puts more pressure on Russia, lives are lost in Ukraine.
His Foreign Minister Dmytro Kuleba said Ukraine could not counter the Russian offensive without more heavy weapons.
US officials said the Biden administration is considering supplying Ukraine with the M142 High Mobility artillery-missile system.
The maximum firing range of the light multiple rocket launcher developed for the US Army in the late 1990s is 186 miles.
The General Staff of the Armed Forces of Ukraine reported earlier on Friday that from Feb. 24 to May 27, Russia lost about 29,750 troops, in addition to 1,322 tanks, 3,246 armored fighting vehicles, 623 artillery systems, 201 multiple-missile systems, 93 air defense systems, 206 combat aircraft, 170 Helicopters, 503 unmanned aerial vehicles, 115 cruise missiles, 13 warships, 2,226 military vehicles and fuel tankers, and 48 units of special equipment.
While the Russian Defense Ministry earlier on Friday reported that Ukraine had lost 179 combat aircraft, 127 helicopters, 1,019 unmanned aerial vehicles, 323 air defense systems, 3,266 tanks and armored fighting vehicles, 433 multiple missile systems, 1,682 artillery systems and 3,190 military vehicles in the same period.
Russia invaded Ukraine on February 24 in what Russian President Vladimir Putin originally described as a "special military operation" to "demilitarize and denazify" Ukraine.
The Kremlin still speaks of a "military special operation," but now says the goal is to "protect Donbass." May 27 marks the 93rd day of the invasion.
This story was provided to Newsweek by Zenger News.
https://www.newsweek.com/ukrainian-defenders-blitz-russian-base-set-seized-house-1711088 Ukrainian defenders ambush Russian base in confiscated house