Ukrainian paratroopers reportedly destroy over a dozen Russian tanks and combat vehicles
Ukrainian paratroopers destroyed more than a dozen Russian tanks and armored fighting vehicles, military officials say.
The 80th Separate Air Assault Brigade of Ukraine's Air Assault Forces said it destroyed 11 armored fighting vehicles, three tanks and one Orlan-10 unmanned aerial vehicle (UAV) belonging to the Russian Armed Forces.
The Ukrainian brigade, based in the western Ukrainian city of Lviv, said on May 21: "Well done! Nice! Bauer! (sic) – Such words are heard every time after a successful hit by the Moscow demon."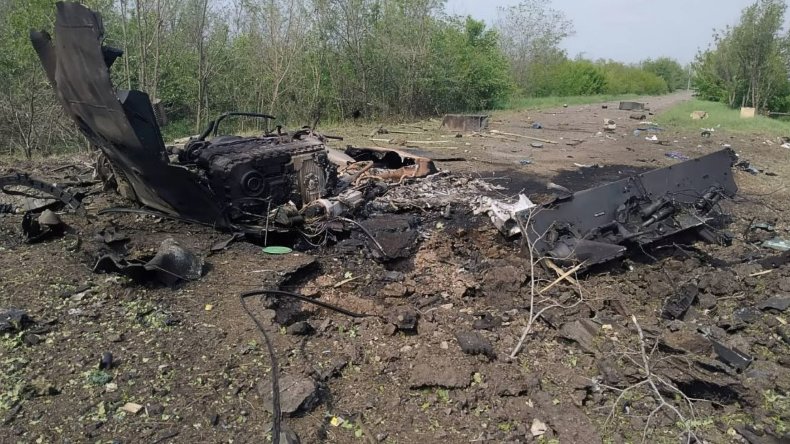 "In one day our beauties destroyed a sufficient number of weapons of the occupying Russian forces, namely: 3 tanks, 11 armored fighting vehicles and one Orlan-10 [drone].
The brigade added: "To be continued…"
The Command of Assault Forces of the Armed Forces of Ukraine said: "In the last 24 hours, three tanks, three infantry fighting vehicles and two ground combat vehicles were captured by anti-tank units of the 80 Armed Forces of Ukraine.
"We continue to fight and destroy the invaders of our homeland! DShV – always first! Glory to Ukraine!"
Russian troops invaded Ukraine on February 24 in what the Kremlin still calls a "military special operation". May 23 marks the 89th day of the campaign.
From February 24 to May 23, the total combat losses of Russian troops amounted to around 29,200 men, according to the General Staff of the Armed Forces of Ukraine.
The Ukrainian military also claims that Russia lost 1,293 tanks, 3,166 armored fighting vehicles, 604 artillery systems, 201 multiple missile systems, 93 anti-aircraft systems, 204 combat aircraft, 170 helicopters, 2,206 motor vehicles and fuel tankers, 13 ships, 476 unmanned aerial vehicles, 43 units of special equipment and 110 cruise missiles .
Last week, Ukrainian President Volodymyr Zelenskyy called Russia's invasion of Ukraine an "absolute failure" and said the Russian leadership was afraid to admit "catastrophic mistakes were made at the highest military and state levels."
Zelensky also said that Ukraine is determined to regain control of the southern cities of Kherson, Melitopol, Berdiansk, Enerhodar and Mariupol, which are currently occupied by Russian forces.
This story was provided to Newsweek by Zenger News.
https://www.newsweek.com/ukrainian-paratroopers-reportedly-destroy-over-dozen-russian-tanks-combat-vehicles-1709334 Ukrainian paratroopers reportedly destroy over a dozen Russian tanks and combat vehicles