Update on Saskatchewan stabbing that killed 10 in Canada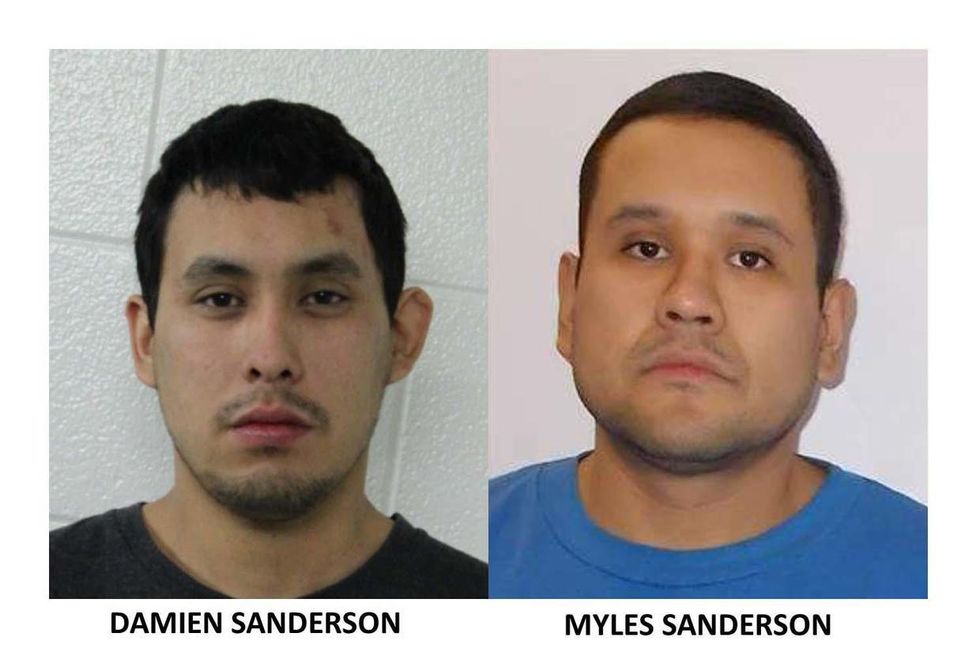 At least 10 people are dead and 15 others hospitalized in a mass stabbing attack in Canada's Saskatchewan province. The two suspects in the Saskatchewan stabbing were still at large as of Sunday night and a manhunt is underway.
Around 5:40 a.m. Sunday, the Saskatchewan RCMP Divisional Operational Communications Center received multiple calls that multiple people had been stabbed. The stabbings occurred at 13 different locations throughout the James Smith Cree Nation community and in the village of Weldon, the Royal Canadian Mounted Police said.
At 9:45 a.m., law enforcement located multiple victims in multiple locations — including one victim outside of the original stabbing areas, police said. Police then found that some of the victims were being attacked indiscriminately.
At 12:07, authorities determined that there were 10 dead and another 15 injured, who were taken to various local hospitals.
The Royal Canadian Mounted Police named the suspects Damien Sanderson and Myles Sanderson. Police describe Damien Sanderson as a 31-year-old man, 5ft 7in tall and weighing 155lbs, with black hair and brown eyes. Myles Sanderson is a 30-year-old male and is 6ft 1in tall. and 240 pounds, with brown hair and hazel eyes.
The suspects are believed to be driving in a black Nissan Rogue SUV with Saskatchewan license plates: "119 MPI."
The suspects are believed to be armed and dangerous. The public is instructed not to go near the suspects or their vehicle.
The Royal Canadian Mounted Police said in a expression"We are currently actively searching for the two suspects, assisting the victims and investigating the many crime scenes. We are dedicating the highest level of resources to this investigation and thank our many provincial and inter-provincial police partners who provide additional support."
Deputy Commissioner Rhonda Blackmore – the commanding officer of the Saskatchewan RCMP – asked for the public's assistance in locating the two suspects.
"At this stage in our investigation, we believe some of the victims were assaulted by the suspects and others were assaulted indiscriminately," Blackmore said. "Let me be clear, we're still looking for the two suspects. We ask residents of Saskatchewan and our neighboring provinces to be vigilant."
"At this time, we do not know if they have changed vehicles since this morning," the statement said. "Their location and direction of travel are unknown. Because of this, everyone in the province must remain vigilant and immediately report suspicious activity by calling 911."
Blackmore promised to "use every resource we have to locate and arrest these two individuals."
"Our thoughts are with the many victims – both dead and injured – their families, friends and communities," Blackmore concluded. "It is appalling what happened in our province today."
Canadian Prime Minister Justin Trudeau said he was "closely monitoring" developments in the Saskatchewan stabbing.
"The attacks in Saskatchewan today are horrifying and heartbreaking. Thinking of those who have lost loved ones and those who have been hurt," Trudeau said tweeted. "We are closely monitoring the situation and urge everyone to follow updates from local authorities. Many thanks to all brave first responders for their efforts on site."

Canada mass stabbing: manhunt underway for 10 dead in Saskatchewan | 9 News Australia

www.youtube.com

https://www.theblaze.com/news/saskatchewan-stabbing-spree-canada-update Update on Saskatchewan stabbing that killed 10 in Canada