Updates on Israel's war with Hamas, video shows hostage-taking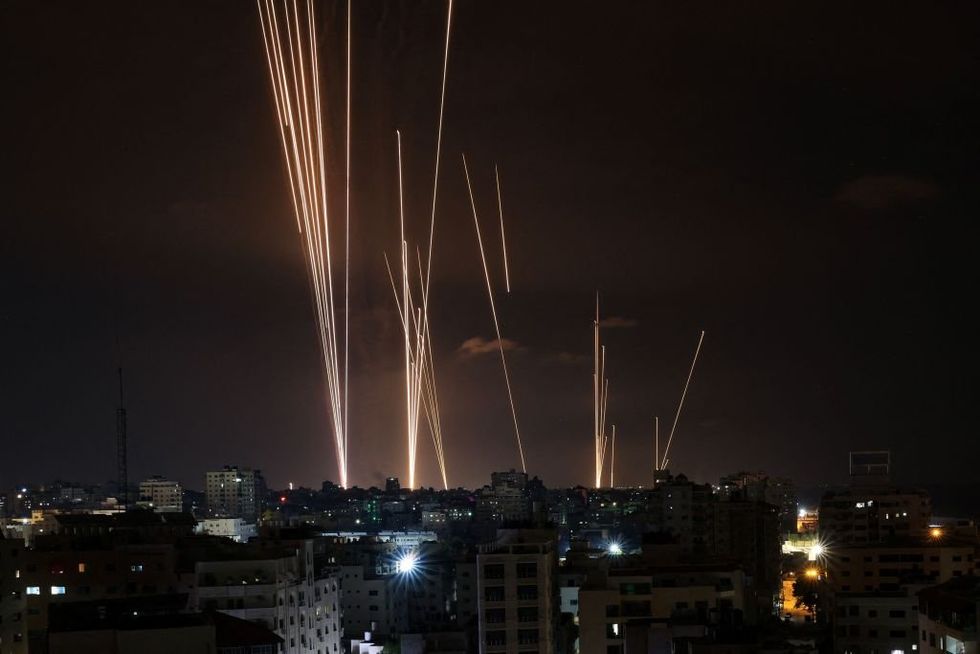 Hamas militants fired thousands of rockets into several areas of Israel on Saturday during the Jewish high holiday of Simchat Torah. In the unprecedented multi-front attack early this morning, Hamas guerrillas bypassed heavy fortifications and entered more than 20 Israeli communities along the Gaza border – where gun battles broke out and hostages were taken.
Hamas launched "Operation Al-Aqsa Flood," ostensibly in retaliation for Israel's "desecration" of the Al-Aqsa Mosque in Jerusalem. Israel retaliated with a counterattack called "Operation Swords of Iron."
According to reports, 300 Israelis were killed and 1,590 injured in less than 24 hours after the deadly attack. According to the Hamas-run Health Ministry, the death toll in Gaza stands at 232 Palestinians and another 1,697 were injured.
Hamas terrorists allegedly "Dozens of Israeli soldiers and civilians" captured. Israeli Prime Minister Benjamin Netanyahu estimated there could be "around 60" Israelis taken hostage.
Hamas spokesman Abu Obeida allegedly"The number of hostages we have is many times higher than Netanyahu says."
NBC News released a video purporting to show a bloodied Israeli woman being taken hostage by Hamas terrorists.
(WARNING: Graphic video)
The Times of Israel reported: "The family of Noa Argamani today shares harrowing footage of her abduction in southern Israel. The video shows her being taken away by Hamas terrorists on the back of a motorcycle as she screams "Don't kill me" and she reaches out to her boyfriend, Avi Natan, who is also being held by Hamas militants. They were both attending a festival in the south."
Multiple media reported that Israeli special forces rescued citizens held in the dining hall of Kibbutz Be'eri. The terrorists were reportedly killed in the operation.
Netanyahu declared on Saturday that his country was at war.
During a televised address on Saturday evening, Netanyahu said praised that Hamas would pay an "unprecedented price" for the surprise attack.
"What happened today has never happened before in Israel, we will take powerful revenge for this black day," Netanyahu promised.
"We will reduce to rubble all the places where Hamas is based… all the places where Hamas hides and operates from," the Israeli prime minister announced.
Netanyahu warned"All the places where Hamas is organized, in this city of evil, all the places from which Hamas hides and operates – we will turn them into cities of ruins. I say to the residents of Gaza: Get out of there now, because we will act everywhere and with all our might."
He admitted: "This war will take time. He will be difficult. There are challenging days ahead."
Israeli Major General Ghasan Alyan explained that Hamas "has opened the gates of hell to Gaza."
Israel had already carried out several airstrikes in Gaza, including the destruction of the Palestine Tower – a residential high-rise that was also destroyed Houses Hamas offices. The IDF fired a warning shot before destroying the 14-story building.
Hamas continued to fire rockets into southern Israel into the night, aiming to overwhelm the Iron Dome defense system.
The United Nations has announced an emergency meeting of the Security Council for Sunday.
Just days before the attack, Iranian Supreme Leader Ayatollah Ali Khamenei said said"Today the Palestinian movement is more vibrant than ever before in these 70 or 80 years." The Honorable Imam [Khomeini]may God be pleased with him, described, the usurper [Zionist] regime as cancer. This cancer will certainly be eradicated, God willing, at the hands of the Palestinian people and resistance forces throughout the region."
Members of the Iranian Parliament opened their Saturday session on Saturday To sing: "Death to Israel" and "Israel will be doomed, Palestine will be the conqueror."
Do you like Blaze News? Bypass the censorship, sign up for our newsletter and get stories like this delivered straight to your inbox. Login here!