UT Band has a new drum bass Big Bertha II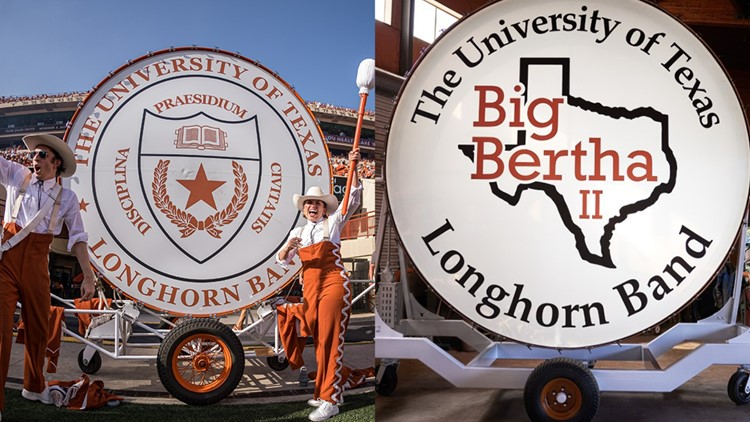 Dubbed Big Bertha II, the new bass drum comes after 100 years of service from the original Big Bertha.
AUSTIN, Texas – The University of Texas at Austin (Subtitles) Longhorn Band unveil their new custom bass drum, which is even larger than their original drum, at home game against Iowa State University.
"We're not saying goodbye to Big Bertha, but we felt that her centenary is the perfect time to honor her by inducting her into the Hall of Fame," said Longhorn Band director Cliff Croomes. "We are excited to introduce Big Bertha II to our fans and to have a new drum that this generation and generations to come will enjoy."
The first Big Bertha and now the second hold a large chunk of history with the Longhorn Band. Big Bertha leads the members of the Longhorn Band onto the field for football games and is played during the national anthem "The Eyes of Texas" and after the team's goals.
The original drum was commissioned by the University of Chicago in 1922, and then-Longhorn Band director Morton Crockett purchased the drum for UT in 1954, according to a UT press release. Crockett restored the drum and gave it to the then incumbent director of the Longhorn Band, Vincent DiNino, a year later, in 1955.
Big Bertha II was built in Austin by A&F Drum Co., making the new drum even larger than the original. The second drum now measures over 9.5 feet in diameter and 55 inches wide, compared to the original Big Bertha's 8 feet in diameter and 34.5 inches wide, the release said.
The new drum, made from a proprietary material including aluminum, will be capable of playing the lowest note ever on a kick drum and is the world's largest bass drum. In addition, Big Bertha II connects wirelessly to the stadium's sound system.
"Bertha is loud. Big Bertha II will be cacophonous," Croomes said. "I'm honored to be a part of this transition as we honor our history and plan for our future."
In UT's 60+ years, the original Big Bertha has performed countless times at football games and around the world. In 2015 the drum was shipped to London to play in the Longhorn Alumni Band's performance at London's New Year's Parade. The drum also traveled to the Rose Bowl, performing on "Jimmy Kimmel Live!". and was the subject of an episode of the A&E show "Shipping Wars".
Activists attacked after throwing soup at Van Gogh paintings
Austin ISD plans to improve Title 1 teacher retention according to new poll results
Government assistance program to help Texans with utility bills and future mortgage payments
https://www.kvue.com/article/news/education/university-of-texas/ut-band-unveils-new-bass-drum/269-ee3670ef-9b8d-4e05-a2a5-2d5dcadf49e8 UT Band has a new drum bass Big Bertha II