Uvalde Cops face America's wrath over botched shooting responses
Police have faced severe criticism and have been called "cowards" for their response to this week's mass shooting at Robb Elementary School in Uvalde, Texas.
A total of 19 children, two adults and suspected gunman Salvador Ramos were killed in Tuesday's mass shooting. Outrage has erupted online and in cable news after it was revealed local police entered the building minutes after the gunman entered unchallenged, but quickly retreated and ducked for cover. Ramos was killed by border guards more than an hour later.
Texas Department of Public Safety (TDPS) Lieutenant Chris Olivarez told CNN police didn't investigate Ramos further over fears they had caught fire and officers "could be shot." The word "cowards" trended on Twitter in reference to the police after news of the delay broke.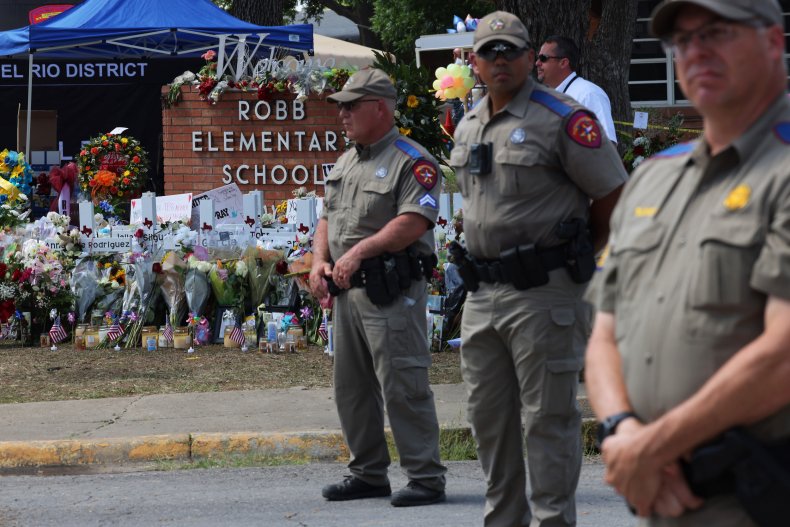 "The Uvalde police were a bunch of cowardly cowards who shamed their badges," said British TV personality Piers Morgan tweeted on Friday. "Heads should be rolling and some of them should be charged with criminal negligence. You let these children die."
"I'll just say it: the local Uvalde police are cowards and have failed to protect these children," civil rights attorney Jo Kaur said tweeted On Wednesday. "They should be held accountable. They are not heroes."
This is an evolving story and will be updated as more information becomes available.
https://www.newsweek.com/cowards-uvalde-cops-face-americas-wrath-over-bungled-shooting-response-1711103 Uvalde Cops face America's wrath over botched shooting responses