Uvalde police hire bikers to block reporters covering funerals: report
The Uvalde Police Department has reportedly asked biker groups to keep journalists on hand during the funeral for a victim of the mass shooting at Robb Primary School.
At least three groups of bikers were among around 100 mourners who gathered outside the Rushing-Estes-Knowles morgue on Thursday for the funeral of 10-year-old Eliahana Torres, one of 19 children killed in the shooting Houston Chronicle. Uvalde police officers and members of the biker groups reportedly threatened to arrest journalists if they left a designated area across the street from the morgue. It was not clear if an attempt was made to leave the area.
Some of the bikers "obstructed cameras in these designated areas and followed reporters" while demanding that journalists "stay on the sidewalk," according to the timeline. A member of the Guardians of the Children motorcycle club reportedly said they had been asked by Uvalde Police to attend the funeral. Other biker groups present are said to include the Thin Blue Line LEMC and the Marines MC.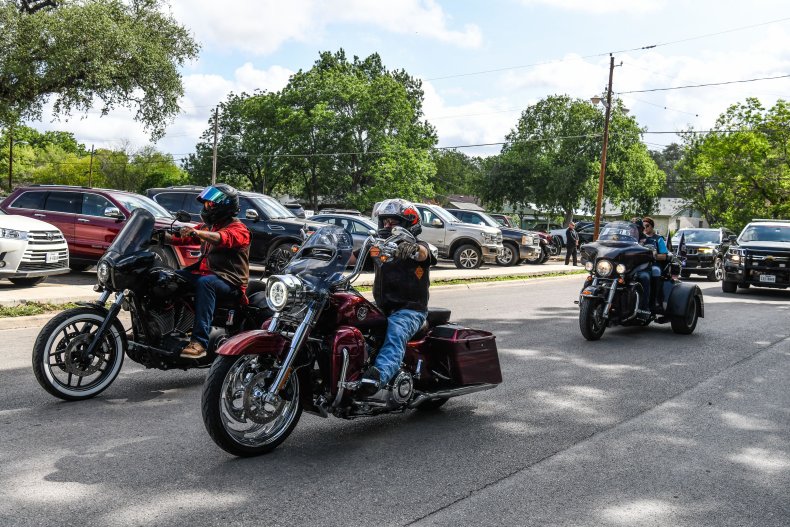 Thin Blue Line LEMC spokesman David Weed confirmed this news week that members of his club attended the funeral after being asked by the Guardians of the Children to attend the funeral and "look after the families". He didn't know what role the Uvalde police played.
Weed said his club also plans to attend Friday's funeral for Eva Mireles, one of the two teachers killed during the shooting. He said they were invited by Mirele's husband Ruben Ruiz, a Uvalde school district police officer.
news week reached out to the Uvalde Police Department, the Guardians of the Children and the Marines MC for comment.
Eliahana's funeral was one of at least three held Thursday for Robb elementary school students. Her obituary described her as a "loving and compassionate person who loved to be silly," played softball, and "watched TikTok videos for hours."
The funeral came after unsuccessful attempts to secure the temporary release of Eliahana's father, Eli Torres, who is being held in Kentucky on a nonviolent drug offense.
Last-minute attempts to allow Torres to attend the funeral were backed by Texas US Representative Joaquin Castro, who tweeted that he "strongly disagreed" with the Federal Bureau of Prisons' denial Thursday morning, while adding that "every parent should be able to say goodbye."
Kim Kardashian also asked federal prison officials on Thursday to tweet that they should grant the father "provisional release to say goodbye to his little girl one last time" because "every parent deserves that right."
https://www.newsweek.com/uvalde-police-enlist-bikers-block-reporters-covering-funerals-report-1712524 Uvalde police hire bikers to block reporters covering funerals: report