Vance says attack on Paul Pelosi should not become a "political issue".
JD Vance, the Republican nominee for the Ohio Senate, calls it a "problem" that an attack on House Speaker Nancy Pelosi's husband has become a political issue, and says the focus should be on the state's immigration status suspected attacker.
Vance made the remarks Tuesday as a Fox News-sponsored town hall event addressed the issue of political violence. Earlier in the event, Democratic candidate Tim Ryan linked last week's attack on Paul Pelosi to threats and acts of violence by far-right extremists. Vance, who is in a crucial race with Ryan, said the real problem is the hot political issue of immigration.
Vance stressed that he condemned the attack on 82-year-old Pelosi at his home in San Francisco, which took him to the hospital. Police have arrested David DePape, who faces charges of attempted manslaughter, assault with a deadly weapon, elder abuse, burglary and other consequences of the attack.
"I think the effort to make this a political issue is actually a real issue here because Paul Pelosi was attacked by a person who is an illegal alien in our country and shouldn't be here at all," Vance said. "My view is quite simply that we must deport violent illegal aliens."
Fox News reported Friday, citing anonymous sources, that DePape is a Canadian citizen who is in the country illegally after overstaying his visa. The reporting has not been confirmed by federal immigration authorities.
Vance, a venture capitalist and author, was previously endorsed by former President Donald Trump, whose presidency was marked by a tough stance on immigration that included plans for a border wall with Mexico. During his race for the Senate, which could determine which party controls the chamber, Vance has called for tightening immigration controls.
Earlier during City Hall, Ryan placed the attack on Pelosi alongside other acts of political violence, including the Jan. 6 attack on the US Capitol, in which a mob of Trump supporters stormed the Capitol grounds to prevent Congress from confirm the 2020 presidential election.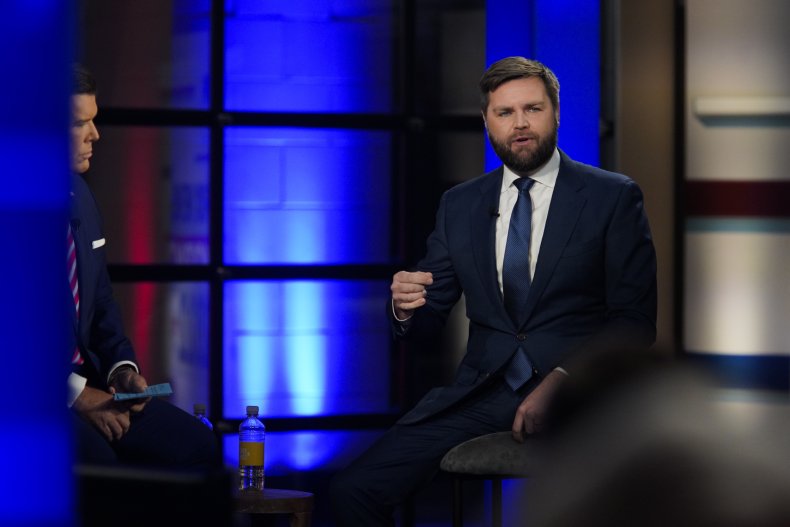 Ryan, a current Ohio representative who sits on a subcommittee that funds Capitol Police, drew boos from the crowd as he described how 140 officers who responded to the attack were injured and one killed.
Ryan went on to say that the mob also targeted then-Vice President Mike Pence and House Speaker Nancy Pelosi.
"Now someone's going to hit Nancy Pelosi's husband with a hammer," Ryan said, calling out to Vance his social media posts to raise money for people accused of attacking the Capitol.
After the attack on Paul Pelosi, reports have surfaced that DePape was steeped in right-wing conspiracy theories, including claims that the 2020 presidential election was stolen and the QAnon movement. DePape told police he intended to hold Nancy Pelosi hostage and demand that she tell the "truth" or he would break her kneecaps with a hammer.
Vance said during town hall that the attack on Pelosi "doesn't reflect Republicans."
"It reflects the fact that we allow far too many violent people to live free in our country," he said.
news week has reached out to the Vance campaign for comment.
https://www.newsweek.com/vance-says-paul-pelosi-attack-shouldnt-turned-political-issue-1756203 Vance says attack on Paul Pelosi should not become a "political issue".