Victims of the Surfside condominium collapse received preliminary approval for a $1 billion-plus settlement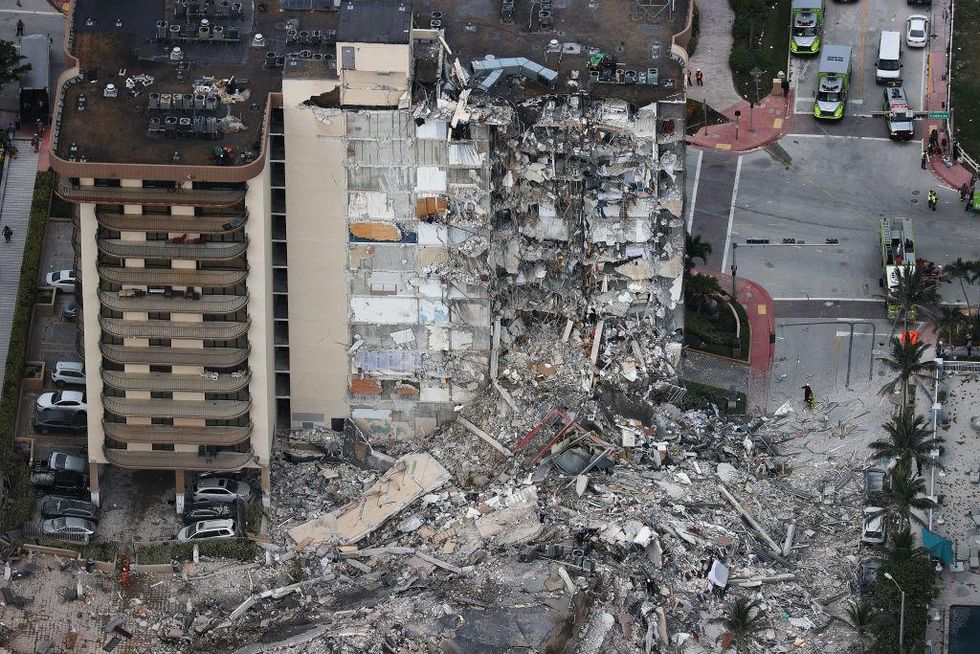 A settlement worth more than $1 billion has been reached for victims of the tragic 2021 condo collapse in Surfside, Florida.
The Miami Herald reported that last Friday, a team of attorneys representing family members of dozens of people who died in the Champlain Towers South tragedy reached a settlement totaling $1,021,199,000.
The settlement agreement was presented to Miami-Dade Circuit Judge Michael Hanzman, who gave his preliminary approval Saturday at a court hearing that followed around-the-clock negotiations over a possible settlement.
The settlement was reached less than a month before the one-year anniversary of the tragedy.
"It's a great result," said Hanzman on Saturday. "This agreement appears to be a very reasonable compromise of claims."
The settlement, valued at over $1 billion, comes as a class action settlement and because the defendants have agreed to pay to settle claims of wrongful death and personal injury by the victims' families. The defendants have not admitted wrongdoing and most of the payments to the plaintiffs are covered by insurance.
In the 213-page settlement file prepared by class plaintiff attorneys, they wrote: "As this Court has determined, the June 24, 2021 Surfside collapse of the Champlain Towers South was a 'black swan' event that devastated the community. The death and destruction caused by the collapse has caused incalculable damage to so many people."
The attorneys continued, "Remarkably, after months of rigorous negotiations on an equal footing … more than two dozen potentially liable parties have agreed to an unprecedented settlement for an unprecedented event."
Hanzman is expected to grant final approval of the class action lawsuit later this summer, after a comment period and a "fairness hearing" on June 23, allowing those injured in the Champlain South collapse to stand up for what was worth their lives. This process is expected to be laborious and emotional.
The co-chairs of the class action team released a statement, saying, "We are pleased to have finalized the settlements we have reached with more than two dozen parties and their insurers."
The statement continued, "We are grateful to Judge Hanzman, who expedited this case to resolve it in record time. We also recognize the efforts of bankruptcy trustee Michael Goldberg and mediator Bruce Greer, as well as all members of the plaintiffs' steering committee, who have worked tirelessly on this matter."
https://www.theblaze.com/news/the-surfside-condo-collapse-victims-received-preliminary-approval-for-a-settlement-of-over-1-billion Victims of the Surfside condominium collapse received preliminary approval for a $1 billion-plus settlement