Video: Drag queen performs in the rotunda of the Minnesota State Capitol for the cheering crowd celebrating Transgender Day of Visibility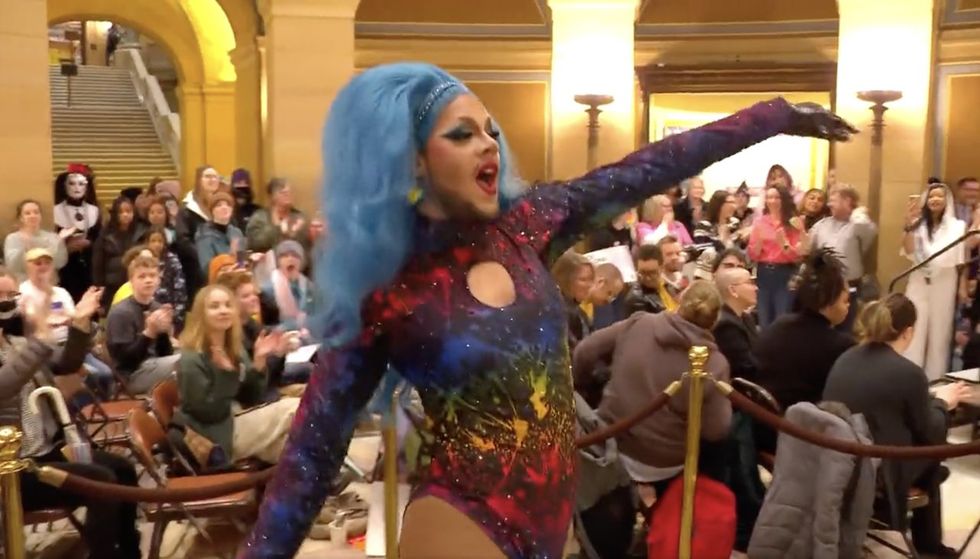 A drag queen was caught on video performing to a cheering crowd in the rotunda of the Minnesota State Capitol on Friday morning in celebration of Transgender Day of Visibility.
Guy Still, Orders Manager for WCCO-TV, posted the clip Twitternoting that the dance routine was part of a drag show:
Similar events were held across the country on Friday. WCCO-TV reportedand adds that the Trans Day of Visibility is an international phenomenon and was founded in 2009.
More from the train station:
The Minnesota legislature recently passed legislation, signed into law by Gov. Tim Walz, aimed at making Minnesota a "sanctuary" for transgender people. Those driving the legislation said they would protect trans patients and providers of gender-affirming care from legal action in other states where such care is banned or restricted, creating a safe haven in Minnesota.
Walz, a Democrat, earlier this month issued an executive order reflecting the state's "sanctuary status" for trans people.
How are people reacting to the video?
As you can imagine, not everyone loved the drag queen's performance in the stately rotunda:
Anything else?
Elsewhere in the US, organizers behind the Trans Day of Vengeance scheduled for this weekend have canceled the event, citing "a credible threat to life and safety."
Prior to the cancellation, Twitter removed over 5,000 tweets and retweets that featured a poster for "Trans Day of Vengeance" and said they "incited violence," the Associated Press reported.
Like Blaze News? Bypass censorship, sign up for our newsletters and get stories like this straight to your inbox. Login here!
https://www.theblaze.com/news/video-drag-queen-performs-in-minnesota-state-capitol-rotunda-for-cheering-crowd-celebrating-transgender-day-of-visibility Video: Drag queen performs in the rotunda of the Minnesota State Capitol for the cheering crowd celebrating Transgender Day of Visibility