Video of Russian children dressed as soldiers and tanks sparks outrage
Russian children marched in military uniforms, equipped with cardboard tanks and fighter jets in a parade Video circulating on social media ahead of the Victory Day Parade in Moscow.
Russia on Monday marked the 77th anniversary of its victory in World War II against Nazi Germany amid the war in Ukraine that has been raging for over two months. Although President Vladimir Putin did not take the opportunity to formally declare war on Ukraine, as some Western and Ukrainian officials had feared, he continued to justify Russia's invasion of its neighbor as a continuation of the fight against Nazism in Europe, and called the war one "special military operation" to "denazify" Ukraine.
A video shared on Twitter on Saturday showed young Russian children being led in a parade ahead of Monday's national celebrations. Originally shared by the @RedLinkedIn account, the clip has been viewed 1.6 million times.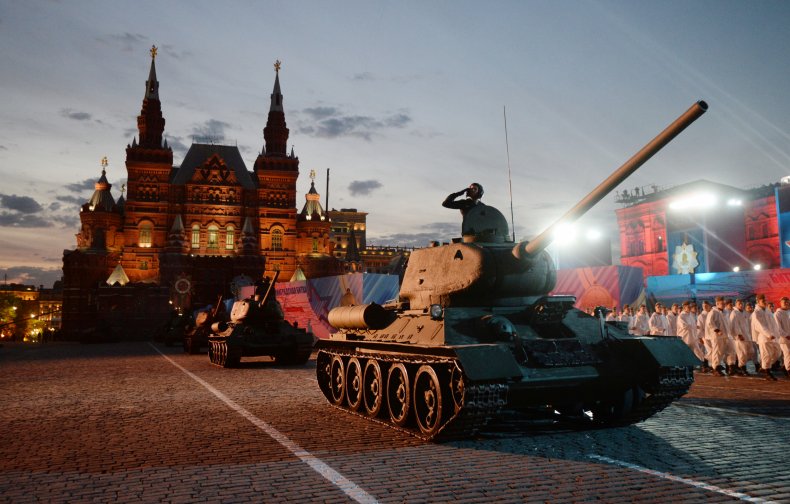 The children appeared to be about kindergarten age and wore imitation Soviet-era military uniforms. At the head of the procession trotted a young boy in a cardboard tank marked with a white "Z," the symbol that has identified Russia's military vehicles in Ukraine. His "vehicle" was flanked with a Russian flag.
Other children followed in mock tanks decorated with the "Z" and Soviet red stars. Two girls walked in fighter jet costumes. In the back stood a group of children dressed as army medics, holding white balloons with the red cross on them. Three adult women, possibly teachers, marched alongside the children in their own Soviet outfits.
The clip was reposted by The Guardian reporter Shaun Walker, who wrote "child abuse" in his caption.
The comments section below Walker's post exploded with outrage from viewers who denounced the "indoctrination" of Russian children and the "normalization" of the war in Ukraine.
"Grooming if I've ever seen it," said one commenter. "You obviously know nothing about drones and javelins."
"It's a shame to see these children being manipulated in this way," said another.
A third commenter added: "This could be a new level of nationalist ghoulery."
However, some viewers argued that labeling the parade "child abuse" was extreme, since Victory Day commemorates a historic day in Russia each year.
"Sorry I missed something. How's this child abuse?" asked one respondent. "As a young child, I used to do the same thing every year in the USSR for the country's anniversary, and May 9 was also very close to our hearts because most of us lost family members in WWII."
"It's not child abuse," chipped in another viewer. "Today was victory day. It is as important to people as July 4th is to Americans, just for different reasons."
news week @RedLinkedIn asked for a comment.
https://www.newsweek.com/video-russian-kids-dressed-soldiers-tanks-parade-sparks-outrage-1704827 Video of Russian children dressed as soldiers and tanks sparks outrage