Video: Pathetic left-wing protesters try to shut down Matt Walsh's 'Rally to End Child Mutilation' but instead have a complete meltdown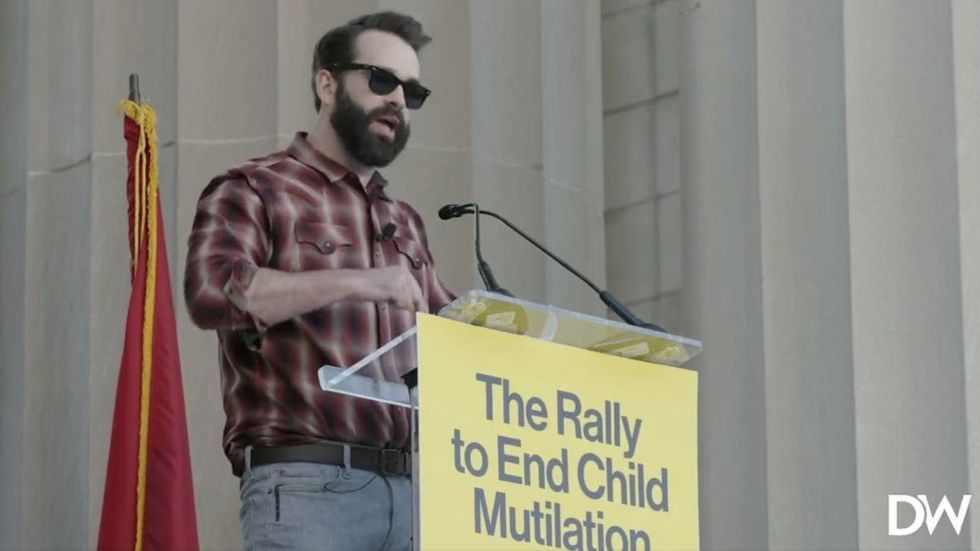 Matt Walsh's "Rally to End Child Mutilation" drew an estimated 3,000 people to the Tennessee State Capitol on Friday — as well as a small band of foul-lipped left-wing protesters who made several pathetic, unsuccessful attempts to end the event for the Daily Wire.
The large crowd was firmly behind Walsh's call for ending transgender medical treatment for children, easily drowning out the protesters.
what are the details
Twitter videos of the event documented numerous incidents of leftists melting down over the rally's message.
Content Warning: language:
Radicals held signs that read "Nazi lives don't matter" and "Fascists fuck off." At one point, protesters surrounded some Walsh supporters in the crowd and sung over a megaphone"F*** around, you'll find out."
An unnamed protester claimed to have been taking hormone blockers and tried to tell attendees the treatment was life-saving and "completely reversible" if children change their minds. The protester argued that puberty is traumatic for some children, which is why "gender-affirming" treatment is necessary for minors.
Content Warning: language:
Speakers at the event included US Sen. Marsha Blackburn (R-Tenn.), Robby and Landon Starbuck, Scott Newgent and former US Rep. Tulsi Gabbard, who earlier this month denounced her membership in the Democratic Party.
Left-wing protesters tried to drown out a speech by de-transitioner Chloe Cole by repeatedly yelling "F*** you, fascist".
Cole spoke about her emotional journey of being born a girl but choosing to transition and undergoing a double mastectomy at age 18 — and then ultimately retiring. Cole now devotes her time to speaking out against irreversible sex-mutilating hormone therapies and surgery on minors.
Some leftists didn't like that very much.
"[Cole] is a fascist and she doesn't care about other trans youth," one left-wing protester told the Daily Wire. don't let her."
When Matt Walsh took the stageRadical protesters continued to attempt to sing and yell over the rally.
was a protester recorded during video calls Walsh "a far-right lunatic propagandist". The protester declared: "If you support anything he damn well says, you're indoctrinating everyone you know to be a Nazi."
Despite the best efforts of the left, the vast majority of the crowd came out in support of Walsh.
Walsh explains during his speech that "these people here don't want you to hear what we have to say because they're cowards. They can't get into the argument. They could just try to silence us, but it will don't work. We're still here. We're not going anywhere."
Walsh explained that the purpose of the event is to unite "to protect our children". He accused the far-left demonstrators of "harassing and exploiting children."
"As Tennesseans, do we believe in neutering children? Do we believe in it? no Do we believe in drugging and mutilating children? They believe it – we don't," Walsh said. "Are we going to allow this in our state? Are we going to do what they want us to do, sit back in silence and allow our children to be victimized?"
He added: "The reason they're behaving this way is because they're losing and they know it. They are losing. And they will keep losing as long as we keep fighting across the country."
https://www.theblaze.com/news/video-pathetic-left-wing-protesters-try-shutting-down-matt-walshs-rally-to-end-child-mutilation-but-have-complete-meltdowns-instead Video: Pathetic left-wing protesters try to shut down Matt Walsh's 'Rally to End Child Mutilation' but instead have a complete meltdown