Video shows the arrest of Ashli ​​Babbitt's mother during a protest outside the Capitol
Ashli ​​Babbitt's mother, Micki Witthoeft, was arrested on Friday during a demonstration outside the US Capitol in a moment captured in video clips that quickly spread across the internet.
Witthoeft's arrest came on the second anniversary of the Jan. 6, 2021 Capitol riots, during which a United States Capitol Police (USCP) officer fatally shot Babbitt, who was among a crowd of supporters of ex-President Donald Trump who stormed the Capitol. Babbitt was shot dead by police trying to force down a door while members of Congress were still being evacuated.
A video shared on Twitter by conservative talk show host Charlie Kirk shows Witthoeft being led toward a USCP vehicle with his hands behind his back.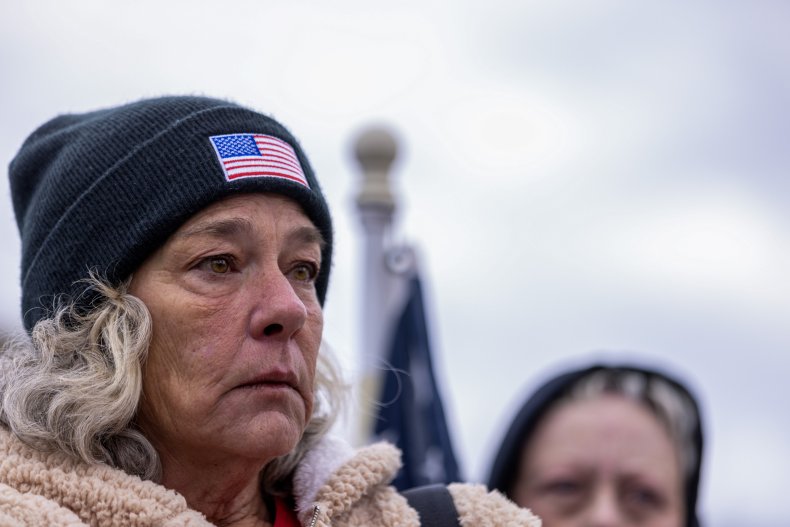 "They're arresting Ashli ​​Babbitt's mother," a protester tells officers in the video. Police can be heard telling the group that they are blocking traffic and instructing them to "go to the sidewalk".
In other videos Shared on social media on Friday, people who have gathered near Witthoeft can be heard asking if she would like to speak out after her arrest.
"Yes," she told them. "Capitol Police shit."
She went on to tell the group that the police "blocked our sidewalk and I didn't come off the street."
According to a USCP press release issued after her arrest, Witthoeft was part of a group that did not have the necessary permits to demonstrate on the Capitol grounds. The USCP said officers instructed the group to stay on the sidewalk rather than blocking the road, and Witthoeft "was warned on multiple occasions," the press release said.
"Instead of walking off the street, the woman refused to leave, turned around with her hands behind her back and asked to be arrested," Capitol Police said, adding that the woman was later identified as Witthoeft.
She was arrested around 1:45 p.m. ET for refusing to obey an officer's orders to block traffic on the Capitol grounds, the USCP said. She was treated and released later on Friday and is expected to appear in court "at a later date".
Witthoeft's arrest came as members of the House of Representatives continued deliberations on Capitol Hill over who would become the next speaker of the chamber. The House of Representatives adjourned Friday afternoon after a 13th round of voting failed to reach consensus. The House is expected to reconvene at 10pm on Friday.
Republican Representative Marjorie Taylor Greene of Georgia commented on videos of Witthoeft's arrest as the vote for the next House Speaker was underway.
"BLM almost burned Washington DC and her charges were dropped, but if you are Ashli ​​Babbitt's mother you will be arrested for 'jaywalking' on the two year anniversary of your daughter's murder. Enough of that," Greene said in a tweet.
Greene later tweeted, "Why was Micki the only one arrested for jaywalking? Where is she?"
The USCP referred news week to his press release when contacted for further comments.
https://www.newsweek.com/video-shows-arrest-ashli-babbitts-mother-during-protest-outside-capitol-1772010 Video shows the arrest of Ashli ​​Babbitt's mother during a protest outside the Capitol