Videos show Iran's Evin prison ablaze as gunfire was heard amid unrest
Iran's notorious Evin prison – which routinely holds political prisoners – caught fire on Saturday night when what sounded like gunfire was heard, according to multiple videos shared widely on social media.
Protesters have taken to the streets across Iran since mid-September when 22-year-old Mahsa Amini died after being arrested by the Islamic Republic's so-called morality police for allegedly violating the country's conservative modesty laws. The anti-government demonstrations were violently repressed – more than 200 people, including as many as 32 children, were killed, according to the US-based Human Rights Activists News Agency (HRANA).
Evin prison is reportedly overcrowded and regularly hosts political dissidents. A video shared on Twitter showed the facility on fire while gunfire rang out in the background.
Borzou Daragahi, an international correspondent for British news site The Independent, shared several videos. He wrote: "The notorious fortress where Tehran's political prisoners are held is ablaze today, October 15, with reports of gunfire from the facility."
"This is alarming: Tonight, Evin prison in Tehran. We hear gunshots and see smoke from fire. There isn't much information on what's happening inside DAWN MENA tweeted and shared a clip.
Daraghi reported in subsequent posts that regime forces were "rushing toward the burning" prison rather than "ambulances or fire engines," citing a video clip. He added that "no emergency vehicle could be heard." In another post, the correspondent reported that "frightened relatives of prisoners" were gathering outside of Evin.
"They speak of explosions and fear for their loved ones," he added. Daraghi said the overcrowded prison "is a huge compound, more like a city within a city." In other clips shared on social media, people could reportedly be heard chanting "Down with the Dictator."
According to Reuters, Evin mostly holds inmates who face security charges. The prison has also drawn criticism from western rights groups. In 2018, the US government accused the prison of "serious human rights violations". Meanwhile, Human Rights Watch has already accused the Evin authorities of threatening torture and indefinite detention.
Iran has been wracked by unrest since mid-September, when Amini, a Kurdish woman, was accused by police of violating a law requiring women to cover their hair with a hijab, or headscarf, and to wear loose clothing on their arms and legs cover. Since her death on September 16, protests have erupted across the Persian Gulf nation.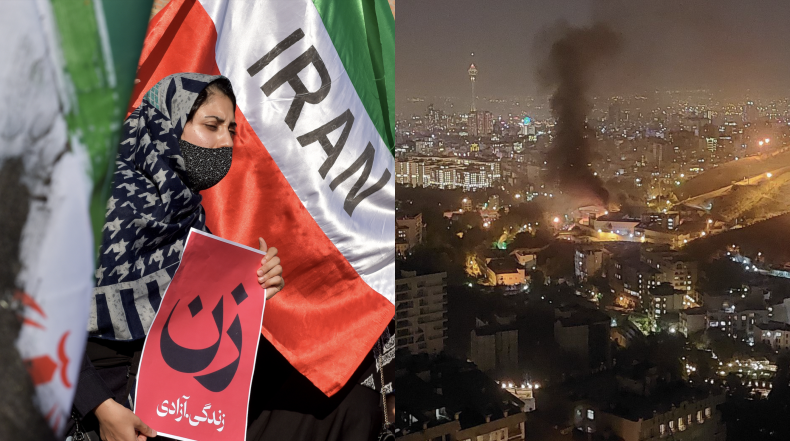 The demonstrations have been described as the largest in Iran since 2019, when security forces cracked down on protesters marching against high gas prices and the regime of Iranian leader Ayatollah Ali Khamenei. 1,500 people were killed during these protests, Reuters reported.
"Iran must end violence against its own citizens simply by exercising their basic rights," President Joe Biden said Friday in a speech in California at the recent Iranian protests. "I want you to know that we really, really, really stand by the citizens, the brave women of Iran."
The President added that Iranians are "demonstrating right now to secure their very basic rights."
This article has been updated since it was originally published with additional information and background information.
https://www.newsweek.com/videos-show-irans-evin-prison-flames-gunfire-heard-amid-unrest-1752197 Videos show Iran's Evin prison ablaze as gunfire was heard amid unrest