View Hosts Say 'Get Rid of Republicans'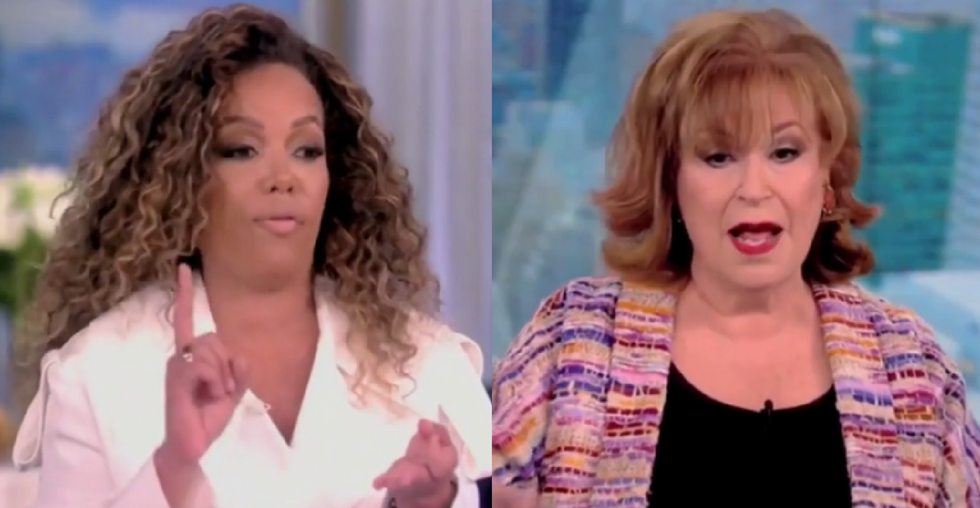 The View's Sunny Hostin said she wants to "get rid of the Republicans," going so far as to describe the GOP as "the party of white supremacism…the insurgents, the party of massacres."
During a conversation about the tragic mass shooting, Hostin said she agreed with co-host Joy Behar on Republicans and gun reform.
"Republicans are going in lockstep against gun safety because they only care about power," Hostin ranted. It's a small fix. The solution here, as Whoopi [Goldberg] has been saying all week, I really think he's getting the AR-15 off the planet," she added to enthusiastic audience applause.
"Just get rid of supplies, get rid of those weapons of war. And it won't happen with Republicans in power. So I'm with you now, Joy. Get rid of the Republicans, get rid of the party," Hostin continued. "Because as the party stands now, it is the party of white supremacy, it is the party of the insurgents, the party of the massacres at this point. This is the party that cannot be trusted."
On BlazeTV's"Rick & Bubba Show' co-hosts Rick Burgess and Bubba Bussey discussed the outrage and calls for cancellation that would have ensued if someone on the right had made a similarly 'outrageous' and 'irresponsible' statement across half the country.
Watch the video clip below to hear more of the conversation:
Find more from Rick & Bubba here. Can't watch? Download the podcast here.
Want more from Rick & Bubba?
To enjoy more from the hosts of legendary comedy radio show Rick & Bubba as they double down on the week's biggest political arguments and dish out common sense lessons, Subscribe to BlazeTV – the largest cross-platform network of voices who love America, defend the Constitution and live the American dream.
https://www.theblaze.com/shows/the-rick-bubba-show/sunny-hostin-get-rid-republicans View Hosts Say 'Get Rid of Republicans'