Vigil for victims of Colorado shooting as Austin leaders speak out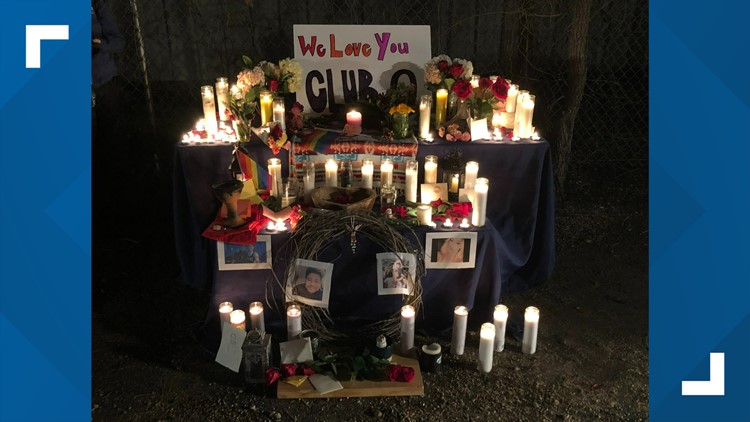 Five people were killed Saturday night when a gunman opened fire at a queer bar in Colorado Springs.
AUSTIN, Texas — To honor the five lives lost in a mass shooting at a Colorado gay bar and other queer lives lost in the violence, The little gay shop in Austin held a vigil Tuesday night.
Given the nature of the mass shooting in Colorado Springs, organizers said 20 volunteer security guards, several advisers and medics were on hand.
Bags were also checked at the entrances.
During the vigil, several people spoke of their pain and grief for all involved.
"The pain, sadness, loss and fear are compounded by the fact that this act of violence took place on the eve of Trans Day of Remembrance," said participant Makayla, "a sacred and essential day in our community."
"I'm sad but also angry," said participant Katie. "If you can hear the tremor in my voice, it's not because I'm about to cry, it's because I'm trying not to scream. I want us to be safe. You all deserve to be here, period. I want to see you all live long, beautiful lives because you deserve it and are loved."
It wasn't just strangers who mourned the loss of strangers.
"Daniel and I were online friends, god I don't even know how many years," Samson said.
One participant knew a victim.
"When I received confirmation that he was dead, I regretted not continuing that friendship and not telling him how much he means to me and a friend of ours to whom he is through a top surgery helped," Samson said. "He shared resources and provided support without asking for anything."
Samson went on to tell everyone to be valued and never be afraid to be themselves.
"Because Daniel's life, Kelly's life, Raymond's life, Ashley's life, Derrick's life, they all meant something so much bigger than I think they could ever have imagined," Samson said. "It's not because of their murders, it's because of the lives they led."
"Times like these remind us that the only community looking out for us is our own," the store wrote on Instagram. "Queer bars should be safe. Queer businesses should be safe. Schools, libraries, restaurants should be safe. Stop the violence. Stop the hate. Stop the guns. Our lives depend on it."
Five people were killed and 18 injured after a 22-year-old gunman opened fire with a semi-automatic rifle at the club in Colorado Springs Saturday night. He was quickly overwhelmed by patrons who were described as "heroic" and then arrested by police and taken to hospital for unspecified injuries.
A handgun and extra ammo magazines were also reportedly recovered, and that a guest visiting the club with his family was able to grab the gunman's handgun and hit him with it, pinning him until officers arrived.
The shooter now faces five counts of murder and five counts of committing a biased felony assault. As of Monday, the charges remained provisional.
Daniel Aston (he/him)
Kelly Loving (she/her)
Ashley Paugh (she/her)
Derrick Rump (he/him)
Raymond Green Vance (he/him)
Both Austin Police Department and Austin City Manager Spencer Cronk have since released statements expressing their condolences and support to the Colorado Springs community.
The City of Austin also recently released new information about improvements to Austin's response to hate.
Cronk chief of staff Jason Alexander released a Nov. 16 memo to the mayor and city council that included a response to a resolution directing the city manager to work with local community groups to identify improvements to the city's hate response and implement.
This memorandum addressed community group issues ATX child which was sent to the city manager in an email in February this year. And since the beginning of the year, city officials have met regularly with representatives of the grassroots organization, formed by Jewish women in the wake of recent anti-Semitic incidents, to work together on and address the resolution's action points.
The resolution calls on the City of Austin to increase its efforts to protect residents and victims of hate, and to prosecute and curb hate acts in partnership with nonprofit organizations, other government organizations, and regional education partners.
Par Texasa nationwide political advocacy group championing the LGBTQ+ community also issued a statement.
"An uncompromising accusation of hate challenges us all. We need to face the urgency of this moment and get pissed off. We can lead with love and joy, but we have a right to be angry because apathy doesn't win battles – action does," said Ricardo Martinez of Equality Texas.

https://www.kvue.com/article/news/local/austin-vigil-colorado-shooting-victims/269-e5d12517-8fb4-4bcd-914b-c86be7ff2070 Vigil for victims of Colorado shooting as Austin leaders speak out