Virgin Atlantic will apparently allow men to wear skirts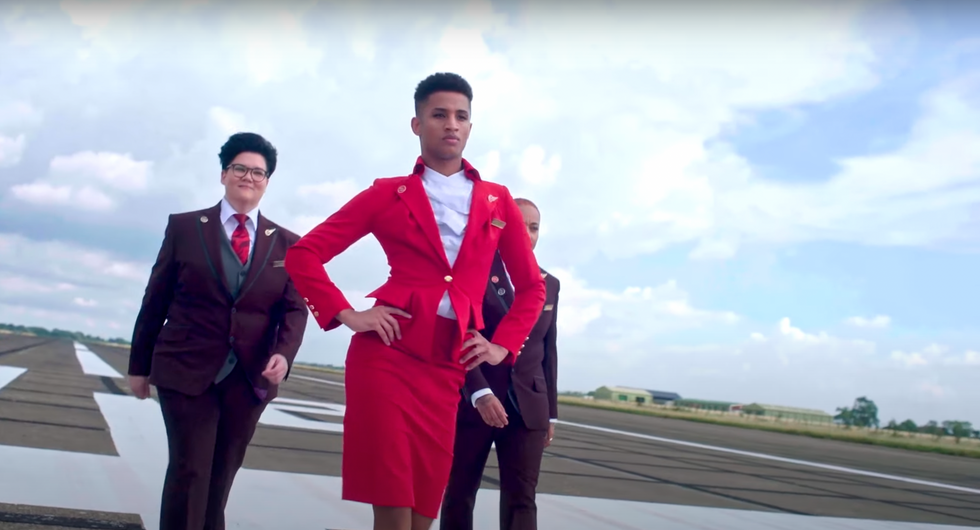 Virgin Atlantic will apparently allow male workers to wear skirts.
The airline announced on Wednesday that it has updated its gender identity policy to allow people to wear the company's uniform of their choice.
"Virgin Atlantic has introduced its updated gender identity policy, giving its crew, pilots and ground team the opportunity to choose which of Vivienne Westwood-designed iconic uniforms best represents them – regardless of their gender, gender identity or gender expression ", the company explained in a press release. "Recognizing the diversity of the workforce, and in a move that cements its position as the most inclusive airline in the sky, Virgin Atlantic will offer its employees a fluid approach to its red and burgundy uniforms, meaning LGBTQ+ colleagues can choose between the red." or the burgundy uniform, whichever reflects best."
The Woke company will also conduct "mandatory inclusivity training" and allow employees and customers to wear pronoun badges.
"The announcement is part of an ongoing effort to encourage the individuality of its employees and customers, and is complemented by the launch of optional pronoun badges for all employees and those traveling on the airline. This step allows everyone to communicate clearly and be addressed with their pronouns. Badges are available to teams and customers starting today and customers simply need to ask for their preferred badge at the check-in desk or at the Virgin Atlantic Clubhouse.
"Mandatory inclusion training is also being rolled out for its staff at all levels across Virgin Atlantic and Virgin Atlantic Holidays, as well as a range of inclusion learning initiatives for tourism partners and hotels in destinations like the Caribbean, to ensure all our customers feel welcome despite barriers to equality LGBTQ+," the organization noted.
"As part of its 'Be Yourself' agenda, the airline has already unveiled a number of industry-leading inclusion initiatives for its employees to ensure they can truly be themselves at work and feel comfortable in their roles. This latest addition follows a decision in 2019 to give cabin crew the choice of wearing makeup, as well as the option to wear trousers and flats. Recently, the airline lifted restrictions on allowing visible tattoos for crew members and their front-line employees," the press release said.

Virgin Atlantic's updated gender identity policy

www.youtube.com

https://www.theblaze.com/news/virgin-atlantic-allow-men-skirtsvirgin-atlantic-allow-men-skirts Virgin Atlantic will apparently allow men to wear skirts