Vitali Klitschko says Putin is talking 'bulls**t' about the Ukraine war
Kyiv Mayor Vitali Klitschko has dismissed Russian President Vladimir Putin's claim that his troops are only bombing military targets, branding the statement "bulls**t".
As the Russian invasion of neighboring Ukraine continues to cause mounting civilian casualties, officials working closely with Putin have claimed their attacks were aimed only at the military.
However in one Video shared on Twitter On Wednesday, reported by journalist Chris Reason of Australia's 7 News Sydney, former boxing champion Klitschko didn't mince his words as he walked the devastated streets of the Ukrainian capital.
When Reason asked about Russia's claims of attacking only military targets, the former sportsman hit back: "Bulls**t! sorry Where is [the] military goal?"
He then pointed to a damaged building as he rhetorically asked the journalist, "Is that building? [a] military goal?"
Sharing the video on his Twitter account, Reason said, "Klitschko delivers stunning bits of sound that are straight to the point."
The video has been viewed 1.2 million times in the hours since it was uploaded to the microblogging platform.
Russia has labeled its ongoing invasion of Ukraine a "special operation," adding that its forces are not attacking civilian targets.
Last week, Ukrainian authorities announced that three people, including a child, were killed and 17 injured in a March 10 strike at the Mariupol Children's and Maternity Home.
A Russian official responded to outrage over the strike by claiming on March 11 that the hospital had been used as a base for radical fighters.
Russian Foreign Minister Sergei Lavrov called the sentencing "pathetic screams" from Russia's enemies, adding that the hospital was attacked because right-wing extremists took it over, according to the Associated Press. Lavrov offered no evidence to support his claim.
Officials in Ukraine, the European Union and Britain called the attack a war crime. Despite releasing photos showing injured pregnant women and children, Russia claimed no civilians were harmed in the attack.
Mariupol, a port city on the Sea of ​​Azov, was attacked for several days. Should it be captured, the city would create a land route from Crimea, a Ukrainian region that Russia annexed in 2014.
Video circulated widely last week showing a Russian pilot who appears to admit he was ordered to bomb a civilian target.
The pilot, who gave his name as Maxim Krishtop, said during a press conference streamed by Interfax Ukraine that he carried out his orders before being shot down and captured by Ukrainian forces on March 6.
Kristhtop, lieutenant colonel and deputy commander of the 47th Aviation Regiment, said: "When completing the task, I realized that the target was not enemy military facilities, but residential buildings, peaceful people. But I carried out the criminal order."
Last month Klitschko, who has held his mayorship since 2014, was asked during a remote appearance on a British TV show Good morning Britain whether he himself intended to join the fight against the invading Russian troops.
"It's a bloody war," replied the athlete-turned-politician. "I have no other choice, I have to do this. I will fight."
Follow our live blog for updates on the Russia-Ukraine conflict.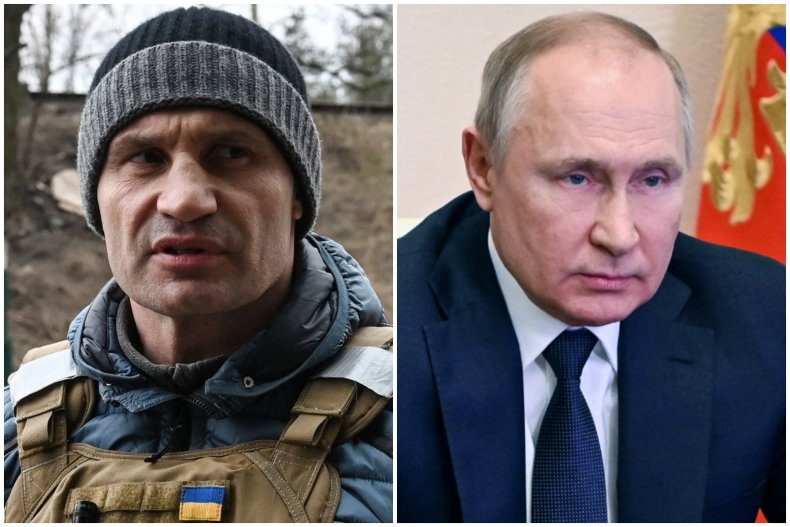 https://www.newsweek.com/klitschko-dismisses-putins-claim-hes-only-bombing-military-targets-ukraine-invasion-russia-1688628 Vitali Klitschko says Putin is talking 'bulls**t' about the Ukraine war