Voting machines used in multiple swing states can be hacked — but hacking likely won't affect election results: report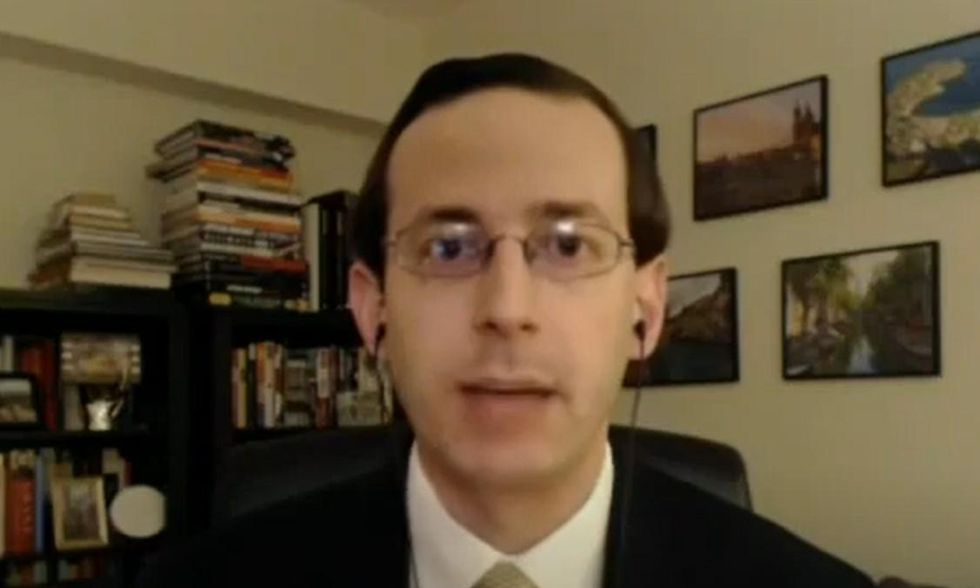 A recent report from Politico suggests that voting machines currently in use in several swing states can be hacked. However, the author of the article also insists that any hacking that might occur in the future "would not actually corrupt the outcome of an election".
On Friday, Politico published an article by Eric Geller, a "cybersecurity reporter" who, according to his biography, "reports on the federal government's cyber defense activities." In the article, Geller suggested that voting machines connected to cellular modems could become a "target" for hackers and for those who "want to cast doubt on the vote numbers in the November midterm elections."
Geller claimed that at least some counties in several swing states — including Florida, Michigan, Iowa, and perhaps Wisconsin — use voting machines with modems for one reason: speed. Geller explained that the public wants results as soon as possible and that alternative reporting methods such as telephone or vehicle are either unreliable or cause unnecessary delays.
"The public is demanding immediate results," said Florida Election Commissioner Paul Lux. "And [using modems] is the best way to do that."
Unfortunately, these modems, characterized by high speeds, are also vulnerable to cyberattacks, Geller claimed, citing other cybersecurity experts who have expressed similar concerns.
"The use of modems expands the attack surface [that] Election officials are forced to defend against all threats including cyber and operational errors[s]Misinformation and fairy tales," said Noah Praetz, who was once the election commissioner for Cook County, Illinois.
Dan Wallach, a professor of cybersecurity at Rice University, added that such modems can also be exploited by "nation-state hackers" seeking to infiltrate America's electoral "infrastructure."
Geller also pointed out that many security teams across the country have taken several steps — including encryption and setting up dedicated networks — to protect voting machine modems from cyberattacks. However, none of their efforts are "foolproof," Geller wrote.
While Geller appears to be positioning his article as a warning about the safety of America's elections, some on the political right have speculated that Geller is instead providing a pre-emptive excuse for Democrats should the Republicans win decisively in November.
"That's what Democrats do when they fear a loss," Mike Cernovich wrote on Twitter. "They presuppose a narrative as an insurance policy. In the event of a major Republican victory at halftime, it becomes socially acceptable to question election results and make broad and vague allegations of voter fraud."
"Totally weird how the discussion of voting machines is either dangerous, Trump-supporting, election-denial, conspiracy theory OR standard Democrat message…depending on the cycle," he tweeted Molly Hemingway of the federalist.
Geller claimed that at least some counties in several other states – including Rhode Island, Illinois, Massachusetts and Minnesota – and the District of Columbia use voting machines connected to modems. Other states — such as Alabama, California, Colorado, Maryland, New York and Virginia — have banned the practice. In 2019, the Senate Intelligence Committee voted to recommend either disabling modems or removing them entirely from voting machines. The US Electoral Assistance Commission added a similar recommendation to its list of voluntary guidelines last year.
https://www.theblaze.com/news/voting-machines-used-in-several-swing-states-can-be-hacked-but-any-hacking-likely-will-not-affect-election-outcomes-report Voting machines used in multiple swing states can be hacked — but hacking likely won't affect election results: report