WaPo: Stacey Abrams "repeatedly" denied election results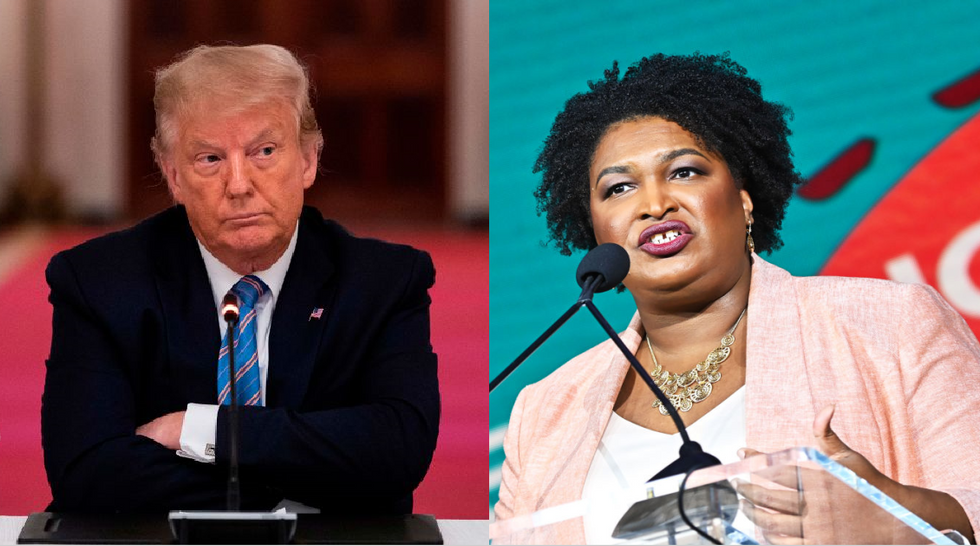 Famed Washington Post fact-checker Glenn Kessler refuted current Democratic gubernatorial candidate Stacey Abrams' recent claim that she "never denied" the results of Georgia's 2018 gubernatorial election when she lost to Republican governor Brian Kemp.
Listing numerous instances where Abrams claimed she "won" and that the election was "stolen" or "fixed" in 2018, Kessler admitted that Abrams "refused to back down" to Kemp after the election. He even conceded that "a review of numerous interviews shows that Abrams later used language denying the outcome of the election, which she now appears to be trying to downplay."
Kessler, however, was also quick to dismiss comparisons between Abrams' version of the election denial and that of former President Donald Trump.
"Abrams repeatedly questioned the integrity of Kemp's victory … but what might have seemed a wise appeal to voters who felt disenfranchised back then looks different now that Trump and his GOP allies have taken election denial to a dangerous new level." , Kessler wrote.
"Additionally, unlike Trump, Abrams has not attempted to incite supporters to violence or question the outcome of the election before it takes place," he added.
Kessler noted Abrams' recent appearance on ABC's The View, where she claimed "I never denied losing," after host Sunny Hostin actually praised her for not conceding the 2016 election.
"When you lost in 2018, you traditionally didn't give up, which I appreciated because you cited voter suppression. Are you confident that this will be a free and fair… election and not a repeat of what happened before?" Hostin asked Abrams.
"I never denied that I lost. I don't live at the governor's mansion. I would have noticed," Abrams replied.
Check out the latest video on foxnews.com on
Now in a rematch with Kemp, Abrams deflects questions from reporters that she is little different from former President Donald Trump, who falsely claimed voter fraud led to his loss to Joe Biden. In the past few weeks, she has subtly adjusted [her] Language to argue that unlike Trump, she 'never denied the election' and 'never denied that I lost,'" Kessler wrote.
"Abrams played up claims that the election was stolen until such tactics became untenable for anyone claiming to be an advocate of America's democratic norms and values," Kessler admitted before joining the conversation detailed litany of Abrams' non-election rhetoric.
Abrams recently made headlines for another series of bizarre claims about Georgia's six-week abortion ban.
"There's no such thing as a heartbeat at six weeks," Abrams said at a student forum in Atlanta last week. "It's an artificial sound designed to convince people that men have the right to take control of a woman's body."
On The News & Why It Matters, BlazeTV host Sara Gonzales and guests Stu Burguiere and Alex Stein discussed Abrams' extraordinary claims and how the Left was quick to respond to defend them.
Watch the video clip below to hear the conversation, or find the full episodes of The News & Why It Matters here. Can't watch? Download the podcast here.
Want more of The News & Why It Matters?
To enjoy more roundtable rundowns of the top stories of the day, Subscribe to BlazeTV – the largest cross-platform network of voices who love America, defend the Constitution and live the American dream.
https://www.theblaze.com/shows/the-news-why-it-matters/stacy-abrams-election WaPo: Stacey Abrams "repeatedly" denied election results