Wayne LaPierre video mocked at NRA conference has been viewed 2 million times
A video from the National Rifle Association (NRA) event in Houston over the weekend with CEO Wayne LaPierre has gone viral.
One of the members of the comedy duo The Good Liars, Jason Selvig, addressed the guests at the event and addressed LaPierre with a satirical speech.
"We spoke directly to Wayne LaPierre at the NRA conference and thanked him for all his thoughts and prayers," a post on Sunday's Good Liars Twitter page included the video. The video has been viewed over 2.3 million times.
Selvig sarcastically praised LaPierre for his "thoughts and prayers" following the recent mass shooting that took place last week at Robb Elementary School in Uvalde, Texas.
Selvig also highlighted the many mass shootings that have taken place across the US over the years and scoffed at the idea that more thought and prayer is needed now to prevent future incidents.
"My name is Jason Selvig and I'm from West Palm Beach, Florida, and I want to say I'm sick and tired of the leftist media and quite frankly the people in this room today," Selvig said.
"Spreading misinformation about Wayne LaPierre whenever there is a mass shooting.
"They all say that Wayne LaPierre is not doing enough to stop these mass shootings and even imply that Wayne LaPierre helped make it easier for these shooters to get guns, get guns."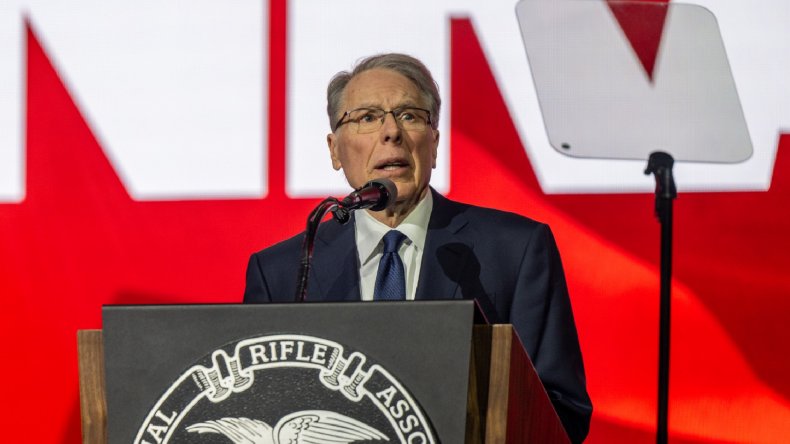 Throughout the video, the clip cuts from Selvig to LaPierre, who looks confused. Selvig then began listing a number of mass shootings that have taken place across the United States
"You heard it in Las Vegas, you heard it in Orlando's Pulse Nightclub, you heard it in Columbine, you heard it in Parkland, you heard it in Virginia Tech, you heard it in El Paso, you heard it after Buffalo, you heard it over and over that Wayne LaPierre isn't doing enough, and frankly, that's not true.
"The NRA, led by Wayne LaPierre, has extended thoughts and prayers to the victims and their families, and maybe if we all thought a little more and prayed a little more, these mass shootings would stop."
Selvig concluded by mockingly emphasizing the importance of thought and prayer, and thanked LaPierre for his.
"I'm asking everyone in this room to think, to pray, to share your thoughts and your prayers and your prayers and your thoughts.
"And if we give enough of these thoughts and prayers, these mass shootings will stop. So I want to thank you, Wayne LaPierre, for all of your thoughts and all of your prayers."
After last week's shooting, President Joe Biden gave a speech asking when it was time to take a stand against the gun lobby and reflecting on the frequency of mass and school shootings.
news week has reached out to the NRA and the Good Liars for comment.
https://www.newsweek.com/nra-national-rifle-association-wayne-lapierre-good-liars-guns-thoughts-prayers-1711303 Wayne LaPierre video mocked at NRA conference has been viewed 2 million times