'We don't do this, good cop': woman who holds terrified Walmart employee at gunpoint is punched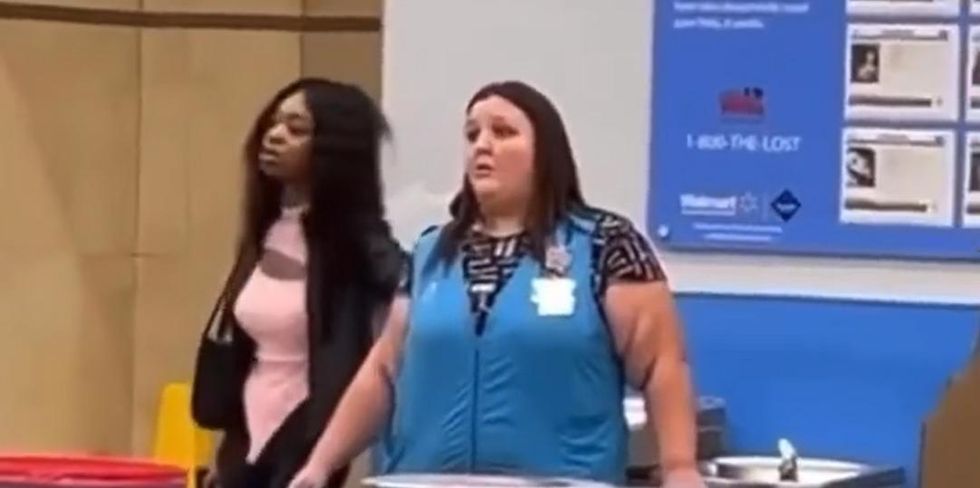 At a Mississippi Walmart, the holiday cheer quickly faded Wednesday when a gunman took an employee hostage. Due to the quick thinking and marksmanship of the Richland Police Department, this employee will see Christmas Day.
what are the details
Police initially responded to an incident involving a gun at a Richland Walmart off US 49 at around 5:45 p.m. reported WJTV. The matter soon turned into a hostage crisis.
witnesses told WAPT that an agitated customer got into a confrontation with a customer service representative.
The suspect, identified when 21-year-old Corlunda McGinister of West Helena, Arkansas, is seen in footage of the incident pushing a gun on a Walmart employee who appears wide-eyed and petrified.
Between semi-coherent outbursts, the suspect, gun in hand, tugged at the clerk's uniform.
in one longer version In the video, the suspect can be heard yelling, "everyone do as I say," and repeatedly asking for a news anchor.
The person who caught the ordeal on camera yelled, "Let her go."
"We don't do that, good cop," the suspect replied.
Towards the end of the longer video, the police appear, guns drawn. They calmly asked the suspect to raise her hands and lower her gun.
The suspect denied both, then claimed, "You're trying to kill me."
Despite officers assuring her that they had no such intention, the suspect did not release her hostage or surrender her gun.
One shopper noticed a crowd of people rushing out when she tried to enter the Walmart, some of whom instructed others to leave.
"Of course we ran out. And it was just horrific and then we heard the shot," the witness said.
Police fired on the suspect, killing McGinister, restoring order and rescuing the hostage. Nobody else was hurt.
At around 9:20 p.m., the Richland Police Department issued one expression on Facebook stating that "all our officers are safe! Walmart is safe and closed at this time. [The Mississippi Bureau of Investigation] will conduct an independent investigation."
As the Walmart employee walked out with her life, RPD chief Nick McLendon said: "It's devastating for everyone involved – the officers, everyone involved in this situation. … You know, with the holiday season approaching, mental health is a big deal because of the stress of the holiday season."
Walmart employees have had bad luck over the past few weeks.
On November 22, a manager at a Walmart store in Chesapeake, Virginia went on a shootout, killing six people in the break room and then turning the gun on himself.
https://www.theblaze.com/news/we-re-not-doing-this-good-cop-woman-holding-terrified-walmart-employee-at-gunpoint-is-put-down 'We don't do this, good cop': woman who holds terrified Walmart employee at gunpoint is punched