'We gotta do what we gotta do': Journalist uses condom to protect microphone during Hurricane Ian broadcast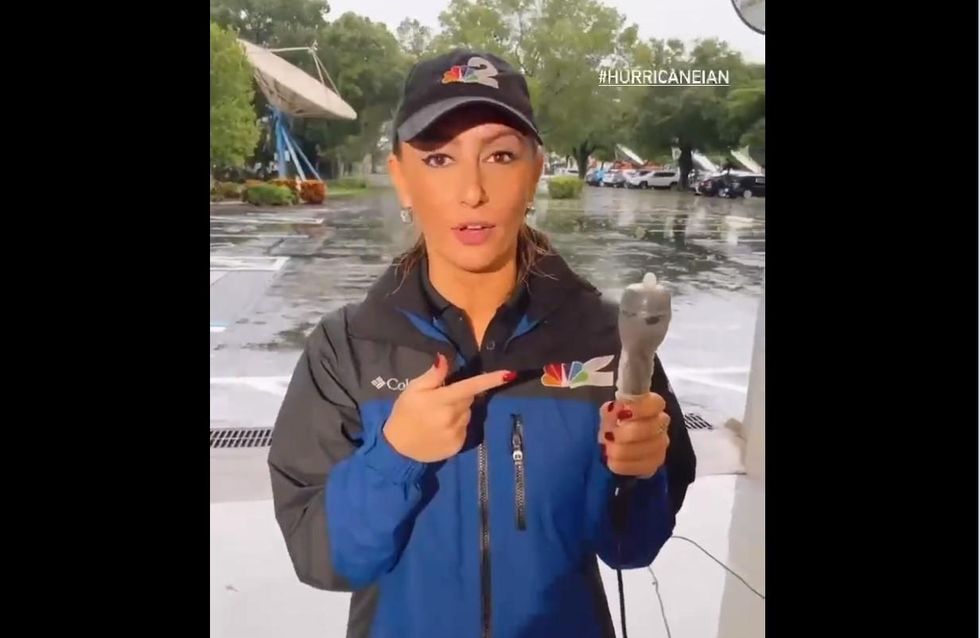 A local NBC journalist caused a stir during her coverage of Hurricane Ian on social media for taking a practical step to protect the network's broadcasting equipment.
As NBC2 news reporter Kyla Galer covered the hurricane on Tuesday from a location in Fort Myers on Florida's southwest coast, viewers noticed her microphone was covered with something, ostensibly to protect it from the storm's rain and moisture.
Shortly after, people started asking about the makeshift mic cover, ABC7 news anchor Jeff Butera confessed the truth: It was a condom.
"**WE PRACTICE SAFE HURRICANE REPORTING** Yes it's a condom," Butera tweeted Wednesday. "Nothing beats waterproofing a microphone. My colleague from Waterman Broadcasting @kylagaler asked a lot of questions haha. Moment of lightness in this evil storm… #HurricaneIan."
Galer also confirmed the coverage via Instagram Story, which Hard Factor News then shared on Twitter.
**Warning: possible graphic content**
"A lot of people ask what's on my mic. It's what you think it is." Galer she told her Instagram audience. "It's a condom. It helps protect the equipment. You can't get these mics wet. There's a lot of wind and a lot of rain so we have to do what we have to do and that's put a condom over the mic."
Galer and her colleagues were smart to take extra precautions. Ian, currently a Category 4 hurricane on the verge of a Category 5 hurricane, has reportedly smashed downwind over the Florida coast 150km/h and storm surges up to a record 18 feet. The city of Fort Myers was under evacuation orders, but officials say it is now unsafe to leave.
As of Wednesday afternoon, 450,000 Floridians had already lost power, and police, firefighters and other first responders are preparing for significant structural damage.
Gov. Ron DeSantis (R) warned Wednesday and Thursday would be "two ugly, ugly… two days" for the people of Florida.
Ian made landfall Wednesday at 2:24 p.m. EST.
https://www.theblaze.com/news/we-got-to-do-what-we-got-to-do-journalist-uses-condom-to-protect-microphone-during-hurricane-ian-broadcast 'We gotta do what we gotta do': Journalist uses condom to protect microphone during Hurricane Ian broadcast