"We were on the road in a motorhome for 10 months, and you can do it too"
An inspiring family have revealed how they changed their lives for the better after quitting their job and traveling in a tiny home.
The Taylor family made this decision after father Steve saw RVs while camping and began dreaming of quitting his job and traveling with his family for a year.
Steve had already traveled a lot as a student, but his wife Jess, also 31, had not.
Would you like to join the family? Sign up with us Kidsspot newsletter for more stories like this.
Dad knew that adventurous spirit was an important trait he wanted to pass on to his children Isaac (7), Millie (6) and Poppy (1).
The couple from Wigan, UK discussed the idea and decided they didn't want to have any regrets, so they bought a motorhome and decided to go for it.
Steve quit his job as a project manager and Jess left her job as a commercial administrator to embark on the adventure of a lifetime.
RELATED: "My birth experience was horrible… so we sold everything to live in a van."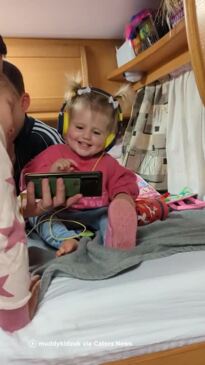 "It would be great to have an adventure"
What followed was an almost instantaneous positive change in her children and the family as a whole grew much closer together.
"We didn't have the distractions of everyday life," Steve said.
"One of the things that stood out was how little my kids looked at screens while traveling. My eldest son developed a love for reading."
"My daughter's socialization skills improved. She had extensive conversations with adults. It was like night and day when it came to coming out of her shell."
Steve said the pandemic and the desire to spend more time with the children were the catalyst for the life-changing decision.
"We went camping with Jess's family last year. I looked at all the RVs and thought, 'That looks great! It would be great to get one and go on an adventure,'" he said.
"But we thought we couldn't do it because we couldn't take the kids out of school; we couldn't quit our jobs and we couldn't cover the costs."
"Then we said, 'If we don't do it, will we look back in 10 years and think, 'Why didn't we try?' And we said, 'Then we have to do it'."
RELATED: I live full-time in a van with my ex, my new boyfriend, and our three kids
Family homeschooling children on the go
Steve said the process of taking his children out of school was easy and their teachers were supportive of the adventure.
To cover the costs, he started a business as a contract project manager, which he could do remotely and part-time and which, combined with the family's savings, was enough to live on after renting out their house.
"Fortunately, because of Covid, there were so many resources available when it came to homeschooling the kids," Steve said.
"We had an online tutor one day a week who filled in any gaps we were missing."
When it comes to costs, the family admitted there were differences, but noted that their expenses were generally less than half of what they lived at home.
RELATED: "We were evicted and now I can only afford to live in a van with my three kids."
"I now know my children inside and out"
The family visited nine countries during their ten-month adventure: France, Spain, Portugal, Italy, Switzerland, Germany, Luxembourg, Belgium and Morocco.
"It was a big culture shock for the children, especially seeing the poverty in Morocco," said Steve.
"It showed them how lucky they are."
While the family is now back home, they are already planning their next big trip and are thinking about exploring Turkey, more Africa and possibly South America.
Steve emphasized that in the end they did much more than just see the world.
"I know my kids inside and out now," he said.
"When you live in a metal box, you get to know every little personality trait, every little trigger. It's the same with my wife.
"Traveling has also given us time with the baby that we would never have had if we had continued working."
RELATED: "We traded in our house for a trailer, and it's the best thing we've ever done."
"There were times when it was difficult"
Steve now advises any other families thinking about a big adventure to just go for it as the benefits could be life-changing.
"There were some situations where it was difficult," he said.
"We collapsed in the mountains of Morocco. We were stranded at night with three kids, no breakdown cover, no cash and no idea how we would get by.
"By then we had recognized that even the biggest problems at the moment appear manageable if you zoom out the time frame far enough. We asked ourselves, 'Will the problem I'm facing still be a problem in six months?' Problem?'
"If it's a no, then it's likely you can solve any problem you face.
"It really helped us keep a cool head.
"Luckily we managed to get towed to a workshop in the nearest town. They had the van repaired and we set off again."