"We will rebuild every city"
Ukrainian President Volodymyr Zelenskyy said the Donbass region will be "Ukrainian again", although he admitted that the situation in his country's eastern region was "difficult".
In his late night address on Friday, Zelenskyy said Russian forces had concentrated their artillery and reserves in the region and that there had been "missile strikes and air strikes – everything".
"We are protecting our country as our current defense resources allow," he said, according to a transcript on the president's website. "We're doing everything we can to increase it. And we will increase it."
"If the occupiers think they own Lyman or Severodonetsk, they're wrong," he said, referring to the cities that Russian troops are trying to surround. "Donbass will be Ukrainian."
"Even if Russia brings destruction and suffering everywhere, we will still rebuild every city and every community," he said. "There is and will be no alternative to our Ukrainian flags there."
His comments came as the US Department of Defense said on Friday Russia has a huge advantage in troop levels but is making slow progress.
An unnamed senior US defense official said Russian forces are employing "rather doctrinaire" tactics in which they use artillery fire in advance and then only move units after "they feel they've softened the target enough".
However, the official said that the Russian armed forces "have the numbers on their side, so I think we'll continue to see this incremental progress."
On Friday, British Prime Minister Boris Johnson said Ukraine needs long-range multi-launch missile systems (MLRS) and told Bloomberg that the Russian military "continues destroying soil in Donbass".
Ukraine has advocated the MLRS weapons, which have a range of up to 300 miles, much further than the 25-mile range of the US-supplied M777 howitzers deployed on Ukraine's eastern front.
The United States is reportedly leaning towards supplying the weapons to Ukraine as part of a military package that could be agreed next week, CNN reported, although a decision "has not yet been made," Pentagon spokesman John Kirby said.
It comes amid concerns in the US that the arms shipments could lead to an escalation with Russia, whose Kremlin-controlled media has condemned plans to sell arms.
"If the Americans do that, they will clearly cross a red line," he said 60 minutes Presenter Olga Skabeyeva" on the Kremlin-controlled channel Russia-1. She said this would "provoke a very harsh reaction from Russia."
This was announced by a spokesman for the US State Department news week on Friday there was no further information about the delivery of the weapons.
The spokesman said in a statement that in the absence of a diplomatic breakthrough, "our focus is on strengthening Ukraine's hand on the battlefield as much as possible so that Ukraine can have as much influence as possible at the negotiating table when the time comes."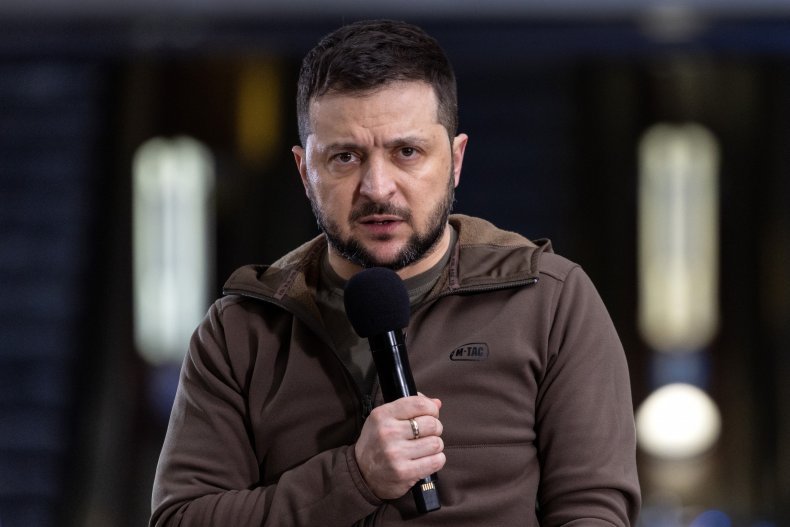 https://www.newsweek.com/zelensky-ukraine-russia-donbas-1711118 "We will rebuild every city"