Wendy's worker leaves a 67-year-old client in critical condition after being hit with a turd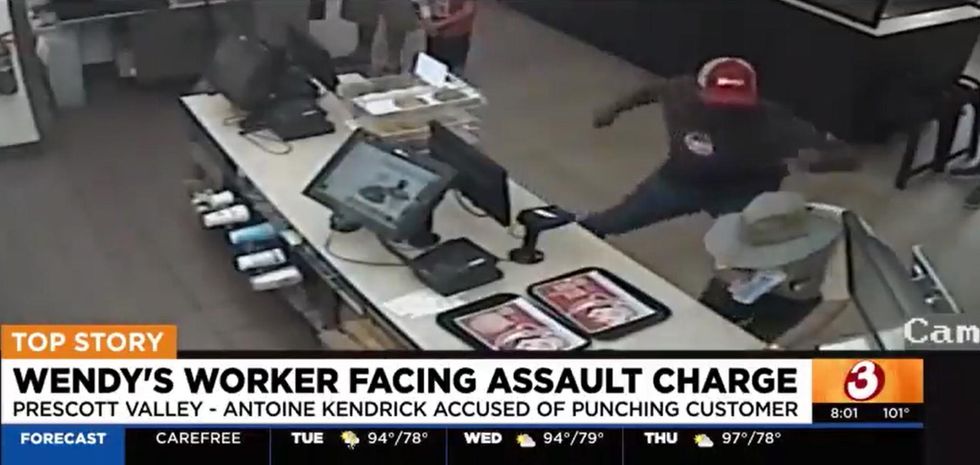 surveillance recordings has just been released from an attack on a 67-year-old customer by a Wendy's employee, leaving the victim in critical condition. Antoine Kendrick, 35, has been charged with aggravated assault for taking the man's order at a restaurant on Glassford Hill Road in Prescott Valley, Arizona, on July 26 for allegedly hitting a customer.
According to that Prescott Valley Police Department, around 4:41 p.m., Kendrick had an argument with an elderly man over a meal order. Kendrick allegedly came around the service counter and struck the victim in the head without warning.
During the fall, the unconscious victim suffered further injuries when his head hit the ground. The victim was treated by police officers who, along with members of the Central Arizona Fire and Medical Authority, reported to the scene before he was flown there a hospital in the Phoenix area.
A customer told CBS 5: "That was a Mike Tyson hit … The customer didn't touch him, so he had no right to touch the customer, period, end of story."
Immediately after the attack, Kendrick reportedly looked at the unconscious man, retreated behind the counter to grab some belongings, and left the scene.
Antoine Kendrick has been arrested on several other occasions in Tennessee. In 2013He was charged with multiple counts of aggravated assault and resisting arrest. In 2016He was charged with aggravated criminal trespassing, aggravated assault and evasion of arrest. In 2019, he was charged with harassment and again with aggravated assault.
CBS 5's Holly Bock noted that Wendy's company has yet to issue a statement.
https://www.theblaze.com/news/arizona-wendys-worker-nearly-kills-customer-with-sucker-punch Wendy's worker leaves a 67-year-old client in critical condition after being hit with a turd