We're Here creators explain why watching shows amid LGBTQ hatred is 'urgent'
It's "urgent" that people are watching Were here To understand how hatred can spread to the LGBTQ community when left unchecked and what can be done to address it, show co-creator Stephen Warren explained news week.
The Emmy-winning reality series sees RuPaul's Drag Race Icons Bob the Drag Queen, Eureka and Shangela travel to small towns across the country to spread love and help those in the community. The week-long trip culminates in a one-night-only drag show put on by the queens for the city.
But Season 3 of the HBO show proved more difficult to make than previous seasons, explained creators Warren and Johnnie Ingram and director Peter LoGreco news week, because some people treated her and the queens during filming.
We're Here creators explain why watching shows amid LGBTQ hatred is 'urgent'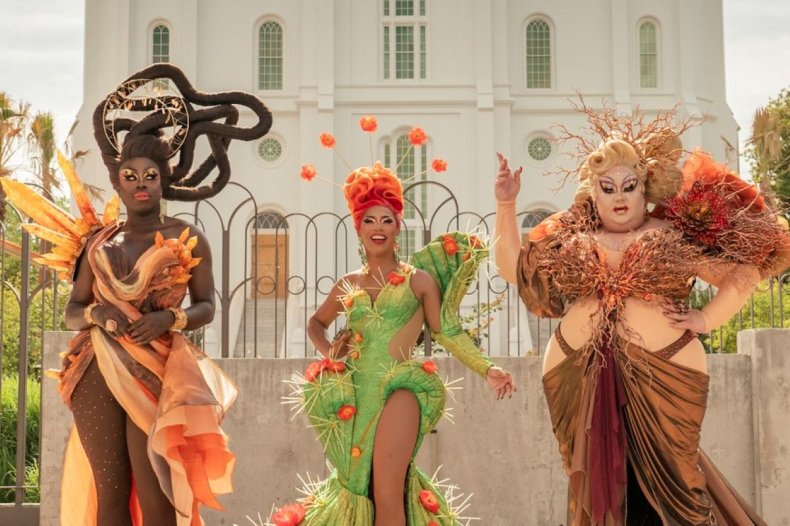 In places like Granbury, Texas, and St. George, Utah, the show's creative team and queens have faced abuse both online and in person.
In one instance, people called Bob "an abomination" while walking around town in search of ice cream, with one person even claiming that drag queens groom children. In another case, the drag queen story lesson the team had prepared with Shangela had to be canceled because a person had violently threatened the venue where it was to be held. Luckily, Shangela was able to host an impromptu storytelling session in another location.
In Utah, some people also tried to have the team's permits confiscated so they couldn't perform their drag show at the end of the week, but thanks to the combined efforts of the LGBTQ community and their city allies, the show was saved.
It was moments like this, both the bad and the good, that proved the makers that Were here is necessary for everyone.
"The world has really turned upside down since we started filming the show in 2019, up until this year, things have changed in ways we could never have expected and it wasn't in one way that was positive," Warren explained.
"What happened is that for the first couple of seasons we had some resistance, there was definitely resistance, but resistance was something I think people were still a little uncomfortable with. Now there are no more limits.
"There are people who are saying vile, horrible, horrible and violent things to us and to the queens, and there are no scruples."
"We're going places now [that] At the same time, there is tremendous amounts of love and tremendous courage and tremendous gratitude for us, and for us we have gratitude as we learn from people who live lives in sometimes very hostile places," he added. But it's a different world, so we went in, but we didn't really know how much of a theme it was going to be for the season.
"It's very sad, but this season is urgent. This is the season that people need to discover the show if they haven't discovered the show yet because it shows what can happen to America when small-minded, bigoted people who want to explain hate rather than face any kind of rationality to open can take over times. That's what the season is about."
Ingram agreed, adding, "For the first two seasons you saw a little bit online, in these Facebook groups and chatted online, but what seems to have happened is what's happening online is actually happening now [in real life]people are doing it openly now and are more aggressive.
"Especially in Texas, where even a drag story lesson creates real tension in those cities, or those book bans, people are taking more action outside of being online, or even in our Utah episode where they were trying to get our permits." to withdraw.
"[They were] Smiling gracefully as we walked around town but behind the scenes [they] tried to dismantle us. It was a difficult pill to swallow."
Address the issues head-on
Reflecting on how Bob, Eureka and Shangela would try to speak and argue with anyone who expresses hatred towards them, Ingram said the trio "did a great job showing respect and showing the moment and." met the people they are in, rather than judging."
"[We're] do our best to inspire people to stay strong, to stand their ground and keep inspiring and showing love because the only way to quell hate is love," he said.
Showrunner and director LoGreco added that facing these challenges head-on is important to help educate people.
"I think what was difficult about it was what was great about it," LoGreco said. "I think it's always been the show's mission not just to try to uplift LGBTQ people in small communities and give them visibility, but also to address the larger issues of how queer people are sometimes slandered and being political lightning rods misrepresented to really understand a little bit more about the level of hostility humans deal with.
"And for whatever reason, I think we can make a lot of educated guesses as to why the political and cultural environment has heated up enough in the last year and queer people have been used and attacked in ways that I think are different and themselves." of the seasons changes by on.
"What I think was a lot more underground in seasons one and two, and we've just looked through the personal stories of our contestants this year, we've seen it happen more openly in the communities.
"Not all, but a lot of the communities that we've filmed episodes in, and honestly I think that's kind of a blessing in disguise in terms of going head-to-head with these issues that have been there […] mentioned, but we didn't really see openly and outwardly and directly with our cameras."
LoGreco added that while they've faced "more resistance" and "open hostility" compared to others this season, that can be seen as "a positive thing."
"Not because it's great that this is happening, of course it's terrible that this is happening, but because we were able to show it," explained the director. "People felt encouraged enough to be open about their feelings even when the cameras were rolling, or at least online enough that we were able to record the kinds of things people were trying to spread in their communities.
"So I think you got a much more tangible and direct sense of what LGBTQ people in these communities are dealing with on a regular basis."
Staying positive in the face of adversity
As mentioned, while they faced hate, it was more often the case that the community came out for them Were here team and bring positivity to their journey.
Ingram said, "This fear that we're capturing this season is so overpowered by love and I think we really hope, even if it's just one person who was scared that drag queens would come to town if they were the Watching the episode, they actually see 'wow, this is a community of people who share their appreciation and respect for one another. They share love for each other, they spread no fear, there is nothing to fear."
"Drag performers across the country deal with it all the time, and this season in particular we wanted to show what a lot of drag performers across the country are competing against in the small communities trying to put on a drag show, a drag brunch or something in their community."
The co-creator explained that even in his hometown of Tennessee, there was a bar that had hosted a drag show one night that "met a lot of resistance," and the things they experienced making the show "happens everywhere ".
"We're lucky to come in, we stay no longer welcome and we're radiating a bit of light and love," Ingram continued. "But we leave behind this beautiful piece of film that is about love and I hope it changes minds and hearts."
Warren agreed, saying of the drag shows they've put on, "Johnnie and I have a personal sense of wonder about, 'Just look at the joy in these people's lives that brought people together in the face of potential adversity and a constant narrative have 'don't do that, don't dress like that', and then suddenly people will come, and especially in St. George, Utah, where thousands of people showed up, it was a sense of triumph, a sense of justice, very, very joy.
"It felt like you ever needed to feel what it's like to be surrounded by love, outside of, I don't know, a family situation where it's a big gathering, that would be the place where everyone was in a state of utter bliss, it was beautiful to experience."
Ingram added, "We come with power, we come with cameras, we come with confidence, we come with these artists who are at the peak of their careers and have the ability to connect with people.
"And [we] Highlight a church struggling with their own legislature, their local legislature, and how they fight these vocal, hateful community leaders. And I think what we've really seen, especially in the Utah episode, is that when you show up, you go to these meetings, you can really make a difference in your local community.
"You see now more than ever how important it is to vote and hopefully vote people who don't preach hate and actually try to make the community a more loving place. I think this Utah episode was such a wonderful episode to show what it really means to show up for the community."
We're Here premieres Friday, November 25 at 10:00 p.m. ET on HBO.
https://www.newsweek.com/were-here-season-3-facing-lgbtq-hate-johnnie-ingram-steve-warren-hbo-1762349 We're Here creators explain why watching shows amid LGBTQ hatred is 'urgent'