What led to the FBI search of Trump's home?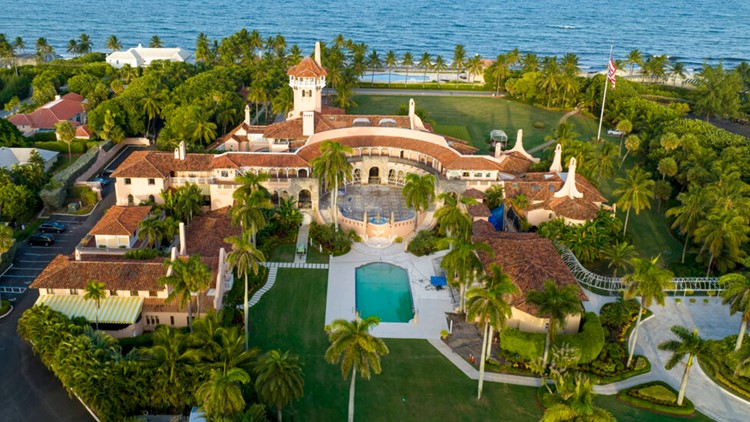 The saga began in January when 15 boxes of Presidential records were recovered from Mar-a-Lago. The following has happened since then.
WASHINGTON — The FBI search of former President Donald Trump's Mar-a-Lago home drew national attention, even before court filings were unsealed on Friday showing agents recovered documents marked "top secret," as they investigated possible violations of three laws, including one regulating defense information under the Espionage Act.
Trump said the documents seized by agents were "all declassified," arguing that he would have turned them over to the Justice Department if asked. However, it was unclear whether the documents had been released or whether he had authority to do so. Trump had kept the documents in his possession despite multiple requests to release them under federal law.
Here's a look at how the months-long investigation unfolded and what's happened since:
Mid January 2022: Fifteen boxes of Presidential records are being retrieved from Mar-a-Lago in a transfer arranged by the National Archives and Records Administration. The transfer came after a Trump official told the agency in December 2021 that there were records in Florida nearly a year after he left office. The agency says federal law requires all records to be retained, a process that is "Critical to our democracy"
Trump calls the discussions "collaborative and respectful" and says it is a "great honor" to work with the National Archives. His officials told the agency they would continue to search for more records from the president.
January 31, 2022: The agency says in a statement that some paper records from Trump's tenure were torn up by Trump. During his tenure, White House Archives Administration officials had recovered and taped together some of the president's torn records and turned them over to the archives along with other torn records that had not been reconstructed when he left office.
February 18, 2022: Classified Information was found in the 15 boxes of White House records kept at Mar-a-Lago, the National Archives and Records Administration says. The revelation came in a letter of reply to a congressional oversight committee. It also confirmed that the matter had been referred to the Justice Department.
Federal law prohibits the removal of classified documents to unauthorized locations, although Trump could argue that as president he has ultimate authority over whether documents have been classified.
For his part, Trump says the National Archives received the president's requested records "in an ordinary and routine manner."
RELATED: National Archives: Trump brought classified items to Mar-a-Lago
February 25: The House of Representatives Committee on Oversight and Reform looking for more documents from the National Archives as part of its investigation into Trump's handling of White House records.
The committee, chaired by Democratic Rep. Carolyn Maloney of New York, produced a set of documents it needed to determine if the former president broke federal laws by bringing the boxes to Florida.
Spring 2022: According to a source familiar with the matter, investigators from the Justice Department and the FBI are visiting Mar-a-Lago to obtain more information about classified material brought to Florida. Federal officials also served a subpoena for some documents believed to be on the property.
5th of August: US Judge Bruce Reinhart in South Florida approves a request for a search warrant, finding that the FBI had probable cause to search Mar-a-Lago. The search warrant will be sealed, as is customary for pending investigations. Attorney General Merrick Garland says later he personally approved the decision to apply for the search warrant.
8th August: The FBI conducts the search at Mar-a-Lago in one go unprecedented escalation of law enforcement agencies of the former president. Trump was not at the time at the property, which was closed for the season, but announced the search in a fiery public statement. He claimed agents opened a safe at his home in what he described as an "unannounced raid," which he likened to "prosecutorial misconduct."
Trump and his allies view the search as a weapon of the criminal justice system to prevent him from potentially winning another term if he formally decides to run for president in 2024. President Joe Biden's White House said it had no prior knowledge of the search. and the current FBI director was originally appointed by Trump.
RELATED: FBI's Search for Trump's Florida Mansion: Why Now?
August 10th: The Director of the FBI speaks out against it a proliferation of threats and calls to arms in far-right corners of the internet in the wake of the raid. During a previously scheduled visit to the FBI field office in Omaha, Nebraska, Christopher Wray said the rhetoric against federal agents and the Justice Department was "deplorable and dangerous" and that "violence against law enforcement is not the answer no matter who you are upset with." ."
RELATED: FBI Director Denounces Threats After Trump's Home Search
August 11: After days of public silence, Garland holds a brief press conference where he makes an important announcement: he will ask the court to unseal the search warrant, a remarkable and unusual move for a pending investigation. Garland said the public has a right to know what sparked the extraordinary search at a former president's home.
Trump card responds with a statement Demand for "immediate" release of arrest warrant. His lawyers do not immediately make public records that the government wanted to unseal.
RELATED: Trump calls for 'immediate' release of Mar-a-Lago warrant
Meanwhile, in Ohio, a gunman wearing a body armor tries to break through a security checkpoint at an FBI field office. He escaped and was later killed after an altercation with police. A law enforcement official familiar with the matter identified him as Ricky Shiffer and said he was believed to have been in Washington shortly before the Capitol attack and may have been there on January 6.
RELATED: Man who tried to breach FBI office was killed after standoff
12. August: Judge Reinhart unseals the warrant authorizing the FBI to search Mar-a-Lago, along with court filings showing agents seized documents marked "top secret" among 11 sets of classified records. Court filings did not provide specific details about the documents or what information they might contain.
The search warrant states that federal agents were investigating possible violations of three federal statutes, including one governing the collection, transmission or loss of defense information under the Espionage Act.
RELATED: Here's what the FBI took from Trump's home, according to unsealed documents
https://www.kvue.com/article/news/nation-world/fbi-trump-search-timeline/507-deeb2888-0f11-424a-91db-e7109b64fdfe What led to the FBI search of Trump's home?