What Polls Say About Stacey Abrams vs. Brian Kemp With 50 Days Until Halftime
Polls ahead of Georgia's gubernatorial election in November show incumbent GOP Governor Brian Kemp and Democratic nominee Stacey Abrams are delivering a close race.
The latest in-race poll average, compiled by FiveThirtyEight, shows Kemp with 49.3 percent of voters supporting him, while 45.5 percent support his opponent. That's a nearly 4-point lead that Kemp has over Abrams.
However, one of the most recent polls in the race shows that Abrams could be closing in on Kemp.
Quinnipiac University, which released a poll on the governor's race last week, said the contest is "too close," noting that Kemp has 50 percent support of Georgia voters and Abrams 48 percent.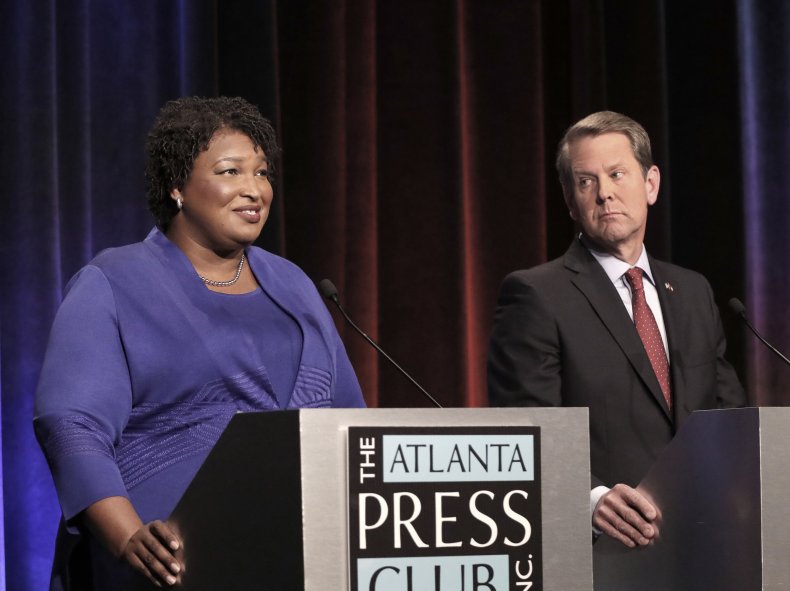 The university wrote that its poll found that 94 percent of likely Georgia voters "who support a candidate in the run for governor say they have made a decision about how they will cast their ballot." The poll polled 1,278 voters between September 8 and 12 and has a 2.7 percent margin of error.
"No cushion and no comfort zone for either candidate, as the Georgia governor's race comes to an end and the vast majority of voters say they have already made their choice, there is little leeway for either candidate," said Tim Malloy, polling analyst Quinnipiac University said in a statement on the university's website.
Another poll released earlier this month, published by InsiderAdvantage and FOX 5 Atlanta, found Kemp has a larger lead.
This poll found that Kemp leads Abrams 50 percent to 42 percent, an 8 point advantage. The poll polled 550 voters and had an error rate of 4.2 percent.
"Kemp leads in every age group in the poll. He has 10% support from African Americans and a rather staggering 68% of white voters polled. Abrams has an impressive 54% female voters, while Kemp receives 63% male voters," said InsiderAdvantage Chairman Matt Towery, according to Fox 5 Atlanta.
A poll by Emerson College that polled 600 Georgia voters between Aug. 28 and 29 found that Kemp had 48 percent support of voters, while Abrams had 44 percent support. The error rate of the survey was 3.9 percent.
"Recent polls are just the latest confirmation that our race is statistically even, with multiple polls released over the past two weeks showing this competition is more competitive than ever," an Abrams campaign spokesman wrote in one email to news week.
"The data doesn't lie: We're seeing a shift in momentum toward Stacey Abrams and the Georgia Democrats, fueled in response to the extremism and incompetence of Brian Kemp, who is concluding his campaign by refusing to save a closed hospital . Added narrator.
Abrams has blamed Kemp's decision not to expand Medicaid in Georgia for the closure of the Atlanta Medical Center, which announced it would be closing earlier this month.
news week has reached out to Kemp's campaign for comment.
https://www.newsweek.com/what-polls-say-about-stacey-abrams-vs-brian-kemp-50-days-midterm-1744024 What Polls Say About Stacey Abrams vs. Brian Kemp With 50 Days Until Halftime