What "victim" MTG previously said about the January 6 riot
US Representative Marjorie Taylor Greene claimed in her heated debate with Democratic opponent Marcus Flowers on Sunday that she was a victim of the Jan. 6 Capitol riots.
Flowers and Greene exchanged punches as they both tried to prove to voters why they should be chosen to represent Georgia's 14th congressional district during a debate hosted by the Atlanta Press Club.
Social media users and viewers of the debate were quick to point out that Greene's rhetoric on Jan. 6 had varied over the years.
Flowers confronted the Republican incumbent about her stance on the Capitol riots and asked why she was more worried about these "criminals" than those in her district.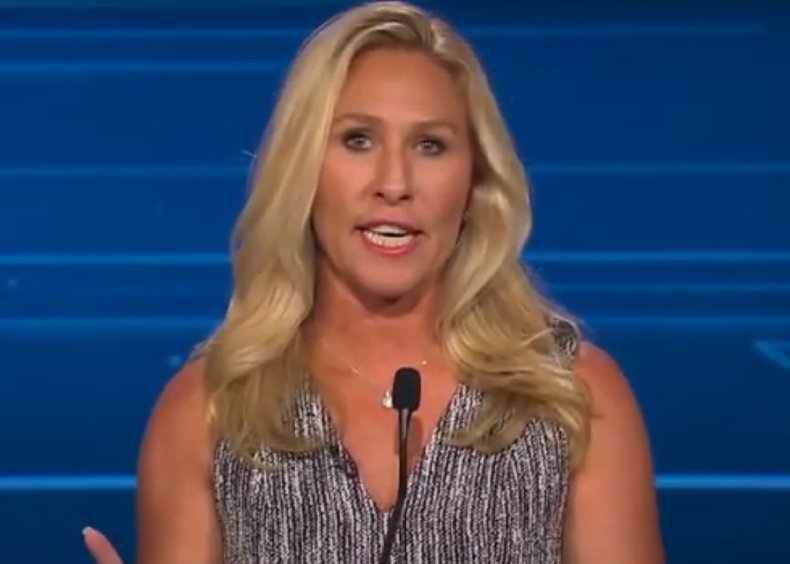 That moment and Greene's response have since gone viral on social media and have been viewed more than 100,000 times.
She said: "It is important to me to stop the two tier justice system that is happening in America right now.
"I was a victim of the January 6 riots and I have said it over and over again, I am totally against what happened on January 6th.
"But I'm not going to stand by and watch [Attorney-General] Merrick Garland turns the Justice Department into a political weapon and the FBI sends it after parents who contact their school boards.
"People who entered the Capitol and were held in prison for nearly two years while Antifa and BLM [Black Lives Matter] Rioters go free and will never be held accountable."
After the debate, however, videos of Greene's comments on the Jan. 6 issue resumed circulating on Twitter.
One clip is from her appearance on former White House strategist Steve Bannon's podcast in June 2021, in which she attempted to defend the riots.
"The real truth is the communist revolution that the Democrats have funded and led every single day and night in American cities across our country.
"That was an attack on innocent Americans, while January 6th was just a riot in the Capitol.
"If you think about what our Declaration of Independence says about overthrowing tyrants.
"So there is a clear difference between January 6th and the Marxist-Communist revolution that Antifa, BLM and Democratic Ground Forces waged against the American people in 2020."
Political commentator and YouTuber Brian Tyler Cohen shared an old video of Greene after she claimed she was a "victim" of the Jan. 6 riots.
Video captured in December 2020 shows Greene explaining that she, her team and others were preparing for a Jan. 6 "appeal" of Joe Biden's victory in the presidential election.
"We just finished our meeting at the White House this afternoon, we had a great planning session for our appeal on January 6," she said.
"We will not allow this election to be stolen by Joe Biden and the Democrats, President Trump won by a landslide victory.
"Call your House representatives, your state senators, we need to make sure they're on board and we've got a lot of people engaged already."
Greene was also accused of taking part in the riot, being blamed for it and not being allowed to stand for re-election.
But a judge said in May he saw no evidence the Georgia Republican was involved in a riot and should remain on the ballot.
A group of voters from her northwest Georgia county, backed by a liberal advocacy group, had tried to have Greene removed from the ballot under Section Three of the 14th Amendment, according to a report The New York Times.
The section states that "no person" may hold any office, civil or military, under the United States or under any state that has previously taken an oath [to] support constitution [had then] engaged in riot or rebellion".
Judge Charles Beaudrot of the Georgia Administrative Court issued a 19-page ruling, saying he remains unconvinced.
"The evidence does not show that Rep. Greene engaged in months of planning and conspiracy to bring about the invasion and prevent the orderly transfer of power provided for in our Constitution," Beaudrot wrote.
"Their public statements and heated rhetoric may have contributed to the environment that ultimately led to the invasion.
"Hot political rhetoric? Yes," said the judge. "Encouraging supporters of efforts to prevent confirmation of President Biden's election? Yes. Encouragement to attend the Save America Rally or other rallies and demonstrate against the confirmation of election results? Yes – planned violent revolution? No."
news week Marjorie Taylor Greene has reached out for comment.
https://www.newsweek.com/marjorie-taylor-greene-january-6-riot-storm-capital-victim-marcus-flower-debate-georgia-1752272 What "victim" MTG previously said about the January 6 riot