What We Do in the Shadows Showrunner Breaks Down Shocking Season 4 Finale
What we do in the shadows had some surprises in store for fans in the Season 4 finale, completing several storylines and presenting some interesting challenges for Season 5.
From Colin Robinson (Mark Proksch) as a baby, to Nadja (Natasia Demetriou) running her own vampire nightclub, to Guillermo (Harvey Guillén) taking control of his life, there was plenty for fans to enjoy throughout the season .
Showrunner Paul Simms spoke news week about the biggest surprises in the finale and shared what they might mean for the characters in the future.
Warning: This article contains spoilers for the Season 4 finale of What We Do in the Shadows.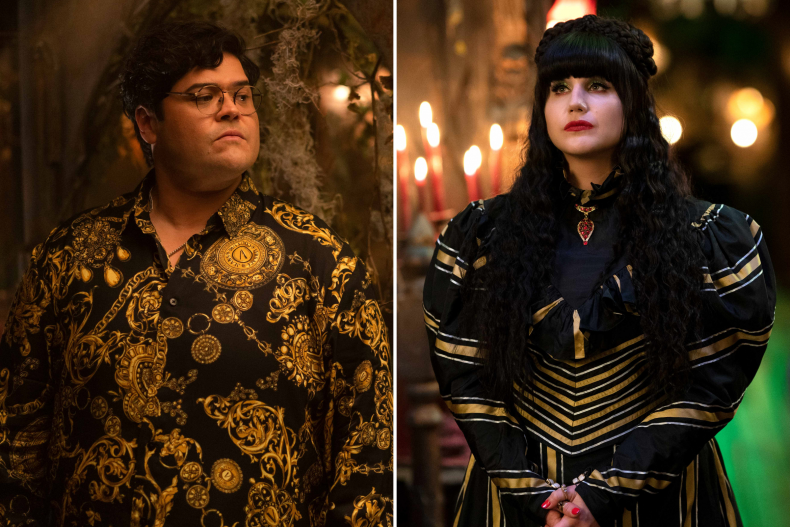 Colin Robinson is back to his usual boring self
Throughout season four, Laszlo (Matt Berry) raised baby Colin Robinson to be different from his original energy vampire state, but the finale showed that you can't teach an old dog new tricks because Colin has reverted to his usual self .
Colin returned to his natural state after reading his very detailed journals hidden behind a wall in his room. Now back to his boring self, Colin is doing the restoration of their house but has no recollection of his time with Laszlo.
"That was very exciting, we all thought – the directors and the rest of the cast – when Mark came in for that scene and came back into the living room, we were like, 'I missed him in a weird way. ' You know what I mean?" said Simms.
"It was the end of a long, long journey for him, and the part where he discovers the slide and knocks on the walls is one of my favorite things we've ever done.
"It was really without dialogue for a minute and a half, but in the middle of a comedy show, it suddenly feels really exciting to me how it all came together."
Simms explained that he and the writers always knew what they wanted to do with Colin, but it was the question of how they would make it happen that took time to figure out.
He said: "We knew we wanted that at the very end of the season so he was back to who he was, but [then it was] find out how to do it.
"We didn't know when we started filming this episode. … Out of the 10 episodes we do, we usually have nine written before the season starts [filming] and then we'll write the 10th just before it's done.
"And so we just went into the season and said, 'We're going to figure out how it works eventually,' and then we did it."
Nadja's failure in the vampire club
Another surprising turn of events involved Nadja's new business venture, a nightclub that catered to vampires, but failed and lost more money than Nadja could invest in it.
Instead of delving further into the problem, Nadja decides to burn down the house to rake in the insurance money, except she forgot to get insurance before destroying the club.
Reflecting on Nadja's failure with the company, Simms said it was an attempt to see the character "gear out of control."
"I feel like we're just squeezing out everything we can on a lot of things, but I also think it made sense," Simms shared.
"When we first started talking about her running a nightclub, we wanted it to follow the flow of just about every story you hear, read, or see about someone running a club, that is, they start to." lots of drinking, there might be some drugs, it's such a thrill running a nightclub, and eventually it all spirals out of control.
"But it just worked [sense]it wasn't so much why you got rid of the nightclub — because I love those sets and everything — it was more about Nadja really getting out of control this season.
"At first it seems like such a positive thing, but she runs her own business and she's into it and then it all goes to their heads, you know?"
But while it didn't last more than one season, there were some real highlights at Nadja's Club, including director Sofia Coppola, her husband Thomas Mars, and director Jim Jarmusch, who made guest appearances as themselves in the penultimate episode, "Freddie."
"I know Sofia and her husband Thomas a little bit socially, and they're big fans of the show, especially Thomas is a big fan of all kinds of comedy that would surprise you," Simms said of the cameo. "It had to be that person who you can imagine knowing what they know about an underground nightclub or very, very New York people.
"Then it was Sofia who said, 'I feel like there are too many lines, someone else should write some of the lines,' and she said, 'Well, we could ask Jim Jarmusch to do it.' And I said, 'Oh, that would be great.'
"It turns out his daughter watches the show too, so he was familiar with that [it]and that was really fun.
"The other funny thing about it was our director, DJ Stipsen, where he's usually our cinematographer, and this was his first time actually directing, and the guests on that episode were Sofia, Jim Jarmusch, and then the guy who played the clown, Michael McDonald, who runs tons of television in America.
"So DJ was like, 'Thanks for giving me this episode where all these other great directors are watching me stroll through for the first time!' But he did a great job."
Guillermo pays to be turned into a vampire
The biggest shock in the season four finale came when Guillermo met up with his friend Derek (Chris Sandiford), a vampire hunter-turned-vampire, and gave him money to persuade him to turn him into a creature of the night as well .
It's a moment that wraps up the season 4 finale, and it will no doubt have repercussions for seasons to come.
Simms agreed with that assessment, he said News Week: "I think he took control of his life this season, you know? I mean, I include taking control of his life [by] he steals money from the nightclub and begins to take care of himself in his own sneaky way.
"It's the show's fourth season, and it's something he's wanted for a long time, and he's so constantly thwarted that it makes sense that at some point he'll take matters into his own hands."
Simms added that he and the writers are "very excited" to dive into Season 5 of what this means for Guillermo's future: "We're excited, and [Guillén's] excited. I don't want to reveal too much [but it's] really good, some really good stuff is coming out."
Season 4 of What We Do in the Shadows is available to watch in full on FX, and fans can stream the show on Hulu.
https://www.newsweek.com/what-we-do-shadows-season-4-finale-breakdown-showrunner-paul-simms-interview-1740077 What We Do in the Shadows Showrunner Breaks Down Shocking Season 4 Finale