What We Do Know, What We Don't
Once one of the biggest draws in Hollywood action cinema, Steven Seagal's transformation into vehement Putin-ally took an unexpected turn when he was filmed at a bombed-out Donetsk prison, peddling Russian conspiracy theories about Ukrainian "Nazis," as conflict between the two nations continues.
At this stage, it's unclear what Seagal's motivation is. For more than a decade his support of Putin's government has been steadfast, having been made a Russian citizen and Serbian citizen in 2016, and going on to call the Russian president "one of the greatest living world leaders."
His activities in the region, personal and professional, have fueled speculation and wild theories about alleged connections to various state and military officials, authoritarian leaders and other controversial figures.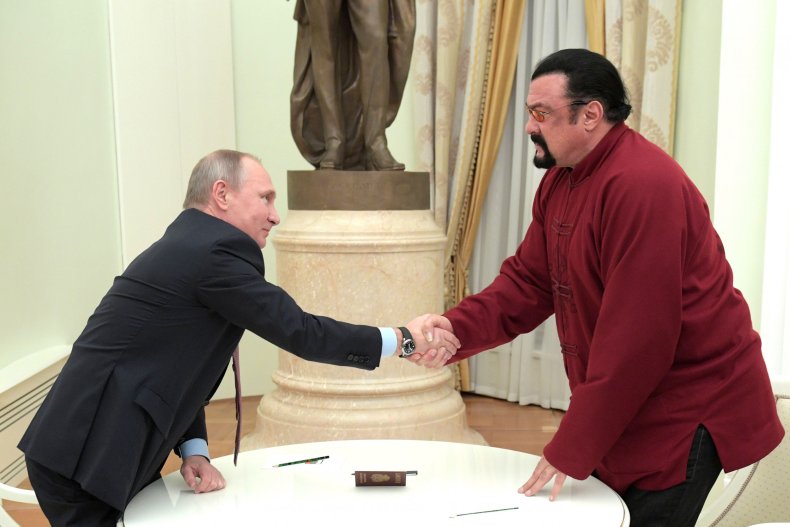 Some even claimed the star went "full method" at the start of this year and joined the Russian invasion in Ukraine—in what turned out to be a fake news story that Newsweek debunked at the time.
Now, it appears as if that Seagal is channelling what remains of his star power into popularizing pro-Russian narratives and making unevidenced claims about the war.
Few have kept tabs on his dealings and relationships in Eastern Europe, as his relevance in American popular culture faded amid a series of cinema flops and multiple sexual misconduct allegations.
However, as he allegedly prepares to film a documentary cataloging conflict in the Donbas, the news has revived interest in his dealings and and ties to Russia. Newsweek went on deep dive to find out.
The Foreigner
Steven Seagal's history in Russia goes back, in part, to his family. His grandparents, according to the Jewish Telegraphic Agency, were Russian Jews who immigrated to the U.S. (although Newsweek was unable to independently verify this).
In the 1990s when his celebrity held much more weight, he opened a branch of the Planet Hollywood restaurant in Moscow, alongside other celebrities.
Quite a few of his early films depicted Russians or Soviets in adversarial roles, a trend that was still present in Hollywood film making even after the Cold War ended.
Seagal has been vague about how his relationship with Russian officials, including President Vladimir Putin began, telling the BBC's Kirsty Wark in 2018 that while he didn't remember "the exact circumstances," he did recall an event he attended with diplomats in Moscow during which he was invited to Putin's house.
"I had some sort of similar interests and from there we became a little bit closer and closer friends," Seagal said of his relationship with Putin.
However, records of his dealings with President Vladimir Putin began to surface in the early 2000s.
In 2003, he met the president at the Moscow International Film Festival; a report by NPR claimed the meeting was set up by a man called Bob Van Ronkel, whose company— Doors to Hollywood—helps introduce American celebrities to its Russian connections. Seagal is pictured on Van Ronkel's website among other celebrities, and appeared in another photo with Van Ronkel and Putin in 2013.
In 2006, Seagal returned to Russia again to attend the "Golden Heart" International Charity Award, an award ceremony reportedly founded by the Russian Red Cross, Golden Heart Charity Foundation and the Russian state-owned news agency TASS. The award received support from the Russian government.
During his visit he was interviewed by Echo of Moscow, a radio station owned by state-owned energy company Gazprom. The station, which was often critical of Putin despite state ties, was taken off the air in March 2022 for its coverage of the conflict in Ukraine.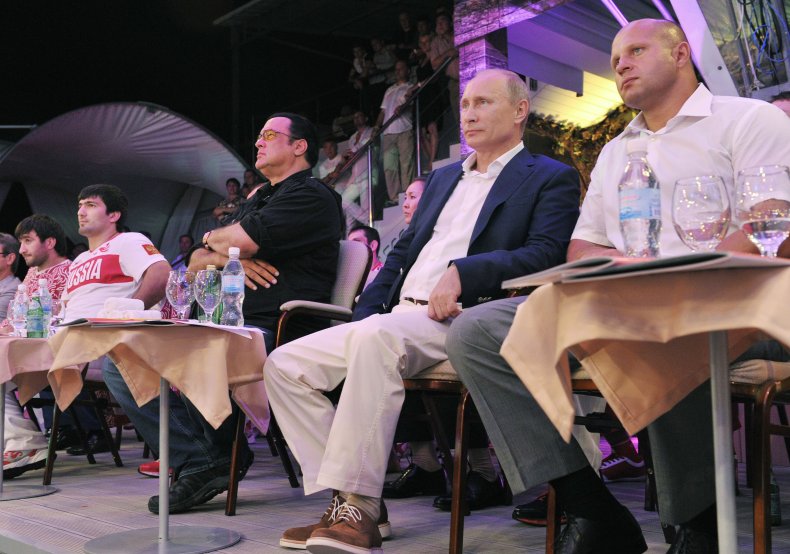 Visits continued throughout the late 2000s and early 2010s; In 2007, he visited the Russian region of Kalmykia, greeted by then-President Kirsan Ilyumzhinov. In 2013 Russian deputy prime minister Dmitry Rogozin was said to have appealed to Seagal to help cancel a Russo-U.S. agreement that restricted small arms supplies between Russia and North America.
Other more bizarre incidents included a letter Seagal wrote to Putin in 2011 requesting support for the "Russia 2045" movement, a Russian organization that believes human immortality can be achieved using computer technologies.
Seagal continued to attend events in Moscow, rubbing shoulders with Putin on several occasions, including a meet-and-greet with the Russian Olympic judo team in 2012.
On Deadly Ground
One of the more sinister among such encounters, however, took place in 2013 when Seagal was made a guest of Moscow-backed Chechen leader Ramzan Kadyrov, a militant Putin ally who has repeatedly voiced support for Russia's war in Ukraine.
Kadyrov has plead to the Russian president for Chechnya to join the fight and "finish off the remnants of the terrorists who once escaped from the Chechen Republic."
Kadyrov has faced multiple human rights abuse allegations, including reports of plots to kidnap children from an orphanage near Kyiv, as well as extra-judicial killings, torture and ill-treatment in Chechen detention centers.
Despite having knowledge at the time of these types of allegations, Seagal shrugged off the claims.
"All these accusations are thrown around," Seagal said, according to the Christian Science Monitor.
"Is there any evidence? Has he been indicted?"
Kadyrov called Seagal "almost a Chechen himself," while Seagal attempted to attempted to dance the national lezginka dance during his visit to the country.
Seagal showed similar indifference in 2014 when, after Russia's annexation of Crimea, Seagal accused the U.S. of "idiotic" policy towards Ukraine and hailed Putin "one of the greatest living world leaders."
By this point, his sympathies for and affiliations with Putin were well-established, to the extent he was disinvited from an event in Estonia for his support of the Russian president.
Other appearances included Putin's Victory Day Parade in 2015, alongside Chinese president Xi Xinping.
The same year, Putin proposed that Seagal be made "an honorary consul of Russia in California and Arizona, and thus a potential intermediary between the White House and the Kremlin."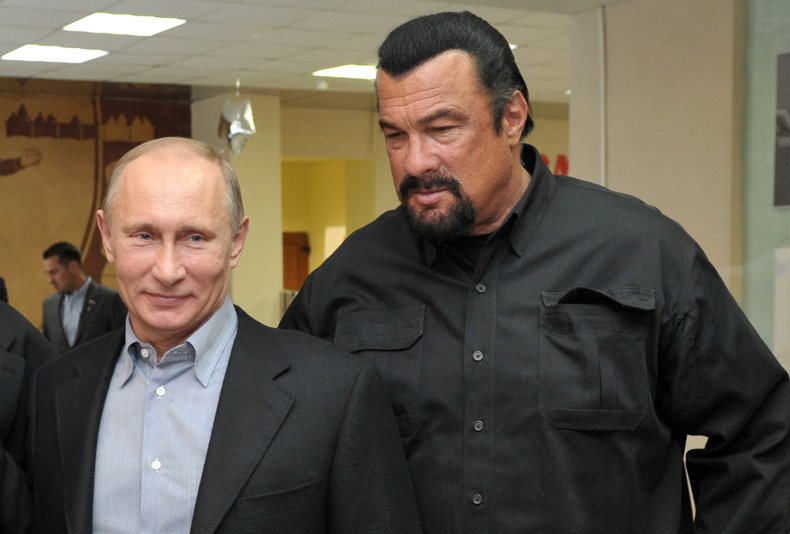 Although an unusual-sounding request, Seagal had, in 2013, acted as a sort-of intermediary between Russian and U.S. government officials, who met to discuss the Boston marathon bombing.
Congressman Dana Rohrabacher, who attended the talks, told the press that Seagal had invited the U.S. delegation to Chechnya as well (although the trip was called off).
"Seagal opened some doors and we got to meet top people and we had dialogue with these people, not just diatribe, which as we've had in the past, great dialogue," Rohrabacher said of the meeting in Russia.
A forensic report published by Buzzfeed in 2015, which investigated Seagal's Russian connections, said that Putin had suggested to former U.S. president Barack Obama that the actor could become an intermediary between the two countries.
Obama reportedly responded "You've got to be kidding."
Executive Decision
Then in 2016, Seagal was awarded Serbian citizenship, telling Russian-state owned news agency Sputnik: "I can do a lot here."
"I want to bring the whole film community here. I want to build…sort of a Hollywood-film infrastructure here."
It does not appear that these efforts have been realized.
In November the same year, Seagal was also granted Russian citizenship. Putin spokesman Dmitry Peskov said that the decision to grant Seagal citizenship came after the actor "requested it with enough insistence and continued to request that we grant him citizenship."
Peskov added that Seagal was known for "his warm feelings towards our country." Seagal was later banned from the Ukraine, who saw him as a threat to national security.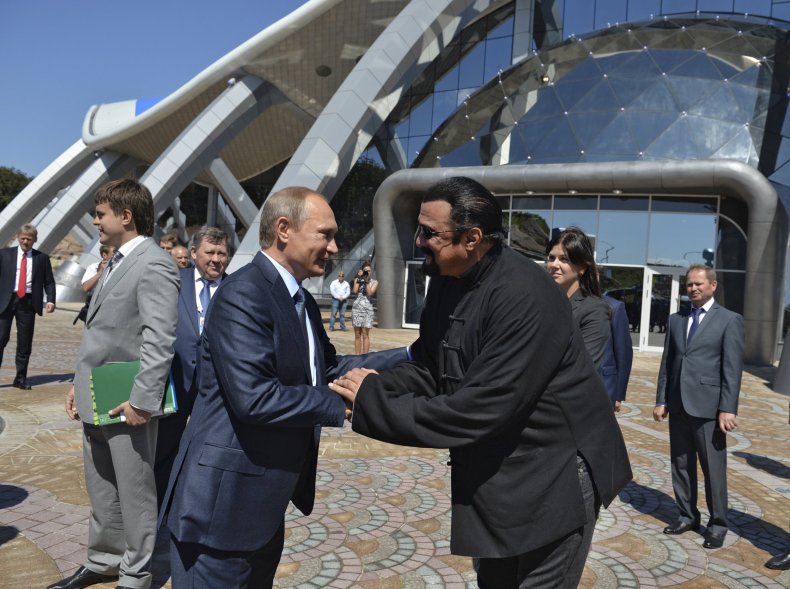 Quasi-diplomatic privileges continued thereafter, including being made a special representative for Russian-U.S. humanitarian ties in 2018. The Russian Foreign Ministry said it wanted Seagal to remind the U.S. about territories ruled by Moscow in Alaska.
"We appreciate Mr. Seagal's willingness to use his experience and authority for promotion of the Russia-U.S. public, cultural and humanitarian links as well as for building a more positive atmosphere in bilateral affairs. We wish him every success in this capacity," the Russian ministry said."
Seagal, later the same year, said he wanted to become a governor in Russia's far east, having already met with officials in the country's far eastern Sakhalin region to plant "a tree of friendship."
State news-agency reported, however, that he would be ineligible because of the two passports he owned beside the Russian citizenship granted to him by Putin.
His ineligibility to run for Russian public office was recertified in 2021 when he was granted membership of pro-Kremlin party A Just Russia – Patriots – For Truth party, news that sparked headlines around the world.
Throughout the late 2010s he continued to reassert his relationship with Putin, calling him a "friend" in 2019, and in 2020, allegedly, expressing an interest in acquiring land in Russia's far east.
Under Siege
His attitudes did not soften as Russia invaded Ukraine in early 2022. At his 70th birthday in April 2022, Seagal told Putin allies "We stand together" following the invasion.
In a video shared on Twitter, Seagal made a toast stating "each and every one of you, you are my family and my friends. And I love all of you and we stand together, through thick and through thin."
Segal did show some softness in a Fox News interview in March 2022, when he called for peace between Ukraine and Russia, saying the two were "one family", without calling out Russia's actors explicitly.
"Most of us have friends and family in Russia and Ukraine," he said.
"I look at both as one family and really believe it is an outside entity spending huge sums of money on propaganda to provoke the two countries to be at odds with each other."
In July 2022, it was reported that his the "special envoy" role as a Russian cultural ambassador to the United States could change amid the conflict.
"Relations between the US and Russia, as you know, are very tense," Seagal told RIA Novosti. "There are discussions about how to change my position in terms of what I was previously appointed to," Seagal added, without specifying further.
During the same conversation he said he would "never give up his Russian passport, claiming "I face Russophobia every day."
Which brings us back to August 2022, and his backing of claims that HIMARS, used by Ukrainian forces, had killed Ukraine POWS.
Seagal suggested HIMARS were used to attack the Olenivka prison in the Donetsk region because Ukrainian president Volodymyr Zelensky was attempting to kill a "Nazi" prisoner there.
This ties into a widely-spread Russian narrative that the invasion is an attempt to "denazify" Ukraine.
"The interesting thing is that one of the killed Nazis is a Nazi who just started talking a lot about Zelensky," Seagal said, without offering any evidence in support, "and that Zelensky is responsible for the orders about torture and other atrocities."
Military experts told The Washington Post that while they could not say what definitively caused the damage, the images from the prison attack were not consistent with HIMARS.
A CNN investigation, based on analysis of video and photographs from the scene, satellite imagery from before and after the attack and the work of forensic and weapons experts and published Thursday, August 11, also showed major gaps in Russia's theory of the damage coming from a HIMARS strike.
It is thought that the footage from the prison may be part used as part of a documentary that the actor is shooting in the country.
Exit Wounds
There appears to be little suggestion that Seagal's views and relationship with Russia will change anytime soon, despite some of his non-specific calls for peace in Ukraine.
His growing connections to the country ran in parallel with his fading star in the United States and Western Europe, where his pulling power as an actor drastically diminished after the early 2000s. He has not starred in an acting role since 2019 with most of his films prior to that consisting of poorly received, straight-to-video releases.
According to IMDB, the estimated box office takings of his last film, Beyond the Law, was $2.5 million against a reported $7 million budget.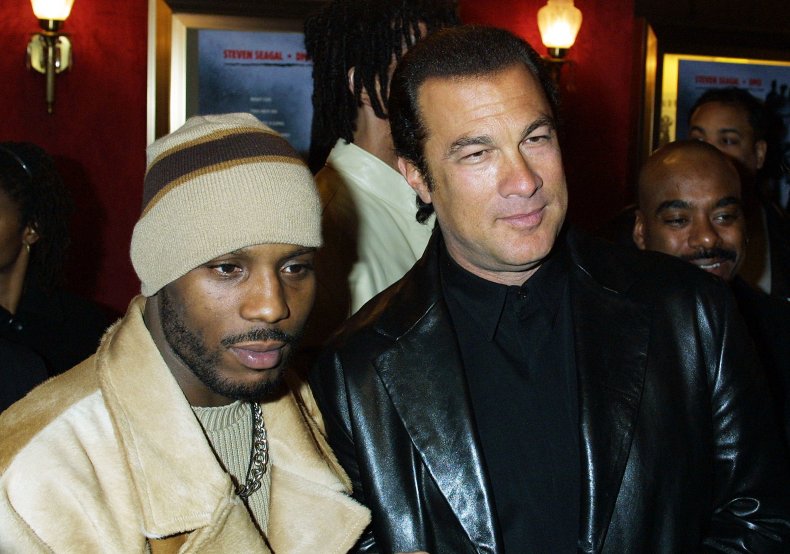 This fall from grace is also set against allegations of sexual assault and rape from multiple claimants, all of which the actor has denied.
While Putin has courted the attention of many celebrities before the war in Ukraine, Seagal appears to be one of the few non-Russian stars who is, arguably, still at ease with (and now, perhaps explicitly in support of) the federation.
Although it's unlikely his now tarnished reputation in the U.S. and West will critically boost pro-Russian sentiments in America, it is a nonetheless dramatic testament to Russia's ability (at least in some respects) to command and influence public figures abroad, despite global condemnation for some of its actions.
Newsweek has contacted Steven Seagal's representatives for comment.
https://www.newsweek.com/steven-seagals-russia-connections-what-we-do-know-what-we-dont-1732976 What We Do Know, What We Don't