When is Pride Month? Origins and traditions explained
June marks Pride Month as millions gather at marches and carnivals in cities around the world to celebrate LGBTQ+ rights and the impact these communities have had nationally and internationally.
From New York to Cape Town to Tel Aviv, the celebrations are taking place all over the world.
The main symbol of Pride is a rainbow flag, reflecting the movement's diversity and denoting the spectrum of gender and sexuality.
Here are some top questions answered about the month-long celebration:
When is Pride Month?
Pride Month is celebrated in June each year to honor the 1969 Stonewall riot in Manhattan, New York City, according to the Library of Congress (LOC).
Origins of Pride Month
In the 1950s and 1960s, few venues in the United States welcomed LGBTQ+ people, and these venues were considered illegal. Venues hosting LGBTQ+ people were often owned by the mafia during this time due to their illegal nature.
The Stonewall Uprising was a defining moment for the Gay Liberation Movement in America. It was a series of impromptu demonstrations by gay activists in response to a police raid that began early in the morning on June 28, 1969 at the Stonewall Inn in Greenwich Village, New York.
Stonewall patrons, as well as customers from other gay and lesbian bars in Greenwich Village, fought off police when they turned violent. After several protests, Greenwich Village residents formed activist groups demanding the right to live openly about their sexual orientation without fear of police reprisals. Within months, newspapers were established to promote gay and lesbian rights.
LGBTQ+ historian Tyler Albertario narrated News Week: "Pride as we know it today was born on Halloween night in 1969 in the living room of Craig Rodwell's Greenwich Village apartment. He told his friend Ellen Broidy of NYU's Student Homophile League that he believed there needed to be a replacement for the Annual Reminder, an annual July 4 vigil at Independence Hall in Philadelphia that had been held since 1965 ."
"Rodwell felt the demonstration was ineffective and needed to be reimagined as a march to commemorate the anniversary of the Stonewall Rebellion of June 27-July 2, 1969, which had just taken place the previous summer," he added.
Rodwell and Broidy were scheduled to attend the Eastern Regional Conference of Homophile Organizations (ERCHO) in Philadelphia that same weekend. This conference voted overwhelmingly to replace the annual reminder with a march commemorating the Stonewall rising.
"Over the next few months, Rodwell would lead the organizing committee for the demonstration, which would now be called the Christopher Street Liberation Day March, and the Christopher Street Liberation Day Umbrella Committee (CSLDUC) would meet at his home and bookstore to collectively celebrate the details," Albertario said.
"Among other things, they decided to extend the celebrations to the entire week leading up to the march and to call it the 'Gay Pride' march," he added.
Pride Month Traditions
The United States originally celebrated Gay Pride Day on the last Sunday in June, but the day was flexible. The first Pride marches took place on June 28, 1970, exactly one year after the Stonewall riots, in Chicago, Los Angeles, New York and San Francisco.
Gay rights organization the Mattachine Society of Washington, activists Frank Kameny and Lilli Vincenz planned and sponsored the first Pride celebration along with activists in New York City and other homophilic groups affiliated with ERCHO. The LOC estimates that there were three to five thousand marchers at the first Pride march in New York City.
"Every city and place does Pride differently, but the shared story is always there, and there's almost always a march, just like the first Pride march in 1970. Every time we march, we remember our history and those before us," said Albertario.
As these marches continued each year, several gay and lesbian rights groups were formed. And later, Pride marches were also associated with people who identified as bisexual, genderfluid, transgender and queer.
Bill Clinton was the first US President to officially recognize Pride Month in 1999 and 2000. From 2009 and 2016, Barack Obama recognized him. The first Republican President to recognize Pride Month was Donald Trump in 2019.
Today is the month of celebrations that draw millions of people around the world, including pride marches, picnics, parties, workshops and concerts.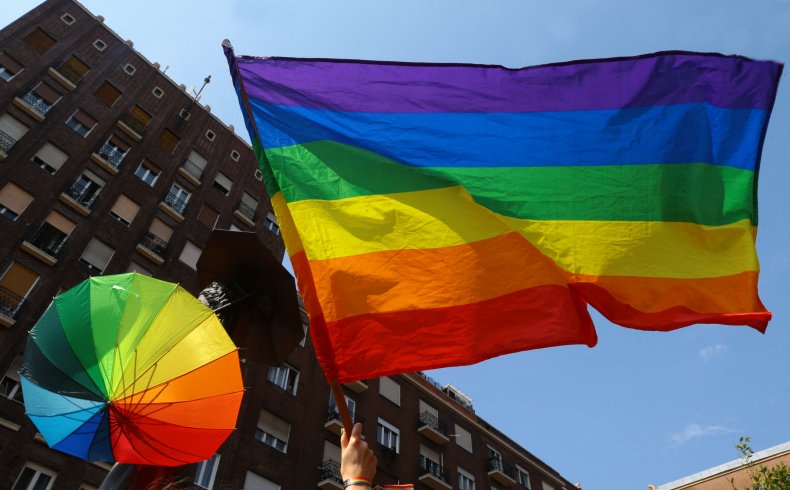 https://www.newsweek.com/when-pride-month-origins-traditions-explained-1705285 When is Pride Month? Origins and traditions explained