When Pope Francis met Tim Cook • The Register
It was only a matter of time before the maker of divine products met the maker's representative on earth. And so it happened yesterday that the Pope granted Apple CEO Tim Cook a special audience.
Pope Francis, the head of the Catholic Church and sovereign of Vatican City State, spent time with the overlord of Apple earlier this week.
The Vatican press office confirmed the meeting took place on October 3, but did not say how much time the two spent together or what was discussed.
Cook no doubt offered words of comfort to Pope Francis after the past two and a half years of turmoil that have included the pandemic, the war in Ukraine and Samsung at the forefront of the global smartphone market.
We imagine Pope Francis used these precious moments to learn how to be more patient from Apple's big man above, after a history of frequently losing his temper with phones.
Speaking before a general audience in St. Peter's Square in Vatican City in 2017, the Pope said using cellphones during Mass was a "very ugly thing."
"At some point during Mass, the priest says, 'Lift up your heart,'" the pope said. "He doesn't say, 'Pick up your phones to take pictures'."
"It makes me very sad when I celebrate mass here in the piazza or in the basilica and see so many cell phones held up."
This was not just aimed at sinners in the community, but at "some priests and bishops" who had their heads bowed during the proceedings and might be trying to get to the next level Angry Birds.
"Please, the fair is not a show. It is an encounter with the Passion and Resurrection of our Lord," said Pope Francis.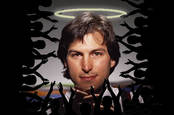 On the seventh anniversary of Steve Jobs death, we give you 7 times that he served humanity and set an example for others
CONTINUE READING
Speaking of phones used at home, the Pope said in 2017: "If there is no dialogue at home, if we sit at the table and instead of talking, everyone is on the phone… That's the beginning of the war, because there is no dialogue."
In 2019, the 85-year-old called on young people to "free themselves from cell phone addiction. If you become a slave to your phone, you lose your freedom."
No doubt such bigoted views will have been addressed after yesterday's meeting.
Apple declined to comment. ®
https://www.theregister.com/2022/10/04/time_cook_meets_pope_francis/ When Pope Francis met Tim Cook • The Register