Whistleblowers have criticized the FBI's "disgraceful" weaponry and say other agents are "too scared" of being "annihilated."
Whistleblowers have accused the FBI of being weaponized for political reasons — a bombastic accusation that former special agent Garret O'Boyle says "many" agents share but hide for fear of being "crushed" by the government.
Whistleblowers and former special agents Garret O'Boyle and Steve Friend further exposed the FBI's "disgraceful" politicization during an appearance on Fox & Friends Weekend.
Whistleblower says he's "ready to be made homeless by the FBI" to comment on the alleged use of guns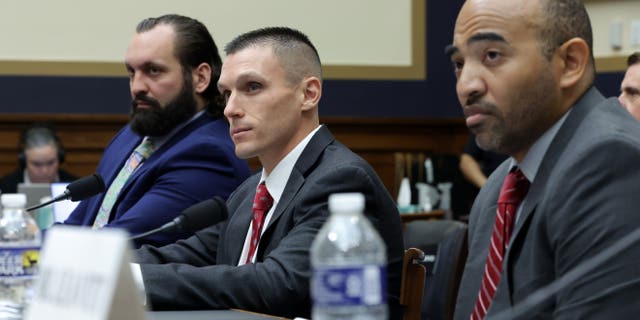 "Many people share our beliefs and beliefs. I think they just haven't gotten to the point where Steve, I and others have gotten. Or they're too scared," O'Boyle explained. "As we discussed in our statement, they are too afraid because they know we will be crushed because they have seen our example."
"I swore my oath to this country, and I will stand by that oath no matter what the cost."

— Whistleblower and former FBI Special Agent Garret O'Boyle
Garret O'Boyle and Steve Friend claimed they were victims of retaliation for raising concerns about the alleged politicization and arming of the FBI. They testified Thursday before the House Subcommittee on Arming the Federal Government.
Whistleblower Steve Friend expanded on O'Boyle's claim, saying he knew there were more people within the FBI who backed up their claims.
"The course of this hearing and the way that Garrett, Marcus and I stood up to the Democrats' onslaught will encourage others to come forward now," Friend argued Saturday.
After heated whistleblower hearing, former FBI agent says current staffers agree with politicization
Co-host Will Cain followed up on this claim, asking the whistleblowers, "What was the turning point?"
"I don't know if there was a safe tipping point that I could reach," O'Boyle began. "It was more of a summary of things that repeated itself within the FBI, where it was like, This seems wrong, this seems wrong, this seems wrong. And so it got to a point where I just couldn't sit back and did it to just start exposing some of the nefarious things that the FBI has done.
Since O'Boyle's testimony earlier this week, his life has been "turned upside down," as Will Cain put it.
"I will reiterate: I have pledged my oath to this country, and I will stand by that oath no matter what the cost. And that's all we can do. And I want to urge every American to stand firm." through this oath. We all have a responsibility and a duty to this nation and to each other. And we are the ones responsible for making our government and our country work the way it's supposed to work," he concluded.
When asked for comment, the FBI told Fox News, "The FBI's job is to uphold the Constitution and protect the American people. The FBI has not and will not retaliate against anyone for making protected whistleblower disclosures."
Fox News' Charles Creitz contributed to this report.