Whitlock: Blaze News' new launch sends ground troops to the front lines of information warfare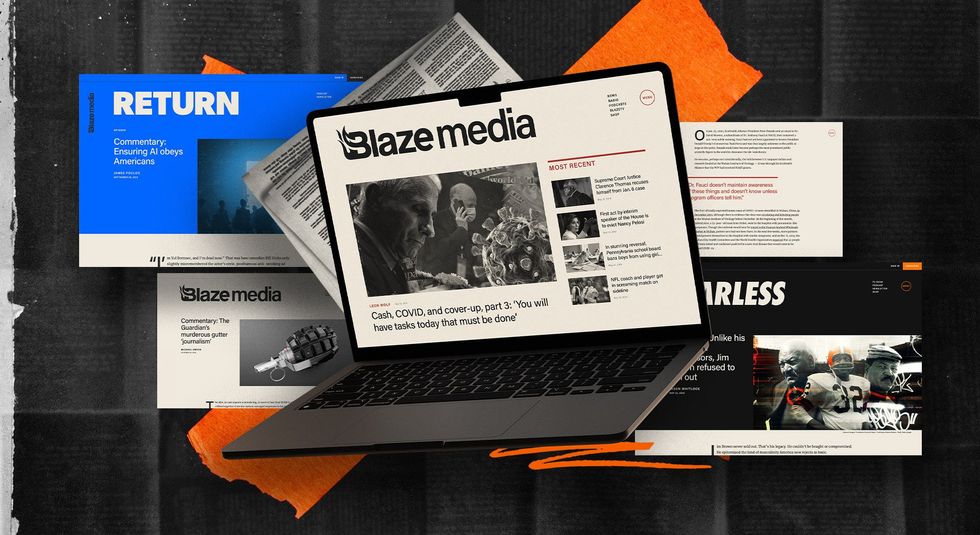 The highest and most effective form of communication is the written word. I've believed that most of my life.
God's decision to publish the Bible in written form rather than video or audio forms justifies my claim. He brought humanity to life, and when we were completely lost, he chose to guide, inform, and encourage us with words on the same page.
To doubt the power of the written text is to doubt the Creator of our inalienable rights.
Thomas Jefferson, this nation's most profound founding father, recognized the power and importance of writing and reading.
"The basis of our governments is the opinion of the people," Jefferson wrote in 1787, "the first object should be to preserve this right; And if it were left to me to decide whether we should have a government without newspapers or newspapers without a government, I would not hesitate for a moment to prefer the latter. But I would think that every man should receive these papers and be able to read them."
The enemies of American freedom and founding principles have used Big Tech to deemphasize the written word, amplify the power of video, and manipulate language to distort fundamental truth and dumb down our citizens.
The pervasive chaos, perversion and corruption that you see in America is directly related to the attack on the written word and newspapers. The information war is a dispute over language and access to the truth.
Through its relationships with Big Tech, the secular left controls the distribution and reach of accurate information.
I'll tell you what you already know. You've seen Google, Facebook, Twitter, Instagram and the newspapers that rely on those platforms make the Hunter Biden laptop story disappear. We have all suffered the consequences after the same scheme exaggerated the drug-related death of George Floyd to spark massive, sustained and violent unrest across the country. The same group has defined half of this country's citizens as potential domestic terrorists and insurgency conspirators.
At some point we have to do more than complain. We must take bold steps to end our dependence on platforms that openly despise our worldview and values.
Today Blaze Media took a bold step. We are relaunching our website TheBlaze.com and ridding it of internet advertising. This is far more important than it sounds. When publishers like Blaze News host ads on their websites, Google and other major ad exchanges use bots to scan stories for content they deem "unsafe" for advertisers. If an article is deemed "unsafe," Google then requires the advertising to be removed and threatens to remove monetization from the entire site. If we refuse to back down, Google will use its algorithms to cover up the story.
So imagine Steve Deace writing an article at the height of the COVID pandemic explaining the stupidity of masks and an experimental medical trial called a "vaccine." This story has no chance of reaching a wide audience. Google and Facebook won't allow it.
Here's another hypothesis: Imagine I write a column explaining from a biblical perspective why transgenderism is an affront to God. This story would be considered "unsafe" for advertisers. Google and Facebook would do everything in their algorithmic power to prevent people from reading it.
Big Tech is pushing publishers and content creators to adopt a secular worldview in order to achieve financial and/or relevant success.
I began writing opinion pieces in 1992 when I took a job at the Ann Arbor News. On every platform, whether Ann Arbor News, Kansas City Star, ESPN.com, FoxSports.com, AOLSports.com, J.school or OutKick, my columns have never had a problem reaching a wide audience.
Over the past three years, I have consistently written my most profound and impactful pieces for Blaze News. At the same time, Big Tech has increased the algorithmic backlash against my work. If you Google my name, it's easier to find articles I wrote about Kobe Bryant 20 years ago than anything I wrote last week.
What I say about Black Lives Matter, Deion Sanders, Megan Rapinoe, the murder of Tire Nichols, Stephen A. Smith, Josh Allen, and Colin Kaepernick will go viral. What I write about the exact same topics has a much harder time reaching the masses.
Big Tech and the Left control the written word. They recognize its importance.
Do we?
Blaze Media will suffer significant financial damage if it separates from the major advertising agencies. We are also hiring additional staff to strengthen the site and create more original content. It is a risky step. It is a step that I support. I would rather write for less money and for a small scrap to support the truth of God than write compromised lies for a wider audience for more money.
I don't want to be popular. I want to be saved, and I want to save the freedoms that our ancestors fought, died and sacrificed for against forces as evil as the enemy we face today.
We need you by our side in this fight. You'll love the new TheBlaze.com. It looks much better. Reading and navigating is much easier without annoying ads. In order to implement this successfully, we need your direct support. If you haven't already, sign up for a general Blaze subscription and Blaze News.
Support the written word. Support the form of communication that saves souls and can save our republic.