Whitney Rose has "reset" her marriage to husband Justin.
The trailer for the fourth season of "Real Housewives of Salt Lake City" showed marital discord between the couple Whitney Rose and her husband, Justin Rose. The couple has given us some cringe-worthy moments over the years. Will I ever stop watching this body painting/butt spanking moment?
But after Justin lost his job because Whitney was filming RHOSLC, their marriage began to unravel. In the trailer, Whitney confided in her friend Angie Katsanevas. "It was our anniversary, I was just like, 'Do you still want to do this?' He was like, 'Do you do that?' I was like, 'I don't know,'" Whitney said. Later in the clip, Whitney told Justin how sad she was because he wasn't wearing his wedding ring and left it in the drawer.
Whitney and Justin are working on their marriage
Now Whitney and her husband are doing better. "Our marriage is no different than anyone else's," she said US Weekly. "We just share it whether people like it or not. We don't share embarrassing things anymore." Amen!
"I think he hasn't worked for a year. I got used to having him at home and just focused on my business," Whitney explained. The couple has a 13-year-old daughter, Bobbi, and a 10-year-old son, Brooks. "So the balance between work, life and children [and] The marriage had to be realigned,"
The couple really worked on their communication skills, which improved their relationship. Whitney is also grateful for the support her husband has given her.
Whitney said, "Look at what He has enabled me to do with my own family, with my father, in my healing journey, as a homemaker, and in starting my business." [and] my children. I mean, he supports me so much."
And Whitney is also doing better with her cousin Heather Gay. "At the end of the day, we are a family and we love each other," Whitney said of Heather. "And I think that you take things out on the people you love the most."
You can watch The Real Housewives of Salt Lake City on Tuesdays at 9:00 pm ET on Bravo.
Tell us: Is Whitney and Justin's relationship the strongest of all Salt Lake City couples? Will Whitney's truce with Heather last??
It would be explosive.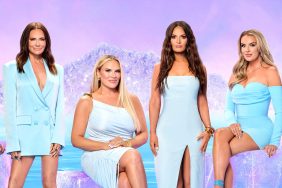 Who knew Salt Lake City could be so fun!
These ladies are bad to the bone.