Who is Amir Nasr Azadani? Iranian soccer player before execution
The footballing world worships Lionel Messi after his inspirational efforts that helped lift Argentina to their first world title in 36 years in Qatar on Sunday, but a darker story is unfolding in another part of the Middle East.
A 26-year-old soccer player in Iran, Amir Nasr-Azadani, faces possible execution after taking part in a women's rights demonstration in his country. The decision was condemned around the world and similar protests supported, which followed the death of 22-year-old Mahsa Amini, who was allegedly severely beaten by morality police after being arrested for an alleged violation of wearing the hijab. The beating is believed to have resulted in her death from a fatal head injury, although the Iranian authorities have denied this allegation.
Who is Amir Nasr Azadani?
Nasr-Azadani has been a professional soccer player since 2015 and played three seasons in the Persian Gulf Pro League until 2018.
During the last two years of that period, he played as a defender with Iran's Tractor Cultural Sports Economic Club. Before that, he played for Sepahan SC, another Iranian team, during his youth league career from 2012 to 2015.
What was Amir Nasr-Azadani accused of?
Nasr-Azadani was arrested for taking part in a women's rights demonstration in which three security forces died.
The September 16 protest was denounced by the Iranian government, which described it as an "armed insurgency," according to sports blog Deadspin.
The Iranian player is also facing charges of "waging war against God" and is reportedly set to be hanged.
In the protests against Amini, women have publicly burned their hijabs (headscarves) and cut their hair to protest the Iranian government's strict rules on women. The demonstrations are the largest protests in the country since the 2009 Green Revolution, after then-President Mahmoud Ahmadinejad was accused of rigging votes to win re-election.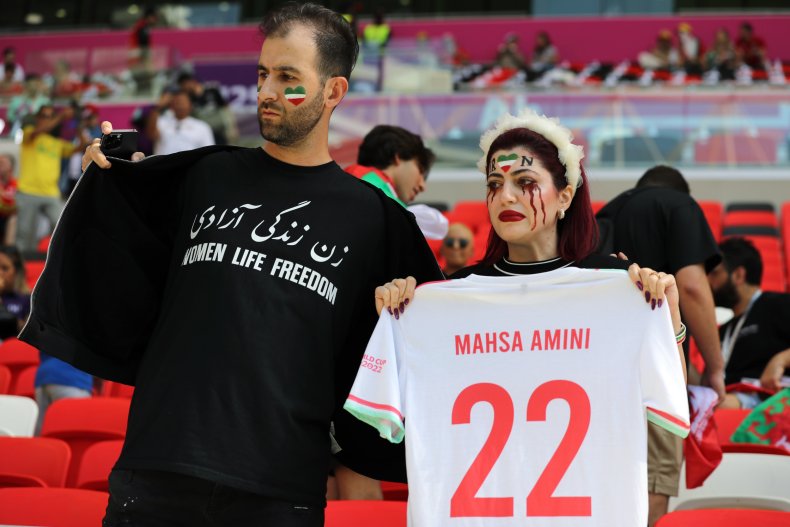 So far, more than 300 protesters have reportedly been killed by security forces trying to quell the demonstrations. In a November letter, a majority of Iran's parliament called for harsh punishment for the protesters, with some chanting "death to the insurgents."
Why is Shakira involved?
Colombian singer Shakira took to Twitter during the World Cup final to draw attention to Nasr-Azadani's plight, hoping to draw the attention of her supporters during the soccer tournament.
She tweeted: "Today at the World Cup final I just hope the players on the field and the whole world remember that there is a man and fellow footballer named Amir Nasr on death row just because he stands up for women's rights has pronounced. "
Shakira, who was married to Spanish soccer star Gerard Piqué, followed up with another tweet, telling her fans: "I hope there's more than a minute of stillness in our hearts to remind us what's important and more." as one voice united in crying out for what is just."
How have professional footballers reacted?
The detention and possible execution of Nasr-Azadani sparked an angry reaction from the global professional football union, FIFPRO, who tweeted their outrage at the situation.
in one tweet Last Monday, the organization wrote: "FIFPRO is shocked and disgusted by reports that professional footballer Amir Nasr-Azadani is facing execution in Iran after campaigning for women's rights and fundamental freedoms in his country.
The tweet added, "We stand in solidarity with Amir and call for his punishment to be lifted immediately."
Do you have a tip about a sports story that news week should cover? Do you have a question about football or the protests in Iran? Let us know at entertainment@newsweek.com.
https://www.newsweek.com/who-amir-nasr-azadani-iran-soccer-player-facing-execution-1768213 Who is Amir Nasr Azadani? Iranian soccer player before execution