"Whole families" among 180 bodies found in mass grave in Lyman, Ukraine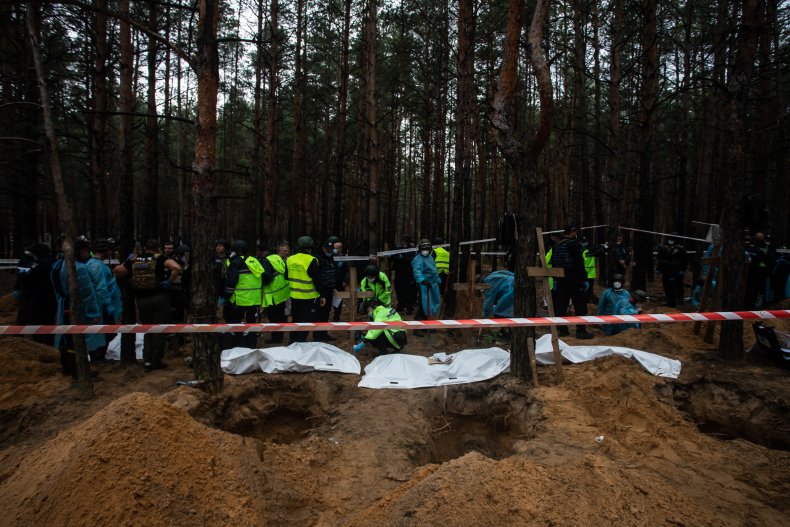 Ukrainian officials say less than a week after the formerly Russian-held city was retaken, at least 180 bodies, including "entire families" with young children, were discovered in a mass grave in Lyman.
Yevhen Zhukov, head of the patrol department of the National Police of Ukraine, announced the discovery on Friday in a message published on a Telegram account he runs under the callsign "Marshal," according to state media outlet Ukrinform.
Zhukov said in the message that a mass grave "where 180 were buried" had been discovered in the "liberated Lyman," adding that "entire families lie in mass graves," including the "burials of children buried between 2019 and 2019." were born in 2021″.
Ukrainian troops recaptured Lyman, a strategically important town in eastern Ukraine's Donetsk region, just two days after Russian President Vladimir Putin claimed the region was one of four annexed by Russia last week.
Donetsk Governor Pavlo Kyrylenko said in a Facebook post on Friday that "about two hundred" people had been discovered in a mass grave containing the remains of civilians in Lyman, while warning officials were still working on the final figure of the corpses and their cause of death.
Kyrylenko said a second mass grave found in Lyman may contain the bodies of "both military and civilians." The number of bodies buried at the second location has yet to be determined.
He also said the bodies of 21 civilians had been reburied in a city cemetery in Svyatogorsk, about 15 miles northwest of Lyman.
"These are civilians who died during the occupation of the city," Kyrylenko said. "The dead were buried in the streets and courtyards… May they rest in peace – the Russians will be punished for every human life destroyed, maimed and taken."
Ukrainian officials have reported finding several other mass grave sites in different parts of the country, retaken from Russian occupiers.
Serhii Bolvinov, head of the investigative department of the regional police in the Kharkiv region, said during a press conference on Thursday that over 500 bodies had been discovered in the liberated areas of Kharkiv since early September.
At least 477 bodies were discovered at a mass burial in the town of Izium after Russian forces were driven out of the area by Ukraine's counter-offensive last month. Ukrainian officials also reportedly discovered 22 Russian torture sites in the region.
"Russian units set up such places of detention for civilians and prisoners of war in almost all settlements where they were stationed," Bolvinov said, adding that those tortured were subjected to beatings, electric shocks, fingernail removal and restricted breathing.
The United Nations has estimated that 14,059 civilians have been killed or injured in Ukraine since Russia's February 24 invasion, with at least 5,767 dead. Many of the bodies were buried in mass graves. Experts have said it could take "years" to identify all the remains.
news week has reached out to the Russian government and the think tank Institute for the Study of War for comment.
https://www.newsweek.com/whole-families-among-180-bodies-found-mass-grave-lyman-ukraine-1750064 "Whole families" among 180 bodies found in mass grave in Lyman, Ukraine