Whoopi Goldberg Delivers Devastating Reality Check For Right-Wing 'Snowflakes'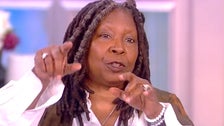 Whoopi Goldberg is "sick" of right-wing collapses and conservative break-up culture, and points out there's a word for such people — one the right-wing likes to use for everyone else: snowflakes.
"I'm sick of people putting off my desires because their desires aren't being fulfilled in some way," said the EGOT winner, then elaborated:
"I'm sick of people telling me I can't go to a drag show. I'm sick of people telling me my friends are different because you don't understand them. I'm sick. This is America. You should be able to be whoever you are. You know? stop with all that stuff You want to talk about snowflakes? Who are the snowflakes anyway?"
"These are people who are afraid of a flag," co-host Sunny Hostin replied.
"These are people who are afraid of a flag, people who are afraid of a drag brunch," Goldberg said, then added incredulously, "It's a brunch!"
The full discussion is below: