Why royals keep their titles after their country abolished the monarchy
As more than 4.1 billion people watched Queen Elizabeth II's funeral on Monday, many scratched their heads at some of the royals in attendance.
Greece's Queen Anne-Marie and Crown Prince Pavlos confused some viewers when the Greek monarchy was abolished after a referendum in 1974 and its members live in exile in London.
Margareta, the Custoss of the Crown of Romania, who was also at the funeral, bears her title despite the fact that in 1947 communists forced the king to abdicate the throne.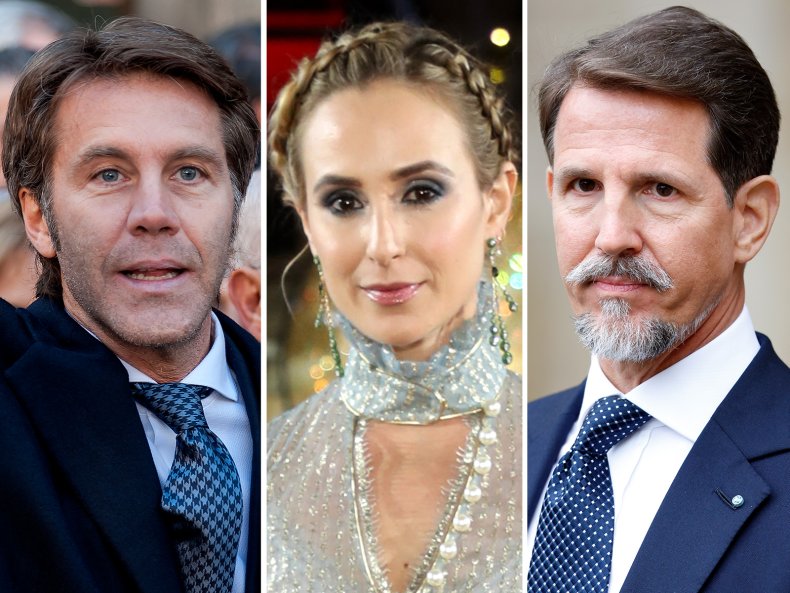 While the Romanian royal family was allowed to return and was given back their royal residences in 1997, their existence remains largely superficial.
A general rule of etiquette, however, is to refer to a king by his titles, even if they have been deposed and their country does not recognize them or their hereditary designations.
Another convention is for a king to retain until his death the titles he held when he was deposed, with no customary succession applying. For example, a king retains this title, but his children will not inherit it after his death. It remains a crown prince even after the death of his parents.
A tweet went viral after a BBC viewer questioned the legitimacy of referring to Pavlos with the full caption "His Royal Highness and Crown Prince".
"Come on BBC. Greece abolished its monarchy long ago so please respect that," wrote Twitter user Damian Mac Con Uladh, @damomac, before adding, "my Greek sons just asked, 'Who is this guy? Greece has no kings and princes.'"
Greece and Romania aren't the only countries where royals from defunct monarchies still receive their titles. Germany and Italy have nobles who are often referred to as princes or princesses.
Siblings Prince Albert and Princess Elizabeth von Thurn und Taxis are descendants of the German royal family, which was abolished in 1919 after the Weimar Constitution eliminated legal privileges and the nobility of monarchs. The German nobles retained only traces of their hereditary titles in their surnames.
According to German law, the prince is called Albert Prince of Thurn and Taxis – prinz is the German word for prince.
The same rule applies to Princess Caroline of Monaco's third husband, Ernst August Prince of Hanover. She assumed his title after her marriage, although there is no legal basis, and became Her Royal Highness Princess of Hanover.
This followed the tradition that a wife took her husband's name if his rank was higher than hers, and that she would have taken that name had the Hanoverian monarchy still existed.
In Italy, Vittorio Emanuele is referred to as the Prince of Naples of the House of Savoy and is the only son of the last King of Italy, Umberto II.
He spent most of his life in exile after the 1946 referendum called for the abolition of the monarchy, but was allowed to return in 2002 after signing an agreement with the Italian government renouncing all claims to the throne.
Vittorio's son Emanuele was born in Geneva, Switzerland in 1972 and is known as the Prince of Venice, although he did not set foot in Italy until 2002.
By then, the Italian constitution had barred the male heirs of the Savoy dynasty from entering the country.
The Greek royal family holds a rather unique position in the world of defunct monarchies.
Living in exile in London, they are very close to the British royal family, but are also descended from the Danish throne, as Greece's King George I was the son of King Christian IX. was from Denmark.
More than a century after the death of King George, members of the Greek royal family continue to wear it because of their connection to King Christian IX. the title of Prince or Princess of Denmark. Until 1953 they even had the right of inheritance to the Danish throne.
Born in Greece, Queen Elizabeth II's late husband Prince Philip bore the title of Prince Philip of Greece and Denmark until 1947, when he renounced it to become a British citizen and marry the Queen.
Greece's Queen Anne-Marie is the younger sister of Denmark's Queen Margrethe II, who regards the Greek royal family as extended members of their family and regularly attends official Danish events.
https://www.newsweek.com/royals-titles-monarchy-abolish-country-name-royalty-1744488 Why royals keep their titles after their country abolished the monarchy