Wife reveals where mold lurks in bottled water after husband was always sick
The internet is awash with life hacks, from untangling knotted aluminum foil to replacing pesticides with ladybugs when gardening.
However, some tips are much, much more awkward to look at than others.
Recently, a TikTok video went viral after a user named Ehrlichhaley shared how she cleaned her husband's reusable water bottle, exposing an unsavory amount of black mold in the process.
Since its publication, the post has been viewed over 330,000 times, receiving 2606 likes and 53 comments. The video was accompanied by a screen caption: "POV: When your husband is always sick. Tip of the day: clean your bottle."
In the short five-second video, the OP (original poster) demonstrated cleaning the inside of her husband's water bottle using a cloth over a container of moldy water that appeared to be rinsed out during the cleaning process.
Other TikTok users didn't hesitate to express their utter disgust in the comments section.
"omg, [it's] like a swamp in there," wrote one concerned user. "Actually gagging," wrote another person.
"I got sick just watching this," shared one commenter. "Me too," the OP replied.
A fair number of other commenters seemed concerned about the OP's "tip" and instead took it for granted. "This is not a tip, but common sense," is the comment with the most likes on the post.
Another user wrote: "Who needs to be reminded of normal cleaning."
A few users also took the opportunity to share their own way of cleaning the insides of their water bottles: "I clean it with a bottle brush every week," said one commenter.
"soapy hot water, [a] Handful of dry rice, lid on and shake, shake, shake," recommended another.
In perhaps one of the most chilling comments shared on the post, one user shared a story about the repercussions of not cleaning a water bottle: "A friend of mine's foot turned black and they ended up in the hospital, in the hospital, with blood poisoning they were bottle tested, and yes it was the culprit," they wrote.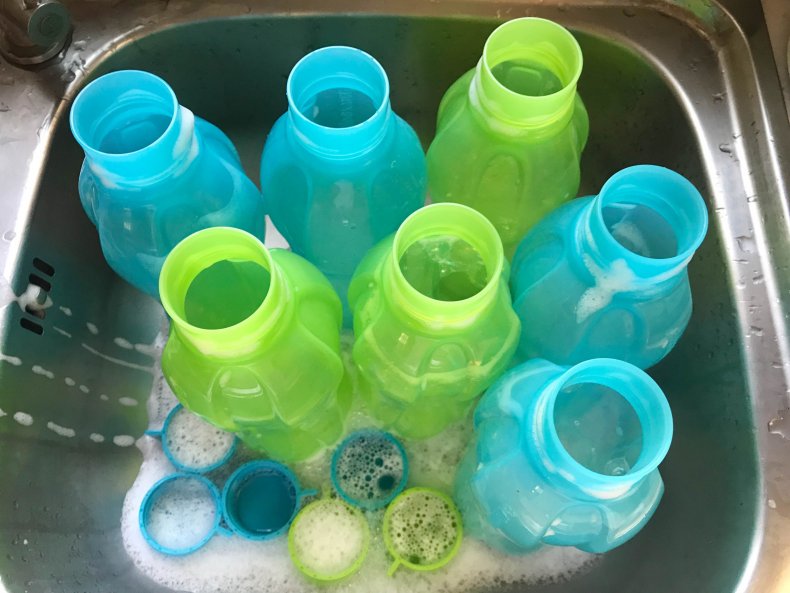 According to the United States Department of Agriculture (USDA), some molds found in food can cause allergic reactions and respiratory problems, while others, under the right conditions, can even produce "mycotoxins," toxic substances that can make people sick.
The world's most well-known mycotoxin, aflatoxin, is a carcinogenic toxin produced by fungi on various foods such as corn and peanuts.
According to the USDA, aflatoxins are known to be associated with a number of diseases affecting livestock, companion animals and humans.
Recent statistics from the CDC also show that one in six Americans (48 million people) suffers from food poisoning or foodborne illness each year.
Lately, news week reported that 28 wedding guests and the bride contracted food poisoning at one wedding, resulting in the latter being ill for much of their honeymoon.
And last year news week also reported a story of mass food poisoning that took place in a church community, killing one person and sickening dozens of others.
news week Reached Ehrlichhaley for comment.
https://www.newsweek.com/wife-reveals-where-mold-lurks-water-bottles-1710850 Wife reveals where mold lurks in bottled water after husband was always sick